Hey, Quick Question: Which Viktor & Rolf Spring 2019 Couture Gown Are You?
"Go to Hell" with a skull in flames is pretty relatable at the moment.
Welcome to our column, "Hey, Quick Question," where we investigate seemingly random happenings in the fashion and beauty industries. Enjoy!
The couture shows are nicely moving along in Paris. We've seen '80s-tinged party dresses courtesy of Giambattista Valli, a bridal swimsuit and matching swim cap from Chanel, circus stuff at Dior, lots of pretty sparkles (naturally) at Elie Saab and a zany beauty look at Maison Margiela. Aside from Givenchy's giant bow backpack, it's been a pretty tame, sophisticated Couture Week for Spring 2019.
But leave it to Viktor & Rolf to take their couture collection to the next — potentially viral — level. On Wednesday, designers Viktor Horsting and Rolf Snoeren presented 34 gowns covered in a slew of phrases and graphics to satisfyingly feed our meme-hungry appetites. And what fashion loves most are some juicy, spicy memes! Yum yum yum.
The duo are no strangers to leaving a lasting impression on the runway. There was the literal "fashion as art" couture show back in 2015, the models wearing doll-like masks from 2017 and the memorable "bed-dress," famously worn by Tilda Swinton in Harper's Bazaar, that still somehow shows up on our social media feeds every once in a while — more than 12 years since its debut. Clearly, the designers tried to create the same magic with their latest offering, and chances are we'll be seeing these Spring 2019 gowns all over our timeline because most of them are so damn relatable: "Go to Hell" with a skull in flames is pretty "it me" at the moment, as well as the massive "NO" on a gown made up of mini-pleated tulle the size of a tiny mountain. (The rejecting statement also harks back to Viktor & Rolf's famous "No" jacket from its Fall 2008 collection.) 
A slime green pouf is emblazoned with "Amsterdam" and a literal weed leaf, which could currently serve as luxury tourism merch, while "Less Is More" is tongue-in-cheek because it's on a giant sorbet-tinted, tier-cake of tulle. "F* This I'm Going to Paris" is a trench-coat-dress hybrid that Lauren Conrad will never own, and maybe the "Freedom" gown with an eagle is great Instagram bait for the 4th of July. (Tip: Please don't wear this as Instagram bait for the 4th of July.)
Perhaps you're drawn to the quirky "Get Mean" in bright pink, the rainbow-colored "Leave Me Alone" or even the all-white "I'm Not Shy I Just Don't Like You." "Trust Me I'm a Liar" is fitting for a few people who will remain anonymous; "Give a Damn," "Peace" and "I Want a Better World" are great choices for celebrities who want to make a political statement on the red carpet. "No Photos Please" in a colorful ombré — the collection's first look,  ironically — will likely show up on some Who?-fluencer during fashion month and "I am My Own Muse" belongs to Rihanna and Rihanna alone.
Which couture gown do you identify with most? We're tied between "Whatever," "Go Fuck Yourself" (in Valentine's Day candy hearts!) and "Sorry I'm Late I Didn't Want to Come." Expect to see a GoFundMe page to purchase these dresses on our site very soon. 
See the entire Viktor & Rolf Spring 2019 couture collection in the gallery below.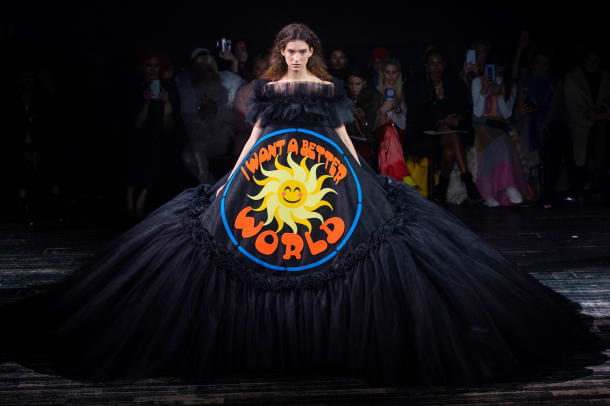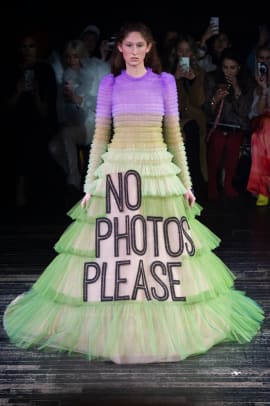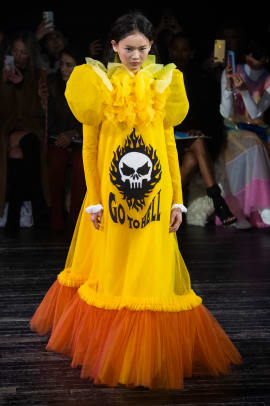 Sign up for our daily newsletter and get the latest industry news in your inbox every day.