Virgil Abloh's Fall 2019 Collection for Louis Vuitton Men's Was a Colorful Tribute to Michael Jackson
The designer's second range for the French house also paid homage to New York City.
Virgil Abloh presented his Fall 2019 collection for Louis Vuitton on Thursday in Paris, transforming the Jardin des Tuileries into the Lower East Side — more specifically, the corner of Rivington and Ludlow streets. The show's setting was like any other New York City trope that's often seen in movies: An annoyed resident cracks his window open to shush noisy neighbors; a solo saxophone player performs under a street light; traffic signs and trash cans were strategically strewn about. But what likely captured attendees' immediate attention was the sound of Michael Jackson's discography filling the venue before the show, as the legendary pop star served as Abloh's latest inspiration. (In fact, invites to the show consisted of a single white glove studded with crystals.)
While Abloh's debut back in June was a bright-and-sunny, rainbow-hued runway wonder, his sophomore collection took on a darker, perhaps more serious tone. About two dozen head-to-toe gray or black looks opened the show, from loosely tailored suits and puffy, monogrammed puffers to an American flag sweater with a maxi pleated skirt in a monochrome palette. 
Still, Abloh managed to add a sense of romance and wide-eyed wonder to his presentation, thanks in part to the show's live music (orchestrated by Dev Hynes), the models' dizzying walks and the sartorial references to Jackson's iconic wardrobe. The late artist's penchant for royal military garments, wide-brim fedoras, loafers and tons of sparkle were evident in the collection. Plus, an original print that featured characters — including Jackson's Scarecrow — from the 1978 film "The Wiz," was featured in more casual-leaning ensembles, along with an airbrushed T-shirt of the singer's signature socks-and-loafers look, which will likely be a hit among the French house's younger, hype-driven consumers who hang on Abloh's every move.
The final looks were draped with flags from different countries — a tip to Jackson's "We Are the World" charity single and "United We Stand" benefit concerts. Though, it could also tie in nicely with Abloh's mission to push Louis Vuitton's "global view on diversity linked to the travel DNA of the brand." (And if there's anything that Abloh does well, it's sticking with a theme and keeping things "ON BRAND.")
Abloh's first collection has already proven to be a retail success — reportedly selling faster than the French label's blockbuster collaboration with Supreme — and we can probably expect a similar outcome for fall, especially among the accessories. Just before the models' finale, a select group took to the catwalk one more time as the venue went dark and their sneakers and LV-adorned duffle bags lit up (as did the runway, in an homage to Jackson's classic music video for "Billie Jean"), leaving a glowing trace of hype across the runway.
In the gallery below, see every look from Abloh's Fall 2019 collection for Louis Vuitton.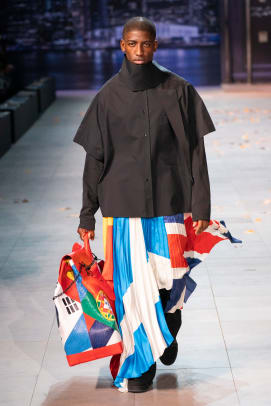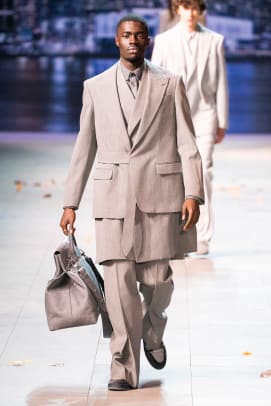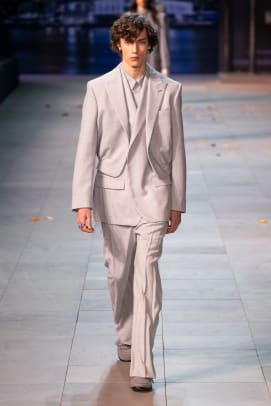 Sign up for our daily newsletter and get the latest industry news in your inbox every day.