Alexa Chung Updates Her Signature British Street Style With Americana References for Fall 2019
The fledgling creative director takes on the prairie dress trend and spins it on its head.
For her London Fashion Week debut last season, Alexa Chung took us on a journey with her "Arrivals and Departures" collection for her eponymous label, Alexachung. Her intended destination is now clear: West Coast America, in the year 1983. For Fall 2019, Chung reimagined a version of her birth year, complete with the kind of wardrobe staples and accessories that managed to seem as futuristic and fresh as they did nostalgic for a bygone era.
Chung evidently knows good clothes, having been somewhat of a professional style star for the past decade. It seems that a mere two years after launching her namesake label, she's firmly cemented her status as a creative director of a brand that holds its own against the LFW mainstays.
Before we quite grasped what an influencer was, Chung innately persuaded the fashion world to take a leaf out of her personal style book (raise your hand if you didn't try to pull off denim shorts with opaque tights and brogues circa 2009). It was thus interesting to see things come full circle, as some of the industry's most prominent influencers and editors sat front row in what we can now categorize as 'Chung classics' — checkered coats, modest dresses, boyish flat shoes and herringbone blazers — while similar pieces stomped down the runway in front of them.
"I haven't been interested in prettiness for a long time, and the world doesn't look saccharine and innocent to me anymore," Chung said. Her "Off The Grid" theme brought together a gaggle of women who have "retreated in numbers" to the West Coast to be among nature and serenity. That lack of girly sweetness was palpable. These women relied on more masculine tailoring offerings, such as belted leather flight jackets, straight-legged denim and boxy overcoats for backup as they banded together in rebellion. They further asserted themselves as forces to be reckoned with by toning down any notion of femininity: Silk prairie dresses had strong, striking shoulders, while other looks were toughened up by the addition of belted collars worn around the neck.
Once again, outerwear seems to be a strong point for Chung. A glossy vinyl mack, a camel-hued fur coat with a herringbone trim or her signature corduroy suit jacket (rendered in emerald green this season) will likely find their way onto a style savant near you in no time. Ditto the short-hair textured cow-print jacket, which was so joyously juxtaposed with daisies on an organza blouse and sunny yellow trousers. Chung's innate ability to contrast quirky style ideas led to a welcome update on the omnipresent prairie dress: Layered over knitted turtlenecks, and paired with head scarves, opaque tights (of course) and glittering or houndstooth platform shoes, these were the kind of outfits that shouldn't work on paper, but thanks to the Chung effect, suddenly seem infinitely desirable. The Fall 2019 offerings were also accented with pieces from Chung's collaboration with Sunglass Hut, a limited-edition eyewear capsule collection that includes two different oversize, '70s-inspired styles. 
Click through the gallery below to see Alexachung's Fall 2019 collection in full.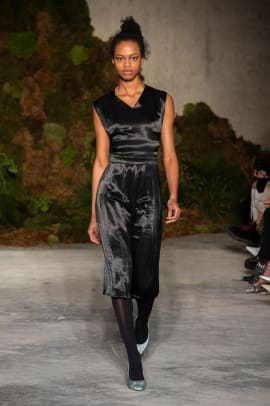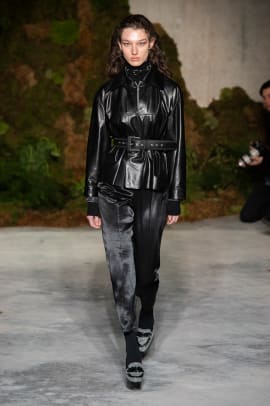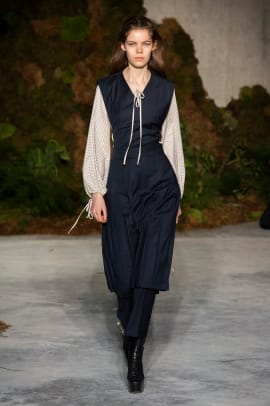 Never miss the latest fashion industry news. Sign up for the Fashionista daily newsletter.