Daniel Lee's Bottega Veneta Fall 2019 Runway Debut Officially Put Him on the Fashion Map
The under-the-radar, newly hired creative director is one to watch.
When Bottega Veneta announced the hire of Daniel Lee as creative director in June of last year, it showed yet another industry shift towards letting more behind-the-scenes designers take the reins for a major luxury house. Since then, there's been high hopes for the newly appointed Lee, who replaces Tomas Maier (and his 17-year tenure), because he hails from Old Céline — along with stints at Balenciaga, Maison Margiela and Donna Karan — and could potentially fill the void that many Phoebe Philophiles are longing for. 
Lee's work for the Italian house is already promising, as his Spring 2019 "edit," according to Vogue, and Pre-Fall 2019 collection were met with solid reviews; the latter wasn't shown on models, but as objects on display, making his runway debut on Friday during Milan Fashion Week all the more anticipated.
"While the quiet craft central to Bottega Veneta's identity is still present, Fall 2019 brings a sharp injection of modernity to traditional technique, turning up the volume," says the show notes. In a previous interview, Lee once described the brand as a "sleeping giant"; it seems he's ready to wake it up.
Signatures of Bottega Veneta are still evident but take on new, evolving forms. Its iconic Intrecciato weave is reimagined as square-shaped texture on colored leather coats and skirts, as well as a statement detail on a bright orange dress. Sparkling, sequined garments popped up throughout the collection, which helped balance the mostly-leather looks on the runway. And since handbags are a specialty of the house, Lee provides a slew of shapes and styles that will likely take over the street style crowd next fashion month. Those who need an Old Céline fix will find comfort in the open-collared coats and lug-sole Chelsea boots.
Lee's work experience is heavily rooted in womenswear, which means his men's collections are a first for the designer. It's clear that he's much more open to experimentation for this particular range, as models boasted turtlenecks — some were sheer, others were knitwear — with extra-long sleeves and avant-garde necklines. As menswear customers continue to make bolder fashion choices, Lee's offerings could appear on future red carpet renegades.
As Lee took his first-ever final bow for Bottega Veneta, the crowd cheered and some stood up to applaud the collection, including Kering CEO François-Henri Pinault, actor and wife Salma Hayek, as well as their daughter Valentina. Before the show began, Hayek was already singing Lee's praises and now that his show has wrapped, it's likely even more followers will be excited to see what's next from him. 
See Bottega Veneta's Fall 2019 collection in full in the gallery below.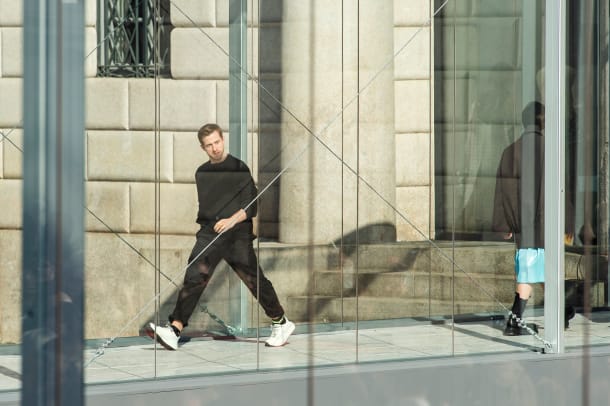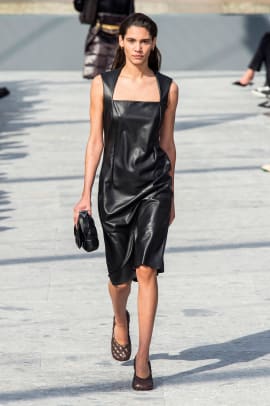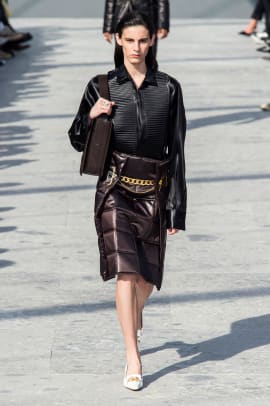 Sign up for our daily newsletter and get the latest industry news in your inbox every day.