Wes Gordon Steps on the Gas at Carolina Herrera for Fall 2019
No more mister nice guy.
Last season, designer Wes Gordon made his official runway debut at the helm of heritage American luxury house Carolina Herrera with a stunning collection full of pieces intended to both appeal to the brand's longtime customers, and delight an entirely new audience. 
But if Spring 2019 was about Gordon easing the Carolina Herrera customer into a bold new future, Fall 2019 is Gordon speeding full-throttle into his own vision for the brand. It was less about words like "pretty" and "classic" and more like "electric" and "experimental." Inspired by Robert Mapplethorpe's florals, the color scheme was all about hothouse flowers: "taxi cab" yellows, neon blues, shocking pinks, traffic-cone oranges, occasionally grounded in neutrals like black or grey. Gordon has quickly established himself as a master of color mixing, and this collection is no different — one only has to see an anorak, in attention-grabbing orange mixed with pink trim, styled as a dress over a sunshine-yellow turtleneck for the proof.
Gordon revisited the shapes he introduced back in spring, especially in eveningwear, where he seems to prefer billowing and formless silhouettes. In all honesty, some of these dresses would have been even lovelier with a little more shape to them. The cool PYTs Gordon seems to be courting may be able to pull off a shapeless shift at night, but there are more than a few starlets in Hollywood who could make a major red carpet moment out of something structured, too.
There was tailoring in the daywear, but those looking for something office-appropriate might not go for the sexy blazers cut out at the obliques and around the back. And many of the day dresses come short — very short — with ballooned sleeves. The metaphorical gloves are off. Of course, none of this should imply that this wasn't another knockout collection from Gordon; the prints were stunning and many looks featured some excellent pleating and sash work. And there's still plenty for the more buttoned-up Herrera customer to love in here, too. But one thing is for sure: Ready or not, Gordon is navigating the brand into a bright future.
See the complete Carolina Herrera Fall 2019 collection below: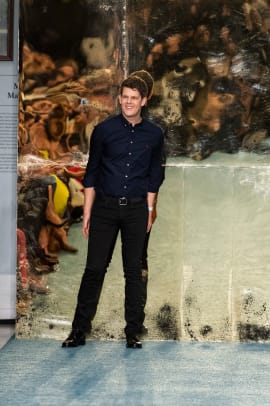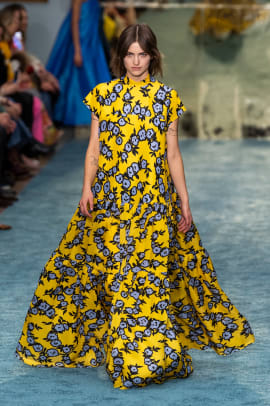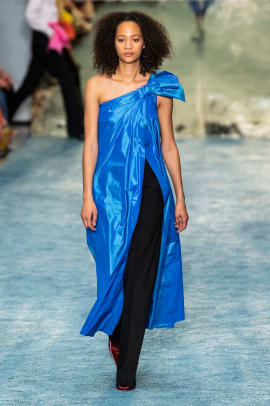 Want the latest fashion industry news first? Sign up for our daily newsletter.