'Dazed Beauty' Used AI to Do Kylie Jenner's Makeup, and the Results Are Eerily Fascinating
It's the most 2019 beauty editorial ever.
Since launching in September of last year, Dazed Beauty has been generating buzz by bringing its brand of fashion-y weirdness to the beauty space. Much of the work the publication has done so far has focused on the intersection of pop culture, the digital age and beauty — and a new editorial, which features cosmetics mega-entrepreneur Kylie Jenner, is a prime example.
Jenner is one of several cover stars appearing across different versions of the publication's debut "issue zero" hard-copy edition. (Travis Scott, Kate Moss, Slick Woods and Genesis P-Orridge are the others.) While each of the cover images features trippy, otherworldly effects, Jenner's is arguably the most 2019 beauty editorial to ever occur: The publication employed AI to determine her various hair and makeup looks. Ah, what Instagram hath wrought.
Dazed Beauty tapped Beauty_GAN, an AI algorithm created by two design studios (Selam X in Berlin and ART404 in New York City) to "create beauty looks without the help of a human." Say what?
"Imagine a counterfeiter and a police officer producing fake money. The police officer evaluates the fake money, the counterfeiter produces better fake money, and so on, until they get it right," explains Lukas Rudig, a member of the Beauty_GAN group, in an interview with Dazed Beauty. "How this technology becomes good at creating aspects of the human appearance as though it were photorealistic."
The resulting images — which were indeed shot by human photographer Daniel Sannwald before being AI-enhanced — are eerily fascinating and mesmerizing. To see Jenner's ever-so-recognizable features made up with vibrant hues and ample makeup is immediately familiar to anyone who has watched TV or scrolled through Instagram in the last five years; the shoot flips that on its head, creating an uncanny take on Jenner's face, with blurred edges and melted, warped features. Knowing that the shapes, colors and finishes of the makeup and hair throughout the shoot were computer-generated — but based on human preferences and interactions with digital iconography — underscores the surrealism. 
Head to Dazed Beauty for more about the specifics of what went into creating the shoot, and click through the gallery below to see it in its entirety.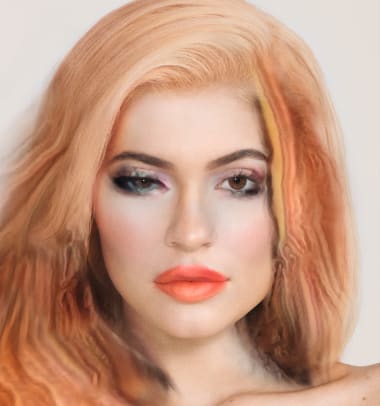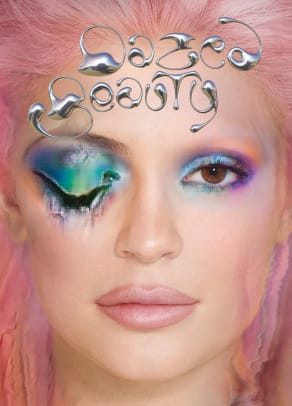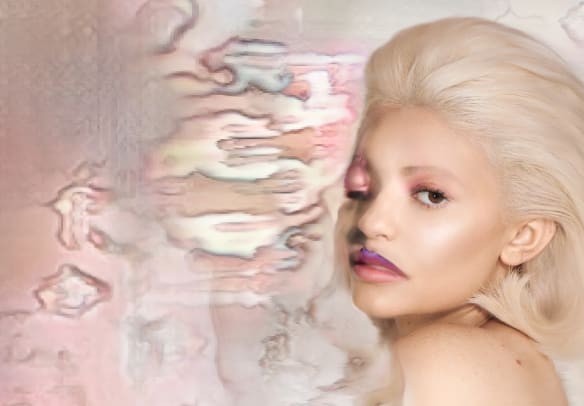 Never miss the latest fashion industry news. Sign up for the Fashionista daily newsletter.