Dolce & Gabbana Goes Back to Fashion Basics for Its Fall 2019 Collection
The design duo's "Eleganza" runway show focused on what they do best: making beautiful clothes.
I expected Dolce & Gabbana to be one of the more stressful experiences in terms of show logistics on the final day of Milan Fashion Week. As of late, the brand has been known for courting dozens of famous millennials (or #DGMillennials), tapping into gimmicks like drones carrying handbags down the catwalk and hosting three-day fashion extravaganzas or "secret" shows. But surprisingly, getting through the venue — the designers' own Metropol event space — was relatively seamless, the atmosphere was fairly tame and the front row was mostly devoid of attention-grabbing influencers, celebrities or big-name editors.
Before the runway show even began, guests watched a video of the designers in their atelier, providing a behind-the-scenes look into how they created the collection they were about to present. (You can catch clips of this on social media, too.) Titled "Eleganza," the show focused on the Italian house's most famous signatures. It was divided into 11 segments — and included a whopping 127 looks total — as an announcer narrated the backstory of each one.
The first group of models showcased the luxury brand's expertise in tailoring through suiting with accentuated waists (a running trend in Milan this season) and sharply cut tailcoats in a sleek, black-and-white color palette. Immediately following were looks from the very opposite of the style spectrum: pastel-colored pajamas and nightgowns made from chiffon and satin, trimmed with lace or marabou feathers. Then, the collection shifted toward signature Dolce & Gabbana prints: leopard "and its innate elegance," as described the show's host; flowers, which boasted a few multi-floral-print dresses that will likely be a red carpet hit; and houndstooth (which was sometimes paired with polka dots).
A gemstone color scheme was up next. "Who among you will be that rare gem lucky to wear one of these extraordinary garments?" asked the host, as ensembles boasting bright ruby reds, bold emerald greens and a striking purple amethyst took over the runway. Next came jackets with a collage effect and coats, dresses and skirts with artsy, surrealist, fashion-adjacent graphics (measuring tape, scissors and needles in pin cushions), which felt slightly out of place compared to the rest of the lineup. "The women with the privilege to wear them is an inspiring muse and avant-garde artist," said the host.
The collection also included an impressive five bridal looks. And finally, the top three signatures of Dolce & Gabbana rounded out the highlight reel that was Fall 2019: sparkling sequins, brocade and Sicilian black — "the most iconic element of Dolce & Gabbana's DNA."
Maybe stripping away all of the performative noise that has accompanied recent shows and campaigns actually allowed everyone to focus on what Dolce & Gabbana should be known for: making beautiful clothes. On the other hand, however, one can't help but question the motive behind this season's inspiration. Perhaps it was a way to steer clear of or make amends for the brand's recent controversy in China from November 2018 when a decidedly ignorant and racist campaign promoting its upcoming (and then canceled) runway show in Shanghai caused a major backlash and boycott by one of the world's biggest luxury markets. (However, according to WWD, while sales were down in China, the brand has only suffered minor losses.) 
See Dolce & Gabbana's Fall 2019 collection in full in the gallery below.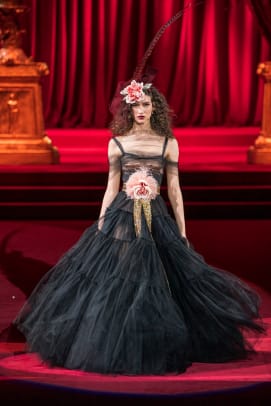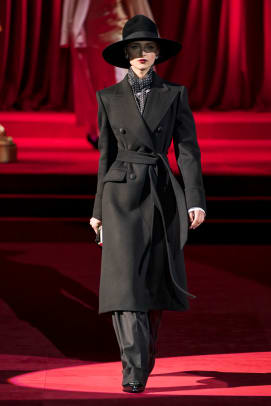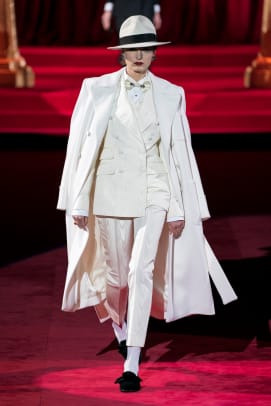 Sign up for our daily newsletter and get the latest industry news in your inbox every day.