Karl Lagerfeld Lives on Through His Final Collection for Fendi, Fall 2019
The Italian house's moving tribute to the designer and his 54-year-long tenure was immediately felt among showgoers.
Outside of the Fendi runway show on Thursday in Milan was the usual crowd of bottlenecking lines, loiterers and a group of anti-fur protesters, but inside was a whole different story. As soon as guests entered the venue, the Italian house's tribute to the late Karl Lagerfeld and his 54-year-long tenure as creative director was immediately felt: Above the catwalk's entrance was his handwritten signature in lights; at every seat was a touching tribute card that commemorates his death; and show notes came with sketches of Lagerfeld's final collection for Fendi.
It's no secret that Lagerfeld was not only incredibly prolific, but also a master of his craft. The Fall 2019 collection introduced new takes on some of Fendi's design signatures, including the newly relaunched Baguette bag, which is currently undergoing a large push from the luxury house with an aim to recapture its nostalgic magic. This season, the handbag is updated in an embossed pillow patent faux leather and a multi-strap utility harness — both of which you'll surely see all over Instagram sooner rather than later.
While plenty of street style stars wore their best Fendi logomania from seasons last to the show, they'll need to switch gears come fall: Lagerfeld revived his curling "Karligraphy" double-F monogram, which appears on everything from stockings and socks to turtleneck bodysuits, shirts and fur coats.
What Lagerfeld does best is balance modernity with refinement: Tailored garments were strong-shouldered and nipped in at the waist. Dresses were adorned with large bows in the back, and outerwear boasted laser-cut leather or zipper embellishments. As many tributes from figures throughout the industry can attest, Lagerfeld's design genius will not soon be forgotten.
The runway finale was emotional to say the least. David Bowie's "Heroes" played as models (some who appeared to be on the verge of tears) made their last lap across the catwalk and the crowd gave a standing ovation for creative partner Silvia Venturini Fendi. After, the room went dark and a video featured a not-too-long-ago Lagerfeld sketching his first-ever design all the way from 1965, showing that at Fendi, his memory will always live on. 
See Fendi's Fall 2019 collection in full in the gallery below.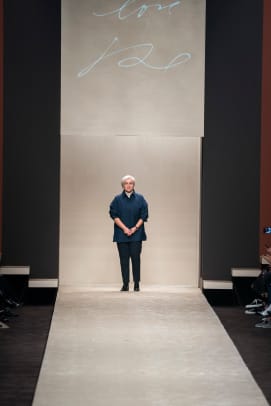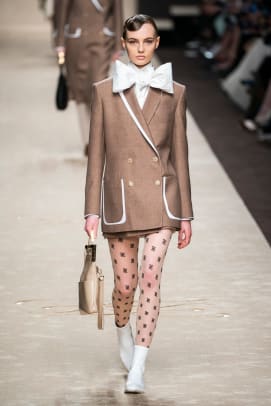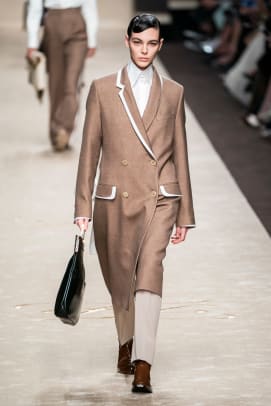 Sign up for our daily newsletter and get the latest industry news in your inbox every day.