Alessandro Michele Taps Into Social Identity for Gucci's Fall 2019 Collection
It's a far cry from his previous inspiration of Hollywood glitz and glamour.
All eyes have been on Gucci over the course of February. Since the release (and takedown) of a controversial "blackface" sweater, the Italian house has been going through it: social media outrage, reprimand from collaborator Dapper Dan, boycotts, an internal memo from CEO Marco Bizzarri, a statement from Alessandro Michele, a previously scheduled public appearance in New York City from Bizzarri (as well as a meeting with Dapper Dan in Harlem), long-term initiatives boosting diversity and cultural awareness and, most recently, Gucci's anticipated Fall 2019 debut during Milan Fashion Week.
On Wednesday, the runway show was set with circular seating for the audience, as guests were surrounded (quite literally) by one of Michele's most tension-filled, sartorially aggressive collections to date. There were uncomfortably bright, flashing lights across the walls while a soundtrack of dogs growling and war drums blasted over the speakers. It's a far cry from his previous inspiration of Hollywood glitz and glamour, so much so that the first look involved a mask and outfit adorned with long, sharp spikes, which would continue to pop up (ouch) throughout the show.
Masks were also a running theme, which stems from Michele seeking inspiration from philosopher Hannah Arendt — specifically, her 1958 book "The Human Condition." According to the show notes, titled "The Mask as a Cut Between Visible and Invisible," Arendt "reminds us that we are persons when we choose the mask through which we appear on the world's stage." Our appearance and its ambiguous potential, which most definitely involves how we dress, is a part of living "as a distinct and unique being among equals," says Arendt.
But mask or not, Gucci's clothing and accessories are generally easy to point out these days. For fall, fashion-savvy observers will notice Michele's designs through strong-shouldered suiting, oversized printed camp shirts, Victorian-era blouses and statement outerwear, among other standout details within his hodgepodge of aesthetics. Interestingly, other designers' signatures also came to mind while viewing the collection, such as a coat that's somewhat similar to a street style-friendly item from Saks Potts, a two-piece suit with Chanel-esque details and helmet-like hats with clear visors that look like they were pulled from Dior's Coachella-ready version.
Accessories are as strong as ever, including mixed-material sneakers, two-tone loafers, faux fur stoles, small, multi-functional duffle bags with crossbody and side straps, spiked chokers and kneepads (yes, kneepads!) with Gucci logos on them. Perhaps Michele wants us to believe that our appearance can contain multitudes.
See Gucci's Fall 2019 collection in full in the gallery below.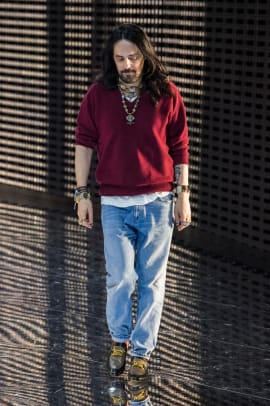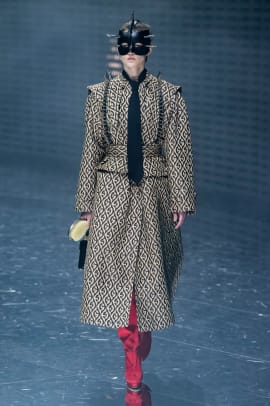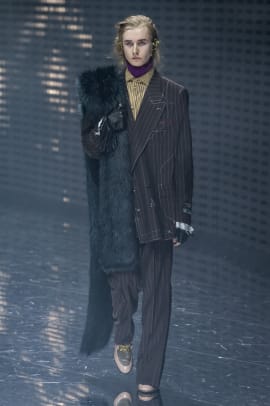 Sign up for our daily newsletter and get the latest industry news in your inbox every day.