Nicola Glass Hits Her Groove and Gets Groovy at Kate Spade New York Fall 2019
The collection was all about the '40s as seen through the '70s.
For her first season at Kate Spade New York, Spring 2019, Creative Director Nicola Glass wiped the slate near-completely clean, pulling back from the quirkiness in favor of a return to the brand's DNA of color play and vintage-inspired shapes. 
That thread continues into the Fall 2019 collection with another groovy range of '40s-by-way-of-'70s silhouettes, with the bright colors brought down to jewel tones on everything from velvet bags and sparkling tights to collared dresses and slinky knit skirts. Those stunning knee-high boots that caused so many editors to swoon in spring have been slightly lowered, and now feature lacing all the way up the front: They're perfect for pairing with those prairie-style dresses that have been dominating the scene for some time but are also a nice antidote to the collection's short, silky dresses. (The denim style will no doubt do very well at retail.)
Leopard was a key print here, as was python, both in their natural shades and in deep, saturated colors like purple or yellow. The Kate Spade customer might love a good, twirl-able skirt, but there's something fresh and appealing about Glass's take on high-waisted flares, especially in deep-hued corduroys or when pared with platform, peep-toe heels. 
Of course, where Kate Spade New York does best is in the handbag business, and that was emphasized on the runway with models carrying multiple styles and shapes of purses. The Nicola turnlock-style bag, first introduced back in spring, gets a chain strap or a top-handle twist; a new style features two pouches covered in oversize pieces of contrasting prints or materials for an interesting, if not somewhat impractical, effect.
It was, overall, a more sophisticated collection than what many customers might be accustomed to seeing on the runway (and the silk turbans were the one miss, better in idea than in execution). But really, with such a gorgeously mixed palette of dark green and lilac purple paired together, or coral pink with wine reds, how could they possibly mind?
See the complete Kate Spade New York Fall 2019 collection below: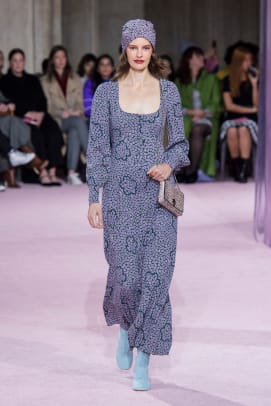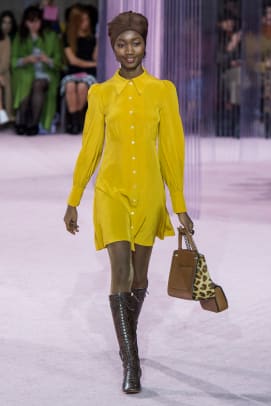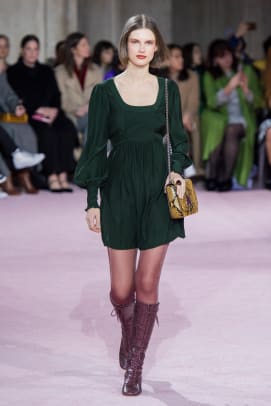 Want the latest fashion industry news first? Sign up for our daily newsletter.