New York Fashion Week: Men's First-Timer Keenkee Is a Label to Watch
Switching from graphic design to fashion, Kee Kim's newly launched brand is already carried at Opening Ceremony and Ssense.
Kee Kim's Tribeca studio is a modest space mostly filled with racks carrying the Fall 2019 collection of his label Keenkee; his desk alone takes up a quarter of the room. But the minimal square-footage is fitting for Kim. After all, he's a one-man show behind the brand that he launched early last year after quitting his job as a graphic designer.
Born and raised in Seoul, Kim moved to the U.S. after studying graphic design to pursue a master's degree at Yale University. In 2015, he was hired by creative director Richard Turley to work at MTV and, following that, he spent two years at the design consultancy 2x4, whose client list includes Barneys New York, Nike, Sies Marjan, Tom Ford and Prada. (Kim worked closely with the latter. You may have seen his wallpaper designs at its Soho flagship store.)
"When I was working at the [Prada] studio and I had to keep learning about them, sometimes I would have to go through their archives and they had everything there. It was such a blast for me," recalls Kim. "It was a great learning experience and education because it's not like any other luxury brand."
Perhaps it was his time there that fueled his inspiration to start his own fashion line, as he uprooted his Brooklyn apartment to live walking distance from his 2x4 office. That way, he could spend less time commuting and more time sketching out ideas and brainstorming logos — "homework," as he would call it — as soon as he was off the clock. Sometimes he'd ask his colleagues — all graphic designers — for feedback. "Everyone was a little bit concerned about me," says Kim with a laugh.
Eventually, Kim traveled back to Seoul to fill his parents in on his career switch to fashion design. He found a manufacturer in his hometown to handle Keenkee's production and sampling and works with about eight professionals overseas each season. "The turnaround is super fast," says Kim. "I do want to do it in Europe, but I figured it takes forever for every single thing. And since I'm the only one in charge of everything, I really need a certain speed and efficiency. I find Seoul is actually apt to do it."
"I don't do cutting and sewing because that's another profession and there are way better people who can do it," adds Kim. "I really care about the color and the fabric and especially the prints, which I create myself."
That's where his graphic design background comes into play. Often during our chat, Kim mentions "interface" — the visual elements — while explaining each and every piece. From Keenkee's Fall 2019 collection, there's a raw denim jumpsuit cut into a shirt, just below the belt loops, that can be styled with a pair of matching jeans, resulting in a weird-in-a-cool-way layered look. Shirting boasts body panels that double as pockets; super-soft button-downs are emblazoned with floral or fire motifs; a suit features high-contrasting fabric along the cuffs and hems; and a hoodie has not one, but two, drawstring hoods attached. The pieces' muted color palette is a far cry from Kim's neon-tinted debut Spring 2019 collection, which is already available at fashion-forward retailers like Opening Ceremony and Ssense.
"Designers, especially if they're beginning and emerging, maintain a certain style for two or three seasons, but I wanted to experiment further," says Kim. "People might easily assume I'll introduce something similar, but I actually made it quite murky — nothing that much vibrant — but you still can find a hidden joke or playfulness there."
After Kim's debut at NYFW:M, he's already onto designing his next season, taking into account the feedback from his buyers and to his Fall 2019 presentation. "I keep ping-ponging myself; it's action and reaction," he says. "Last season was energetic, and this one is moody and next season will be a reaction out of that."
Kim also sees more to Keenkee's future beyond just clothes, as he hopes to dive back into his graphic design roots with a bigger project for his brand. "There's something in between all of this still — something graphic, visual and 3-D," he says. "At some point, there must be something that I can do — not just for sales or products, but something that people can really engage with."
See Keenkee's Fall 2019 collection in the gallery below.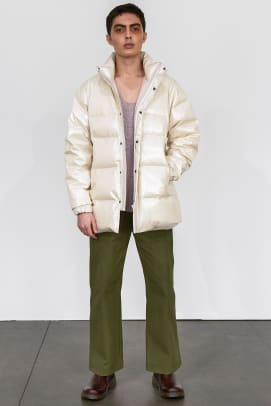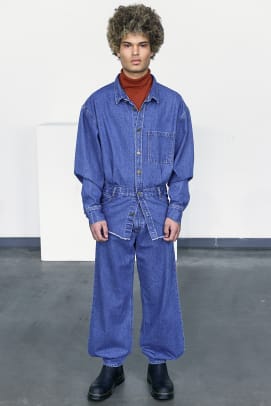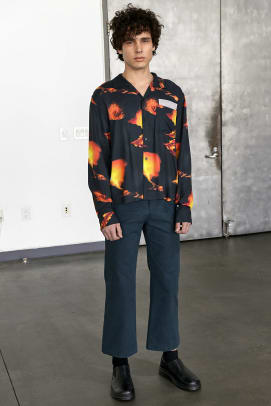 Sign up for our daily newsletter and get the latest industry news in your inbox every day.