Marc Jacobs's Pitch-Black Runway Show Put a Spotlight on His Incredible Skill
This is a level of craft and theater unmatched by any other designer in New York.
On Wednesday night, at six o'clock sharp, Marc Jacobs — who you may recall was at the center of some drama surrounding his 90-minute show delay back in September — killed the lights inside of the Park Avenue Armory, leaving a tight group of showgoers sitting in complete darkness. Save for the dim glow of phone screens reflected on the lacquered runway, the venue was pitch-black, setting a mysterious (if not ominous) tone for the collection that was about to walk. In fact, it was nearly impossible to even make out the faces of Jacobs's famous friends and supporters lining the front row, a crew that included the likes of Kerry Washington, Tracee Ellis Ross, Sofia Coppola, Rita Ora and Shailene Woodley. 
If this moody backdrop and the accompanying soundtrack of slightly unsettling live strings were meant to be a metaphor — perhaps for Jacobs's recent business woes or the "clean slate" this symbolized following his Spring 2019 show — it was not subtle. But then again, neither are Jacobs's clothes. He brings a level of skill, emotion and showmanship to New York Fashion Week that's unsurpassed by any other designer on the calendar; very few even come close. So as soon as a single spotlight shone on the first model walking down the runway, illuminating just enough space to reveal every last detail of her look while also casting a wide shadow of her on the high Armory ceiling, we were completely focused and captivated.
What Jacobs was able to achieve this season so seamlessly was mixing everyday wardrobe staples like tailored, cropped trousers, crewneck knits, midi-length skirts, silk slip dresses, beanies, sharp suiting and classic, practical coats with pieces that epitomize Capital-F Fashion. There were dresses in extreme, oversized proportions; striking, rich colors like marigold, lilac, sky blue, poppy red and seafoam green; statement outerwear in the form of patterned capes, nipped-waist coats and furs; sparkling paillette embroideries, glittering tights and feathers galore. 
The gowns were the stuff of fairy tales, including a short, teal off-the-shoulder piece which gave the illusion that the model had just emerged from a pile of flower petals, a high-necked, black-and-white polka dot confection that seemed to float down the runway and a pair of feathered finale gowns that had a distinct couture quality. (We hope that Lady Gaga's styling team was paying attention, as there are some prime options for her Oscars ensemble in this collection.) The casting was just as dreamy as the clothing, with supermodels spanning different generations walking the runway: Christina Kruse, Guinevere Van Seenus, Gigi Hadid, Liu Wen, Karlie Kloss and Lindsey Wixson, to name a few. Christy Turlington, who hasn't made an appearance on the catwalk since the '90s, closed the show, in a moment that will likely land among the most memorable of the season.
While there was plenty of modernity on offer here, some looks — with their feathered caps, ruffled collars and sleeves, voluminous skirts and modest cuts — could have been ripped straight from a museum exhibit or a fashion history book on account of their level of craft. It's because of collections as moving and beautiful as this one that Jacobs is deserving of a place in both as well.
See every look from the Marc Jacobs Fall 2019 collection in the gallery below.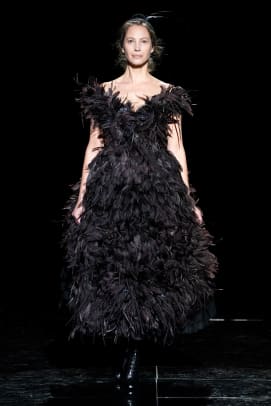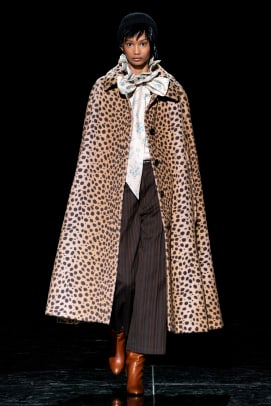 Want the latest fashion industry news first? Sign up for our daily newsletter.