Barry Manilow Shuts Down Michael Kors's Studio 54-Themed Fall 2019 Runway
He may be the only designer in New York City who can get models to dance.
Michael Kors has established himself as the go-to designer for all things American glamour, whether that's easy West Coast chic or '80s power bitch, so it was not particularly surprising when he cited the Studio 54-era of New York City as inspiration behind his Fall 2019 collection, shown Wednesday morning.
What was surprising, though, was the finale performance of "Copacabana (At the Copa)" by none other than Barry Manilow himself. Kors loves an on-theme act — remember Rufus Wainwright's Judy Garland-themed set for Spring 2017? — but this time, Manilow brought the house down. He made it very clear he hasn't lost any of his spark as models like Gigi and Bella Hadid, Sabina Karlsson and Patti Hansen, making her own triumphant runway return, joined him on stage to boogie in Kors's clothes against a glittering backdrop.
And about the clothes: Kors is still experimenting with breaking out of his typical luxe shell, playing with pattern and detailing more than usual. This collection was reminiscent of the '70s-era obsession with the 1930s and '40s, with veiled fascinators and feathered caps topping huge, blown-out hair while glittering fishnets and dramatic feather boas added finishing touches to outfits. It was a little glam and a little grit, just like New York City was during those storied years.
The show notes indicated that the Kors woman this season worked as a dancer on Broadway — cue the cozy-looking sweater and legging sets — but partied at Studio 54 (as though there was anywhere else to be seen in the '70s) by night. Some of the colorful, sequined dresses looked a little cheap; but then, weren't the '70s a little cheap? More sublime were the lurex looks with feathers worked in and lamé dresses that will likely charm the celebrities who pack Kors's front row every season; whether someone will be bold enough to wear the sequined-and-feathered blazer look pantsless, as Bella Hadid did on the runway, remains to be seen, but the styling admittedly did much to show off the feathered platform heels.
Yep, the platform is back, both for women and for men in patchwork leathers and python prints. They may be a harder sell for the boys, but they were an ideal foil to floral silk dresses and giant (faux!) furry coats. And if you're really into Studio 54 like Kors, there are even pieces with the famous Studio 54 logo emblazoned on them, like an oversized puffer coat that's bound to find a home with a street style star or two. Overall, this was not exactly a relaxed sort of glamour, but it's always a pleasure to see Kors go full-throttle glam. 
See the complete Michael Kors Fall 2019 collection in the gallery below: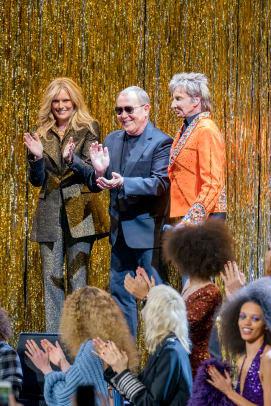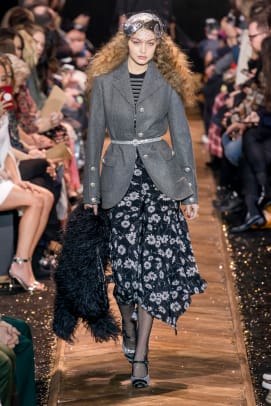 Want the latest fashion industry news first? Sign up for our daily newsletter.