Grandmas Everywhere Are Going to Freakin' Love Jeremy Scott's Fall 2019 Collection for Moschino
And we do too!
As soon as Moschino's Fall 2019 invite — a yellow tag with my name on it — arrived at my Airbnb in Milan, I instantly knew the theme of Jeremy Scott's  collection: "The Price Is Right," a game show that was revamped in the '70s with famous host Bob Barker. It's also my late and beloved grandma's absolute favorite program to ever grace cable television. On Thursday night, when the curtains lifted to reveal a recreation of "The Price Is Right"'s set with models playing, well, models of the show, my mind flashed back to sitting next to my grandma as she guessed the value of things like household appliances, exercise equipment, vacations and even "a brand new caaar!" (The prized vehicle this time around was a red Ferrari, presented by Jasmine Sanders, Teddy Quinlivan, Joan Smalls and Vittoria Ceretti, to name a few.)
Nostalgia is a word and marketing strategy that's been thrown around a lot within the industry over the past few years. Heritage brands have risen from the dead, designers' archived collections are back on sales floors and anything that stems from the '90s and early '00s is Gen-Z gold among retailers. And Scott is no exception, and he does it right, diving head-first into his inspiration of old school game shows. In addition to "The Price Is Right," there were homages to "Press Your Luck" and everyday items found within an all-American household during the golden era of primetime television, such as soft drinks, laundry detergent and even a cape that was designed in the form of a Salisbury steak TV dinner — complete with gravy, peas and carrots and buttery mashed potatoes.
The majority of Moschino's collection is comprised of dresses, most likely inspired by the wardrobes of the models that graced the game shows back in the day. (The runway beauty — big hair and camera-ready makeup — looked like an ode to "Wheel of Fortune" co-host Vanna White.) Party frocks were emblazoned with money-focused motifs — bills, coins and actual dollar signs — while evening gowns — in head-to-toe sparkling gold, or ruched with cut-outs and crystal trim — exuded high-key glamour. At times, Scott's Moschino designs are too literal for their own good. (See: his sketchy Spring 2019 collection.) But this season, his approach was a winning combination that mixed retro magic with pure fun.
See the full Moschino Fall 2019 collection in the gallery below.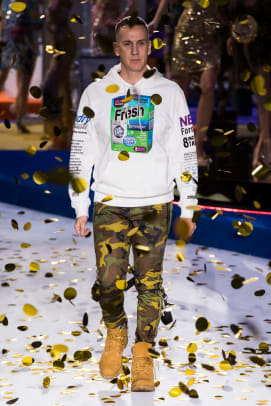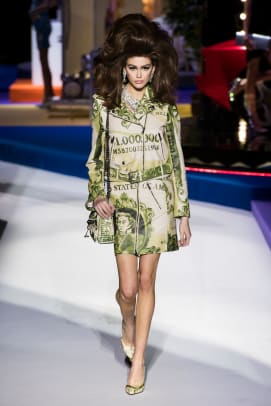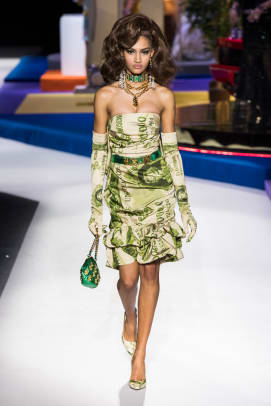 Sign up for our daily newsletter and get the latest industry news in your inbox every day.