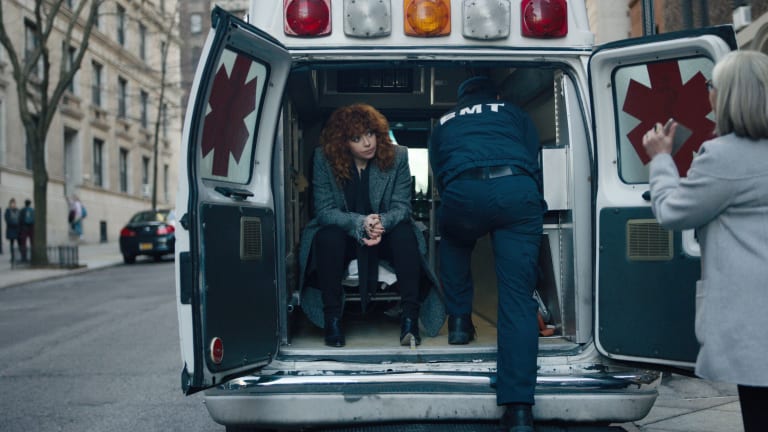 Natasha Lyonne Wears H&M, & Other Stories and Helmut Lang to Relive the Same Day in 'Russian Doll'
"Girls" and "Orange is the New Black" costume designer Jenn Rogien also discusses Greta Lee's "kooky, '60s-meets-now" repeat party outfit.
Warning: Major spoilers for Netflix's 'Russian Doll' below. 
Proceed only if you've watched all eight episodes of "Russian Doll" on Netflix and want to take a deep dive into the hidden meaning behind the costumes (or need to know where to cop Maxine's excellent birthday party 'fit). I don't want to be responsible for spoiling any of the twists from the dark yet hilarious show that's a little bit "Groundhog Day," with a touch of Jeremy Bearimy from "The Good Place," the "USS Callister" episode of "Black Mirror," "Sliding Doors" and some "Search Party" meets "Girls" vibes for the whole New York cool kid thing. 
Netflix's inventive new series is created and written entirely by women: Amy Poehler, Leslye Headlund and New York treasure Natasha Lyonne, who pulls quadruple duty directing an episode and starring as Nadia. The quintessential — and very sardonic — downtown lead keeps dying in the most New York of ways, then reliving her 36th birthday party thrown by her well-accessorized artist friend, Maxine ("Girls" alum Greta Lee). (Fashion fun fact: Lyonne previously directed Lee in a short film for Kenzo's fall 2017 campaign.) 
Considering the premise, costume designer Jenn Rogien faced some unique challenges in using minimal wardrobe changes to help the characters — including tightly-wound corporate-type Alan (Charlie Barnett) — relive the same day through various scenarios in an effort to figure out why it's happening. The Emmy-nominated designer, who also works with Lyonne on "Orange is the New Black," jumped on the phone with Fashionista to discuss how the costumes help illustrate the many resets (and authentically depict downtown New York), why the making of Nadia's precious coin necklace narrowly avoided a felony charge and what went into pulling Maxine's birthday party look together. (PS: Check out Lyonne's Instagram for more behind-the-scenes shots of all the looks.)
Read on for the highlights of our conversation. 
The outfit that Nadia wears when the series opens is obviously very important. What was the inspiration behind her all-black birthday party look?
When we were getting started on the show, [Lyonne] sent me a text saying: "Marisa Tomei meets Joe Pesci." Of course, Natasha's knowledge of the film universe is encyclopedic, so I had a lot of catching up to do in terms of research. I looked at that and then images of '70s fashion.
She had 12 head-to-toe multiples of we call "the day one look." We needed so many because of the stunt work and all of the dying sequences: falling in the water, getting hit by cars. There wasn't tons of blood, which was helpful, until there was tons of blood. Plus, there was a stand-in and photo double. Because of the volume we needed, we did actually shop a lot of things at main street retailers: Gap, H&M, Zara and & Other Stories. The grey coat [top] was Helmut Lang.
On certain nights, Nadia makes it out of the party — and down the stairs — and changes into a red blouse and western tie, which she wears for various reset scenarios. What's that look telling us about her?
Nadia's color palette is red, black, white and grey, so it was very important to keep that tightly controlled. One of the intentions behind the red blouse, specifically, was to clearly distinguish that look from the first look. When you only have two looks in a series, we want them to be similar on some level. They both have ties around the neck and are both a version of a silk blouse. 
The red shirt is from & Other Stories. In full disclosure, we manipulated the pleats a little bit. In real life, they were very soft, so it was becoming a continuity challenge and becoming distracting in that they were in a different position every time that we rolled on it. My amazing wardrobe supervisor Melissa Stanton actually went through and hand-stitched them down, so you would get that visual without getting a cascade of open pleats. As you might imagine, continuity was a huge challenge on the show because of all of the different ways that each episode handles the time loop. 
The tie is actually a ribbon that we added to the blouse in addition to her necklaces, because the necklaces carry a lot of significance for the character.
The coin necklace is a big part of Nadia's backstory. What went into creating and/or sourcing it?
One of the things I learned is that you cannot create a coin based off an actual coin that exists, because that is considered counterfeiting. We worked with this amazing jeweler, Donna Sackowitz, who does a lot of film and television production, to create a damaged version of an ancient Russian coin. It was something that was entirely ours, so that, legally, it would clear for use of the show. It is intentionally blurred and hammered and kind of smashed. Donna helped source the vintage bezels and the chains that went with it, creating it piece by piece.
Is Nadia wearing the same double-breasted blazer for both of her repeated looks?
Yes. In addition to the Joe Pesci inspiration, something specific to the idea of Nadia's wardrobe was the idea of a uniform. Her focus isn't fashion and clothing. She is really, truly a Lower East Side New Yorker and a software coder; she has figured out what works for her. She's not into a street style game, so [over time] she has developed a uniform that makes getting dressed easy and functional for her. But it's still very cool and very specifically new York.
The blazer is from H&M. When you need 12 of something and you are also budget conscious, you really go high and low. But it's not because we didn't try on amazing pieces from all over. Natasha has amazing connections in fashion, and we certainly did reach out to friends and people I've worked with before. We tried everything and it happened that blazer had a great shoulder on it. We specifically gravitated to that and it really helped the silhouette overall.
We, of course, modified a bunch of them for all the different stunt work and all the times you see Nadia wearing a coat over it; we had one that we cut the back and shoulders out of, so it wouldn't add bulk for all of the movement that she does. We really did do some costume magic behind the scenes.
In the final episode, Nadia changes into a white blouse presumably lent by Maxine, who asks "What? You hate that shirt? Too much pirate?" I'm guessing it helps differentiate the timelines, but what came first: the script or the pirate shirt?
There was already dialogue about a pirate blouse and I had a long talk with Natasha and Leslye [Hedlund, writer, creator and director] about how to best differentiate the timelines. That's a really important point in that final episode and we ended up finding a blouse [by Equipment] that was similar in silhouette to the black blouse, so it made sense. Maxine is such a fashion character that we had a lot of flexibility in what that ["pirate"] be. There was something wonderfully symbolic about the black and white of it, quite literally, that Natasha and Leslye very much liked.
Maxine is such a "fashion" character and the party outfit she wears is so good. What was the inspiration behind the blue blouse, the printed pants and the jewelry?
First of all, Greta is a style star. I've worked with her before on "Girls" and getting to work with her again in an entirely different role was so much fun. It really was about what would make sense to this character who doesn't see the world in the same way as the other characters on the show, yet they're all incredibly good friends. 
We just played around in the fitting. We tried random combinations of everything from Century 21, to Shopbop, to H&M and Zara. You name it. We went high, we went low. Some vintage, some new. We ended up with this kooky, '60s-meets-now look, with a bunch of weird jewelry thrown on the top of it. I had completely forgotten that was what we chose until I saw a still on Instagram last week and was like, "Greta looks amazing. Wait, that's from the show!" I'm not trying to be self-congratulatory at all. 
I think the outfit is from H&M. It won out over a Dries Van Noten fully-sequined skirt that was a hard number two. We ended up thinking the leggings would be a lot easier to deal with climbing down the fire escape and all the crazy shenanigans they get into.
The accessories were pulled from all over the place — a chain from here and a choker from there. Some of it was from my kit. I do remember my wardrobe supervisor repairing the mesh vest almost every day because it was so delicate; it kept falling apart on us and making us crazy.
Why does Alan wear a yellow plaid shirt to go to Maxine's party for a few resets, instead of his usual sweater and button-down? And then switch back again?
That's his version of a party shirt. Everything we see him in up to that point is muted because that's who his character is. He's a very buttoned-up guy going through the motions of his life, even though he keeps resetting every day. But then he makes that decision to go to the party and we wanted to support that with his version — a dorky version, to be honest — of what he thinks would be a cool, slightly hip shirt to wear to a birthday party of this woman he just met whom he finds out is in a whole different world than he's in. It was all just an effort to underscore what Charlie was doing with the character work and what Natasha and Leslye had written in terms of someone who is buttoned-up and kind of gets ripped apart through this story. He goes back to his sweater because this isn't really working.
It's always a joy to see Chloë Sevigny in vintage. What was it like costuming her for the flashback scenes? 
Natasha and I talked a lot about that, too. Natasha was in New York in the [late] '80s and she had really strong feelings about it not being anything too crazy or power '80s or neon '80s. We were walking this line between sexy and potentially not at all in her right mind, and still having that work. Then poor Chloë, I tortured her with a pair of vintage shoes that kept breaking on that day. I just kept saying, "I'm so sorry." She knows vintage clothes so well, so she's like, "I totally get it." I just tried stepping back and letting the wardrobe support what was going on and not have it be a full on '80s flashback.
You have so much experience distilling different New York communities through costume. How did you use it to show this subset of New York?
I one-hundred-percent looked to Natasha for that inspiration. Because, to be honest, I have never lived on the Lower East Side. I'm more of a Brooklyn girl, and it's very different vibes. Yet, we were also creating a world of our own with this story — we referred to it as this "snow globe" — in that Nadia and Alan happen to live very close together, but have very different apartments and very different takes on things. 
It's a bit of a what's really happening on the Lower East Side now, where you've got the people who've lived there for years, and the new influx of people who live there because it's close to their jobs in the financial district. It's this mashup of old-school New York — you know, artists, musicians and that sort of rock 'n' roll vibe that is of an era gone by — and this new crowd that comes to go to the restaurants and party and hang out but they don't quite get that old-school character. So it was really important for me to get that right. 
The above interview has been edited and condensed for clarity.
Follow Jenn Rogien on Instagram @jennrogien. All eight episodes of 'Russian Doll' are available to stream on Netflix on Friday, Feb. 1.
Top photo: Courtesy of Netflix
Never miss the latest fashion industry news. Sign up for the Fashionista daily newsletter.