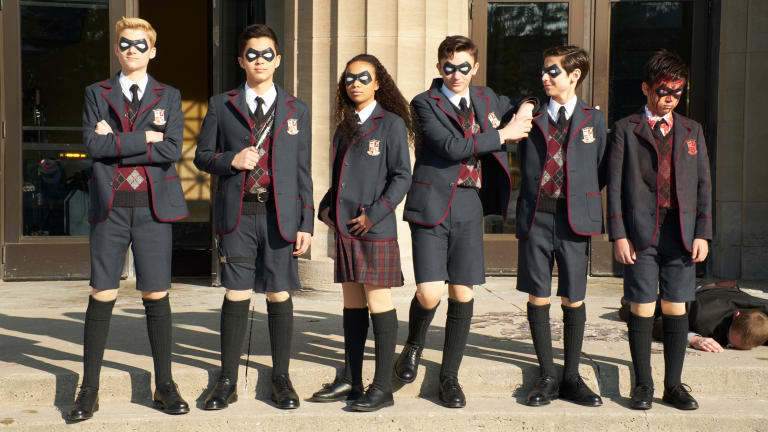 'The Umbrella Academy' Superheroes and Assassins Wear Vintage, Custom-Designed Suits and a Lot of Leather
Costume designer Christopher Hargadon also explains how Mary J. Blige herself influenced her three-piece suiting in the new Netflix series.
Warning: Spoilers for 'The Umbrella Academy' below.
In further superheroes of 2019 news, "The Umbrella Academy," the live-action adaptation of the graphic novels written by My Chemical Romance's Gerard Way and illustrated by Gerard Bá, premieres on Netflix today. 
The 10-episode series reunites adopted siblings, who also happen to be former teen superhero idols. After the death of their eccentric billionaire father, the now-adults reluctantly return to the mega-mansion of their youth to attend the funeral and save the world from an impending apocalypse. 
Considering that Way and Bá are also co-executive producers, the soundtrack is unsurprisingly fire — the dance montage to Tiffany's 1987 remake of "I Think We're Alone Now" and the, erm, killer sequence set to Queen's "Don't Stop Me Now" were highlights — and the costumes just as stylized and mood-building. 
"It was a story that was really atemporal in a way," says Christopher Hargadon about the non-linear series mostly set in a vague sort of present day in which iPhones don't exist. The veteran costume designer — responsible for Mads Mikkelson's stellar tie game in "Hannibal" and Mulder and Scully's tailored suiting in "The X-Files" revival — created a muted, subtle and "non-specific" overall palette. The costumes are sprinkled with nods anywhere from the Victorian era to the '50s (lots of '50s) to highlight the individual characters and stories.
Along with working with the original source material and showrunner Steve Blackman's vision, plus collaborating with the actors, Hargadon also enjoyed flexing his design creativity in bringing "The Umbrella Academy" from the page to the screen. Read on for his costume breakdown for each character, including Page's new take on Vanya and Mary J. Blige as time-traveling assassin, Cha Cha.
VANYA (ELLEN PAGE)
Also known as Number Seven, Vanya spent her whole life thinking she wasn't "special" like her other super-powered siblings. "She was really a person who dressed to be invisible within the psychological context of the story," says Hargadon, who kept Vanya's palette muted with light blues, grays and black; in more emotionally heightened moments, the violinist might veer into an adventurous burgundy.
"Ellen wanted to actually play an androgynous character," adds the costume designer, about Vanya's signature silhouettes of oversize sweaters, denim shirts, jeans and her reliable leather-sleeved zip-up coat. Page's vision for her character greatly differs from the white "body-painted" Vanya in the comics, so Hargadon took creative license to design a suitable look for her pinnacle transformation.
"We came up with a tails kind of formal dress that would go from black into white as she performed," he explains. "I think she really liked the end result — especially the white one."
KLAUS (ROBERT SHEEHAN)
While Klaus mostly wears black (and floats around in lotus position) in the comics, on-screen, he enjoys a more vibrant and colorful wardrobe. To express the complexities of the drug addict who can speak to dead people, Hargadon amassed an eclectic and retro-inspired mix of contemporary and vintage pieces, like '60s striped bell-bottoms, graphic Ts, crop tops and a shaggy patchwork '70s coat. 
"Because of the fluidity of the character, we ended up dressing him in about 60 percent women's clothes," adds Hargadon, some of which were scripted, like the handkerchief hem leather skirt Klaus "borrowed" out of his movie star sister's closet to pair with an Elizabethan-style blazer. ("Is that my skirt?" "It's a bit dated.")
Klaus probably goes through the (relatively) biggest wardrobe evolution, and the fittings behind the scenes was just as fun. "We'd just throw clothes around and throw them together," says Hargadon, who likens the moments to a makeover montage at a vintage fair. "It was always kind of an explosion of clothes that ended up in some way looking and feeling right on him." Although, Klaus's custom-built lace-up leather jeans remain a through-line, both for storytelling and practicality's sake. "I had all kinds of trousers for him, but those ones seemed to go with everything," says Hargadon.
ALISON (EMMY RAVER-LAMPMAN) 
To dress the famous Hollywood actress, Hargadon found his baseline inspiration from '50s screen sirens, as most evidenced when we first see Allison at a red carpet premiere (paparazzi: "Allison will you wear Valentino to the funeral?") and during the "La La Land"-esque dance sequence with a non-altered Luther. 
"We had to dress her like a movie star, but most of the scenes were actually the interior of the house in common everyday situations," says Hargadon. So he translated the glamorous vibe into Allison's elevated off-duty pieces, like high-waisted, wide-leg trousers and a selection of sleek moto-jackets, which allowed for major ass-kicking — when she wasn't using her power of suggestion. Hargadon also carried the palette of reds and blues from the comic book character's supersuit and shock of periwinkle hair. 
Appropriate for a red carpet star, "[Allison's wardrobe] was definitely on the more expensive end of the costuming for the characters," he adds.
LUTHER (TOM HOPPER)
"Now that was a real process," laughs Harbadon about (obviously) custom-designing and building wardrobe for the top-heavy Number One, who's enhanced with super-human strength — and some low-key dance skills.
"Luther came from a more grounded, earthy sort of world, so my goal for him was to dress him in earth tones, greens, grays that kept him very distinct," says Hargadon, about the military tones and tweedy layers that transitioned Luther out of his spacesuit from his stint on the moon. The costume designer took extra care to accommodate for the massive prosthetics worn by Hopper and the stunt-work involved. "Tom was hot in that thing," laughs Hargadon. "But we were also shooting in cold weather, so it was actually like a parka underneath his clothes."
DIEGO (DAVID CASTEÑEDA)
While Klaus and Allison enjoy a more varied wardrobe, vigilante Diego pretty much wears variations of one outfit through the entire series. "He tried to remain in the shadows," says Hargadon. But, staying true to the comics, Hargadon custom-designed much of the character's signature off-brand superhero look. 
To translate the iconic striped shirt from the illustrations, the costume designer airbrushed the linear pattern onto a custom-knit sweater, which was then aged and distressed. Hargadon also custom-built two harness "rigs" — not because it's a menswear red carpet trend in 2019 (Allison would so approve), but — to effectively carry Diego's assortment of butterfly knives and deadly weaponry. 
NUMBER FIVE (AIDEN GALLAGHER) AND THE UMBRELLA ACADEMY UNIFORMS
Number Five, essentially a 50-something time-traveling assassin, returns to the present stuck in his younger Umbrella Academy uniform-wearing body. 
"We did a lot of experimenting at the beginning," says Hargadon, about finding the right formula to make the prep school uniform pop on screen — and out from the ominous mood lighting. After many camera tests, Hargadon adjusted the black shorts-suit from the comics to a richer blue gray wool and added the burgundy trim which then influenced the color palette for argyle vests. "He basically never changes, so we had about 15 of these suits," says Hargadon. "He wore one after the other if one got ripped or damaged."
CHA CHA (MARY J. BLIGE)
Cha Cha and her partner Hazel (Cameron Britton) also wear their uniforms to reflect the corporate middle management dedication to their jobs as deadly time-jumping assassins. Hence tailored pantsuits, but in a subtle pinstriped navy blue instead of black, again, to pop on-screen. To differentiate Cha Cha — "a tough-minded murderer basically" — from the (relatively) "softer" Hazel, Hargadon added an "armored up" flair to her three-piece suiting adorned with steampunk-esque metal closures in place of blah buttons. He also obviously had to pay homage to the Oscar-nominated Queen of Hip-Hop Soul herself.
"Often when you do see Mary J. in a very, very different context — a concert and other situations — she does wear bustiers," says Hargadon, who then decided to give her buttoned up layer a sexier, dangerous edge with the corseted approach. "It's also a bit like armor."
GRACE (JORDAN CLAIRE ROBBINS)
Not that Hargadon plays favorites, but designing for Grace — the Hargreeves-invented robot programmed with maternal instinct, surgical training and talents for making smiley face pancakes for Diego — was a highlight.
"I've never dressed a '50s-style robot before," he laughs. Hargadon referenced the "perfect" '50s housewife figures of the era, such as "Leave It to Beaver" and "Ozzie and Harriet." Grace, whom the kids call Mom, is first introduced in a soft, pastel watercolor A-line style dress with lace-trim. Hardagon designed the dress with foam-lining to create the "crisp" and almost "otherworldly" structure. "I loved it because this perfectly circular shadow would follow underneath her as she walked," he says.
For Grace's inaugural stroll outside of the grounds of the Hargreeves estate, Hargadon custom-designed for a Grace Kelly-style moment, with references to the Dior New Look silhouette. "It had this military quality to it as well, because she is taking a new place in the life of the context of the house," he says. "She was a lot of fun."
Top photo: Christos Kalohoridis/Netflix
Never miss the latest fashion industry news. Sign up for the Fashionista daily newsletter.