7 Top Trends From the New York Fall 2019 Runways
A few brand-new ones, and a few familiar ones that are continuing to pick up steam.
As the opening week of the marathon that is fashion month, New York Fashion Week gives the world its first glimpse about what we all might be wearing six months from now. And though this season was devoid of some pretty big names — we're looking at you, Raf Simons at Calvin Klein and Rihanna at Fenty — that left even more room for smaller labels and newcomers like Tomo Koizumi and No Sesso to shine. Not to mention the fact that it reminded local industry folks why they love Marc Jacobs, one of the American fashion titans still left standing, so much.
Whether arising from little-known labels or brands that have been around a long time, there were plenty of design elements that showed creativity syncing up across the city. Camo print, colorful leather, ruffled collars and lots of gold showed up as trends early on in the week, and a few techniques that we've seen lots of in previous seasons — think tie dye, patchwork and quilting — stayed strong for fall. But there were hints of newness, too, in the sudden prevalence of zebra print and psychedelic colorways.
Take a peak at the biggest trends to emerge from New York Fashion Week below, and stay tuned for what will come out of the other fashion capitals in the coming weeks.
Tie Dye
Tie dye made a big splash last season for the spring/summer collections, and shows no signs of slowing down come next fall, even though it's usually associated with warmer weather. While designers like Area and Prabal Gurung opted for uber-bright iterations like the tie dye you remember from grade school, other labels like John Elliott and No Sesso opted for more subdued colorways.
Animal Print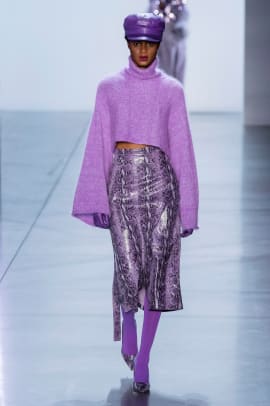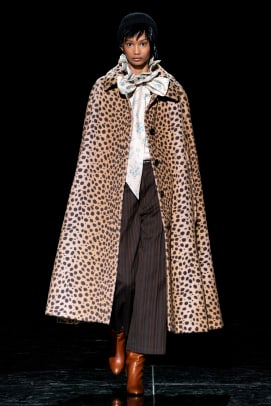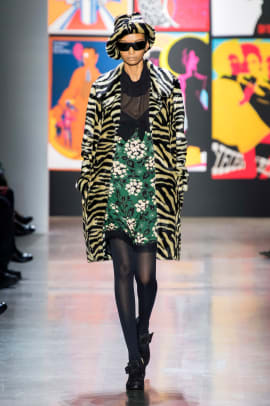 Real fur may be falling out of style, but wearing prints inspired by animals certainly isn't. From realistic recreations of python and leopard skin to loosely-inspired-by versions in a range of candy colors like hot pink, lavender and banana yellow, brands like Marc Jacobs and Kate Spade explored their wilder side.
Quilting
Fashion's obsession with quilting has been going strong for at least a year, and this season saw the trend migrate from the usual suspects — namely outerwear — to a range of other kinds of garments. At Rachel Comey, there were matching quilted pants and jacket sets, while Oscar de la Renta incorporated the usually-casual motif into lustrous evening gowns.
Purple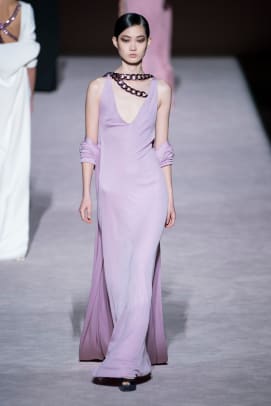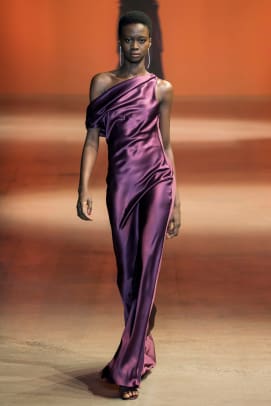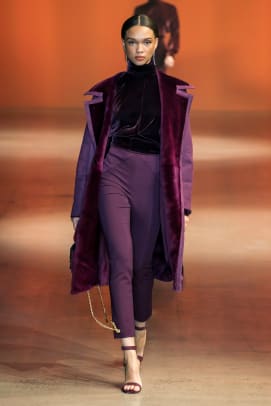 As a color historically associated with royalty, it's perhaps unsurprising that purple is what many designers rely on when they want to make clothes that feel luxe. From rich wine-colored silks at Cushnie to more electric blueish-purple gowns at Christian Siriano to lavender fur at Tom Ford, it's clear that this color will be popping up in plenty of different hues come fall.
Relaxed Suiting
Getting dressed up need not mean wearing a dress next season, according to a range of New York designers. From Tom Ford's velvet-and-silk combo to The Row's minimalist options to Vaquera's memeably oversize blazers, suiting that's more laid-back than sharply tailored was everywhere on the runway.
Psychedelic Colors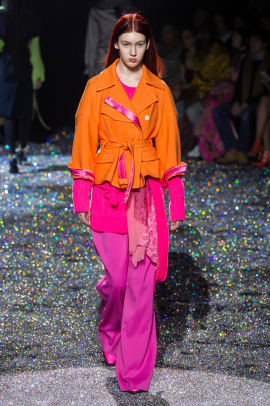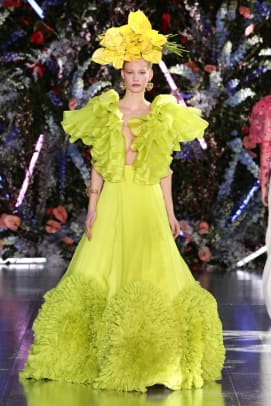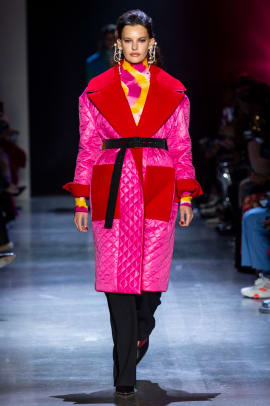 Tripped-out, notice-me color popped up aplenty this season, from Area's iridescent pants to Prabal Gurung's happy color-blocking. (Rodarte's acid-green ball gown, though technically shown in Los Angeles, made the cut too as a formerly-New York-based brand that now shows off the traditional schedule.) For slightly more subdued color that still packed an impact, one needed look no further than sensational newcomer Tomo Koizumi's rainbow-hued tulle explosions. 
Patchwork
Another trend that showed up a few seasons ago that's stuck around with a surprising persistence, patchwork proved its versatility this season. Whether rendered appealingly homegrown at Bode, flashily glam at Michael Kors or quirkily art-y at Eckhaus Latta, patchwork proved it's got something for everyone.
Stay current on the latest trends, news and people shaping the fashion industry. Sign up for our daily newsletter.