Five-Year-Old North West Scores Her First Solo Cover for 'WWD Beauty Inc'
The young daughter of Kim Kardashian and Kanye West represents the "youthquake" of future beauty consumers poised to change the industry.
The past several years have seen plenty of buzz about the Kardashians and Jenners in the beauty business. But on Friday, another member of the family dipped their toe in the cosmetics industry waters: North West, the five-year-old daughter of Kim Kardashian and Kanye West, appears on the cover of the latest issue of WWD Beauty Inc.
The issue explores the future of the industry, looking at the impact Generations Z and Alpha will have in the years to come, given that they will be the largest generation by 2025. The young daughter of Kardashian and West represents the "youthquake" of future beauty consumers, which will be the first "social-native" generation, as well as the most racially and ethnically diverse generation. 
In a colorful, whimsical shoot by JUCO that includes bubbles (to reiterate: she's five!) the young West sassily poses on a stool and beneath a parasol to show off a beauty look that includes pigtails and dash of bright-red eye makeup. Hairstylist Chris Appleton and makeup artist Mary Phillips, both of whom regularly work with the Kardashian and Jenner sisters, were behind the look.
It's been well-documented that West is already a fan of cosmetics; in an interview with this very site back in 2017, Kardashian spoke about how beauty already played a role in the child's life. "My daughter always sees me getting ready, and she loves the [KKW Beauty] highlighters. She's obsessed with gloss — she uses the gloss and the highlighters, and it's really cute to see her get to so into it," she said at the time.
So perhaps it makes perfect sense that WWD would tap a budding beauty obsessive for its cover, even if she happens to be a kindergartener. That is exactly what the digital age hath wrought, it seems.
"Without a public Instagram or YouTube channel of her own, she's too young to fully understand what a digital footprint is. And yet, hers is already wildly popular," writes Alexa Tietjen of West in the accompanying story, which also highlights toddler influencers such as Luna Legend and Ren Bannister. "Gen Z and Alphas... have been plugged in since birth. They're the first people whose lives are fully integrated with tech. They are fluent in the internet." 
Click through the gallery below to see the full shoot and head to WWD for an excerpt of the full feature.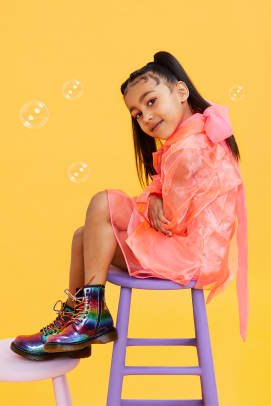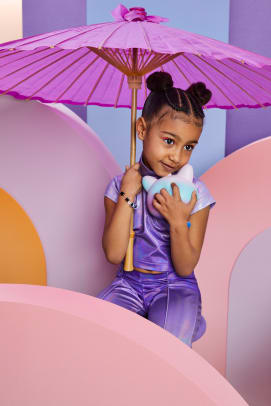 Never miss the latest fashion industry news. Sign up for the Fashionista daily newsletter.