Colorful Leather Will Likely Replace Your Bright Faux Fur Come Fall 2019
At least if the designers in New York have anything to say about it.
Those in-the-know during New York Fashion Week have donned their best "stick of butter" looks for the street style photographers, but what about wanting to feel like butter? The first half of New York Fashion Week Fall 2019 brought with it a compelling solution — colorful leather in an array of shapes and styles.
A handful of New York designers sampled the idea through various perspectives, all of which evoke a certain sumptuousness. At Ulla Johnson, leather doesn't just come in a structured jacket or pant (how could it for a brand that embodies bohemian chic craftsmanship?), but a ginger leather prairie dress and a puff-sleeve blouse in the same hue. Jonathan Cohen also favored orange, offering a supple leather blouse in one look and a double-breasted coat in another. Maryam Nassir Zadeh, meanwhile, opted for the vintage-feeling silhouette of a leather bomber in steel blue. Catherine Holstein's brand Khaite gave us a rich-feeling hunter green leather trench with matching culottes for its debut NYFW show (and later, a cropped leather jacket in the same color), part of an overall strong collection that solidifies the newcomer as having star-potential.
Although some designers have utilized vegan leather materials rather than animal products (and apparently with great success, if the ubiquity of Nanushka's vegan leather puffer during fashion week is any indication) leather's day of reckoning has yet to come, meaning we'll still see plenty of it on the runway, whether it's through outerwear or a modest dress, without reproach. What's more, colorful faux fur's moment has passed, so perhaps vivid leathers are the evolution of that trend, at least for Fall 2019.
Check out how the rainbow sampling of leather has surfaced on the runways so far.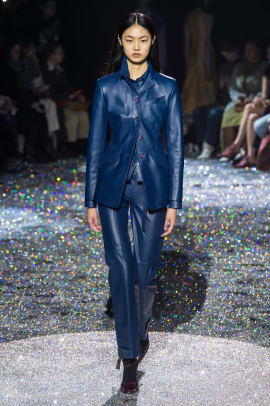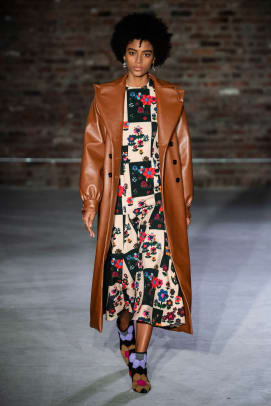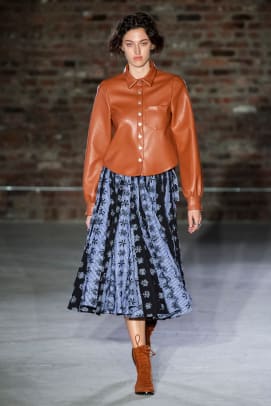 Stay current on the latest trends, news and people shaping the fashion industry. Sign up for our daily newsletter.