Laura Kim and Fernando Garcia Present Their Best Oscar de la Renta Collection to Date for Fall 2019
It's a tall order, but they deliver.
On Tuesday morning, designers Laura Kim and Fernando Garcia posted a photo of themselves ice skating in Bryant Park on Instagram. That wouldn't typically be noteworthy, except that the duo had a runway show planned for later that evening to present their latest collection for Oscar de la Renta, meaning their snow day break was taken during a time when most designers would be frantically putting the finishing touches on clothes or fretting over the catwalk. So what had Kim and Garcia feeling so breezy?
That question was answered on Tuesday evening by the duo's beautiful, lush Fall 2019 collection at Oscar de la Renta. When you know you have something this good in store, why not take a quick break to relax? Seemingly a follow-up to the excellent Spring 2019 line, the runway transported show-goers to a beautiful villa, perhaps somewhere in the south of Spain where things like "fall" and "winter" are more concepts for wearing different clothes than actual weather phenomenons.
Kim and Garcia are moving from strength to strength here, starting with navy and burnt orange daywear in thick, plaid tweeds and slinky silk blouses and dresses. The kind of menswear pattern mixing they made a signature at Monse is polished here, especially in the outerwear. Some of the pieces even looked easy, like a cashmere jumpsuit, a satin quilted jacket or a striped sweater dress. The knits were downright sumptuous, especially one oversize number with a botanical motif and unfinished, fringed thread detailing.
This being Oscar de la Renta, Kim and Garcia are also free to experiment with truly rich clothes, like a fur coat with crystal embellishment that calls to mind Mr. de la Renta himself. The eveningwear delivers on this front too, with sexier options for the starlets of Hollywood — a tapestry-printed minidress with navy fringe, as worn by Grace Elizabeth, a white feathered number with a high-low hemline — and sophisticated options for gala season; not to mention, more than a few numbers seemed fit for a certain Duchess of Sussex when she's ready to stun again.
We'd be willing to bet there are a few stylists already jockeying to get their hands on the closing look worn by Bella Hadid for the upcoming Oscars: A show-stopping, strapless gown in deep purple velvet that was even more dramatic going than coming. (A note to the lucky winner of this particular red carpet competition: Please keep the hair ribbon and the slicked-back low ponytail. It was perfection as-is.)
It can't have been easy to work with some of these fabrics, but every single piece in the collection was impeccably finished and tailored. After an excellent, if not rocky, start in Fall 2017 — just two years ago — Kim and Garcia have only grown more confident in their vision and abilities at the helm of one of America's biggest fashion houses. This is their best collection for Oscar de la Renta to date, and we have a feeling they're just getting started.
See the complete Oscar de la Renta Fall 2019 collection in the gallery below.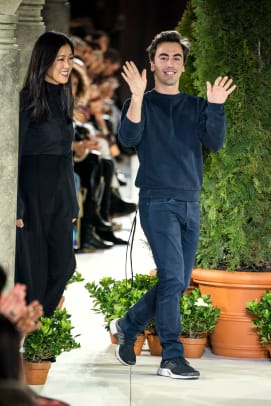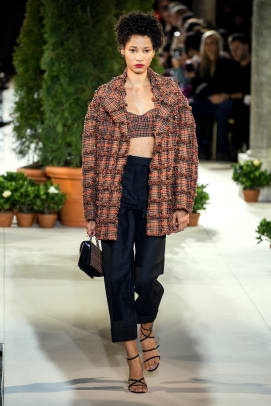 Want the latest fashion industry news first? Sign up for our daily newsletter.