Philipp Plein's Fall 2019 Show Was Just as Tragic as the Kanye West Scam That Surrounded It
Shocker, we know.
Fashion week is notorious for turning the brightest-eyed among us into jaded cynics, exhausted by bad planning and even worse collections. That's why it's more important than ever to approach the week with the base expectation that everyone's just trying to do their best and present interesting new ideas.
I somehow maintained that sense of earnestness when word spread that the Philipp Plein team had been hustled, scammed and bamboozled into believing Kanye West would perform at the German designer's show, a near-million-dollar fraud involving a fake contract and forged signatures. But it's almost impossible to preserve any sense of compassion for this writer's third time around getting punk'd by Plein — Plein'd, if you will. With a disorganized "black tie" dinner and a collection more disappointing than the event itself, it's about time we stop giving Plein ours once and for all.
The "dinner show" event, held at The Grill, a four dollar-sign venue in midtown Manhattan, promised a three-course black tie soirée celebrating the runway debut of two collections: Plein's menswear line called Billionaire, followed by the designer's eponymous ready-to-wear line. It came with all the usual trimmings of a Plein event. There were tons of random celebrity sightings, including Billy Porter, EJ Johnson, Paris Hilton, Jonathan Cheban and Coco Rocha, as well as, of course, the nightmarish logistics surrounding any given Plein spectacle.
While everyone invited was under the impression it was a seated dinner, there was seating for, at most, two-thirds of the guests. A group of showgoers and editors was herded like cattle to a standing-room-only balcony bar near the photographers' scrum; I'd have worn more comfortable footwear than black tie-appropriate heels had I known I'd be standing, pushed against a large wooden door for nearly two hours (while a sleazy videographer hired by the event repeatedly attempted to run his hands over my backside). To be clear, it was a humiliating hoodwink, upon which I'd unknowingly entered a Plein-approved caste system, relegated to the bottom, where I wasted my night overlooking a hodgepodge of rich people, C-list celebrities, social media starlets, models and has-beens — both on and off the runway.
Sometime between the first and second courses, the first "runway" showing happened, featuring Plein's Billionaire collection — an all men's range modeled by a dozen salt-and-pepper "daddys," any of whom could have conceivably been Viggo Mortensen's brother. One silk pajama look appeared as if Plein had recently discovered The Dude and reimagined him as, well, a billionaire. It also seemed as if there had been no rehearsal, as a bottleneck of models waited in the dining area for their chance to be photographed individually by the gaggle of photographers. Mickey Rourke and his Pomeranian walked the finale with Plein, both of whom (Plein and Rourke, not the dog) were performing some strange and probably (definitely) racist hand-over-mouth Indian call.

Once the Billionaire portion ended, it was announced there'd be a 20-minute intermission (for the next course to be served to the chosen aristocracy, presumably) before the next show, Plein's Fall 2019 unisex collection. More than 45 minutes later, it finally began.

Within the first few looks, we got a regurgitated tasting of other designers' hits from recent seasons past: The primary-colored plaid from Versace Fall 2018 ("she wants to skin me and wear me like last year's Versace!"), the black leather and slime green cashmere from Alexander Wang Fall 2019 (presented off-calendar months ago) and the '80s-adjacent zebra motif from Tom Ford Fall 2018. 
One particularly awful costume came in the form of a matching black leather corset and ruffle mini skirt and suede-fringed Yeti boots, worn by Instagram model and YouTuber, Cindy Kimberly. There were no show notes, so glean what you will from the grab bag collection. Judging by his perennial aesthetic and this fall show, Plein's muse is an urban cowboy futurist with a trust fund and a coke problem. As exciting as that may sound, it wasn't enough to keep one editor from falling asleep — the kind of head back, mouth ajar snooze you'd expect to see on a red-eye flight to Milan or Paris — at a table in front of Karla Otto herself. We stan a sleepy legend!
As for the not-to-be-missed Kanye West performance? The Plein team replaced it with one by Lil Pump, the face-tattooed Soundcloud rapper of "Gucci Gang" fame, who slouched around on stage for a few minutes at most. He also walked in the show, because, why the hell wouldn't he? 

The Philipp Plein brand is a tacky joke, one contrasted so starkly against a backdrop of other designers in New York doing their best to be humble and tell authentic, compelling stories about what fashion means to them and to an ever-changing world, despite their varied levels of success. It's hard to see how Plein's vapid, soulless and cheap aesthetic fits at all into where fashion is going — let alone how tone deaf his gross displays of personal wealth are in today's society — so perhaps it's best we leave it behind altogether. 
See the complete Philipp Plein Fall 2019 collection below: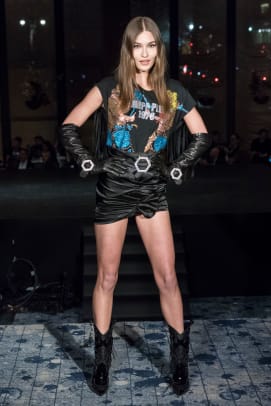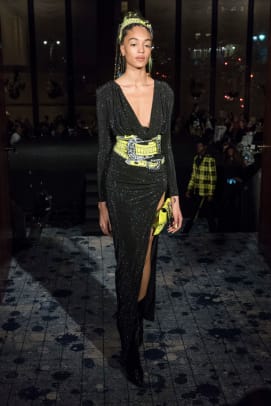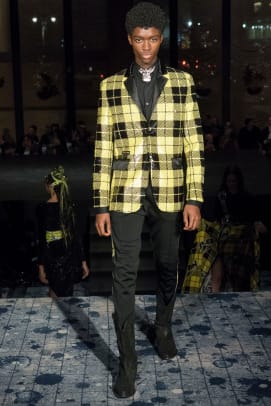 Want the latest fashion industry news first? Sign up for our daily newsletter.