Prabal Gurung Hits the 'Hippie Trail' for Fall 2019
The designer went on a spiritual journey this season.
Born in Singapore, raised in Kathmandu, based in New York City — not to mention travels to just about every location in between — designer Prabal Gurung certainly has a strong claim as a global designer. So when he says his source of inspiration this season is something called the "Hippie Trail," a nomad's voyage from Europe to South Asia, one can be certain that the collection will be based in true cultural exchange over symbolic appropriation.
Indeed, Fall 2019 is arguably one of Gurung's strongest yet, featuring the kind of cocktail gear for which he's become known, but also presenting sophisticated options for daywear and elegant choices for red carpet — namely, a show-stopping black velvet gown on Bella Hadid. The color play is outstanding, mixing bright reds and yellows or electric pinks and blues, and the prints are beautiful in richly-hued tones that hint at world travel. One ruffled red dress with a sunshine-yellow sash was a standout, but if you're into Gurung's sexy, unbuttoned styles, those are here too, in patchwork prints or slinky silks mixed with lace. Several stunning evening looks for men and women featured a sparkling, multicolored motif on black velvet.  
Speaking of the boys, after introducing menswear for Spring 2019, Gurung also worked out the kinks in the fit of his menswear this season, tightening up the tailoring while keeping things casual. Where the Gurung woman is powerful and sensual, the Gurung man is more loose, or even louche, favoring printed sweats and bright suits over business-as-usual style. Button-downs are a clever mix between business and pleasure, thanks to stark-white collars and pockets on printed shirts in long lengths. The knits are spectacular — and, being knits, are naturally genderless, which means one can pick up the fringed style regardless of gender identity. (The same could be said of Gurung's beautiful feathered cocktail dress, since clothes aren't inherently gendered, but that's another story; not to mention, a suit modeled by Dilone was sexier than most other designers' skimpiest styles.)
Overall, Fall 2019 was Gurung at his best, grounded in some of his staples while also branching out into new territory — globetrotting at its finest.
See the complete Prabal Gurung Fall 2019 collection in the gallery below.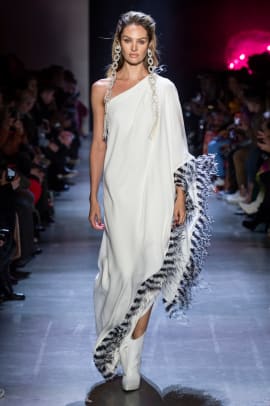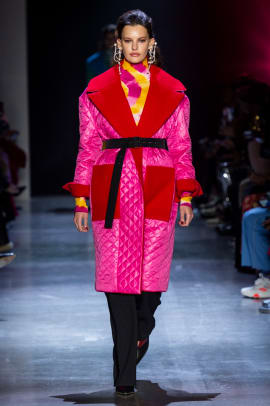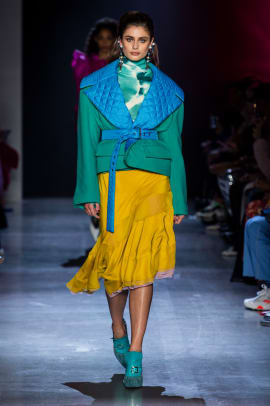 Want the latest fashion industry news first? Sign up for our daily newsletter.