Proenza Schouler's Fall 2019 Show Proves Why They're the Pride of New York Fashion Week
With an ingenious use of denim, leather and androgynous suiting, the brand is consistently a bright spot in an otherwise bleak New York show schedule.
If I had a dollar for every time I've heard "New York Fashion Week is dead!" over the past few days, I would have a lot of dollars — and in order to support one of the city's most consistent local talents, I'd head straight to the Proenza Schouler store down the street from Fashionista HQ to spend them. 
It's no secret that the New York show calendar has taken some serious hits as of late: Alexander Wang now presents his collections in June and December, Altuzarra decamped to Paris, CFDA/Vogue Fashion Fund winner Pyer Moss sat this season out, Rodarte opted to show in Los Angeles and Calvin Klein is still without a creative director following Raf Simons's departure. With so much in flux, there's so little on the schedule for showgoers to get excited about. Thankfully, we have Jack McCollough and Lazaro Hernandez, whose particular brand of art-inspired, downtown cool is just about as "New York" as it gets — and is unfailingly good.
On Monday afternoon, a crowd of industry folk (many dressed in head-to-toe Proenza Schouler tie-dye or acid-wash denim) ascended to the 22nd floor of a brand new tower at Hudson Yards, where the Fall 2019 runway was set inside a bare concrete industrial space, with panoramic views of the Hudson River and surrounding skyline. The collection was full of the label's signatures — from cut-out knits and clever, layered textures to pleated skirts and androgynous suiting — but even though the 36 looks were all unmistakably Proenza, they weren't stale or predictable. 
Day dresses got a utilitarian edge, thanks to long-strap belts, leather fabrications and heavy metal buckle details; New York staples like the trench coat, leather moto and denim jacket were deconstructed and given the trompe-l'oeil treatment; menswear-inspired blazers and trousers were cut loose but still had sex appeal, thanks to styling that showed plenty of skin underneath; and statement outerwear came in the form of a furry patchwork coat and a transparent, rubbery trench. 
Though the White Label collection is where customers can find Proenza's core offering of streetwear-adjacent styles like hoodies, graphic T-shirts, puffers, casual denim and sporty basics, the runway featured tearaway leather pants and shiny, performance-ready turtlenecks. As per usual, the accessories were stellar — specifically, the square-toed boots with contrast stitching that completed every look. For those New York dwellers who aren't too fond of sneakers, this is the ideal footwear to run around the city in. 
The cast of models, including industry mainstays like Tasha Tilberg and Saskia de Brauw as well as of-the-moment favorites like Binx Walton and Selena Forrest, represented a diverse range of ages; the beauty look was kept simple and clean, allowing the audience to easily imagine people of every gender identity wearing these pieces. That nuanced, inclusive way of thinking is what helps to make New York so special, and why we're so glad that, after a two-season stint in Paris last year, McCollough and Hernandez are sticking around.
See every look from the Proenza Schouler Fall 2019 collection in the gallery below.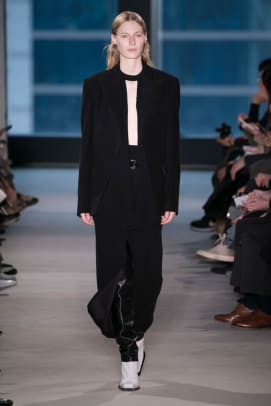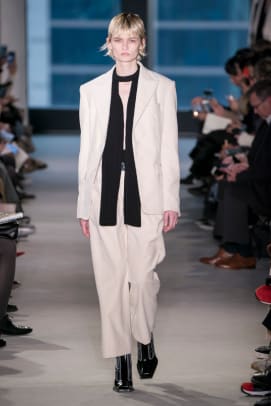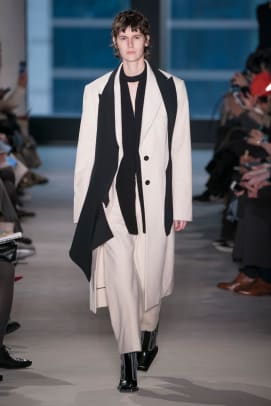 Want the latest fashion industry news first? Sign up for our daily newsletter.