Rankin's 'Selfie Harm' Series Highlights How Teens Use Photo Retouching Apps
The famed photographer shot 14 teenagers and handed them the image to edit and filter until they felt it was "social media ready," juxtaposing these with the unretouched versions.
Rankin thinks we need to start talking about retouching apps on social media in the same way we've been discussing Photoshop in magazine editorials and ad campaigns. In a time when Instagram is quickly eclipsing print media, and obsession with personal appearance seems at an all-time high, it makes sense.
"I've always had a problematic relationship with Photoshop; at one point, celebrities, brands and magazines would tirelessly demand it, and so it became a large part of my job," says the famed British photographer, known for founding magazines Dazed and Hunger and his work in the celebrity and fashion spheres. He's also never been afraid to offer critical commentary on the industry through his work. "At the time I made quite a few projects critiquing [Photoshop], including 'Flawless Girls,' 'Ageless Beauty' and 'Bootyfull.' [Ed. note: He recently posted many of these to Twitter.] But I've also been personally criticized for my use of the tool, which was absolutely correct. Due to the discussion surrounding it, and the subsequent backlash, the industry has shifted, changed its relationship to Photoshop, and the world of advertising has largely transformed."
Over the past couple of years, Rankin has been experimenting with the popular, influencer-beloved filters and apps that anyone can use to make themselves appear airbrushed in minutes or even seconds using nothing but their smartphone. This inspired "Selfie Harm," a new project for which the photographer shot 14 teenagers aged 13 to 19 and then gave them the image to edit, tweak and filter using the app B612 until they felt it was "social media ready." The "enhanced" images are displayed alongside the original. (Rankin notes that the participants themselves preferred the originals, but were doing what they'd seen others in their age group do.) They were shown as part of an exhibition and panel called "Visual Diet," a new initiative launched by M&C Saatchi, Rankin and MTArt Agency exploring the impact of imagery on our mental health.
"People are mimicking their idols, making their eyes bigger, their nose smaller and their skin brighter, and all for social media likes," says Rankin. "It's just another reason why we are living in a world of FOMO, sadness, increased anxiety and Snapchat dysmorphia. It's time to acknowledge the damaging effects that social media has on people's self-image." 
The photographer argues that these apps are in fact more dangerous and damaging to mental health than the professional use of Photoshop, and there needs to be a larger discussion around that. "I've created this work because I want to be a part of the movement against the harmful effects that this newly accessible technology is having on people's mental state," he notes. "Plus, I feel really strongly about the damage that it is doing to photography, the art form that I love. Portraiture and humanity is being overrun with homogeneity, and it's really sad to see."
Certainly, the images, which are quite extreme, say a lot on their own, but Rankin's commentary adds a thought-provoking layer of depth, and another reminder of why social media, quite often, is Bad. "This is a new, enhanced reality, a world in which teenagers (or even younger kids) can alter themselves digitally within seconds. Mix this readily available technology with the celebrities and influencers flaunting impossible shapes with impossible faces, and we've got a recipe for disaster."
Click through Rankin's images of "Selfie Harm" in the gallery below.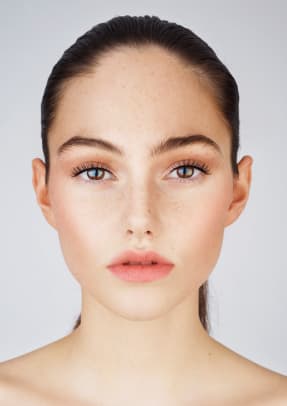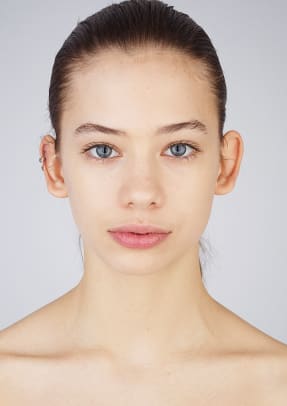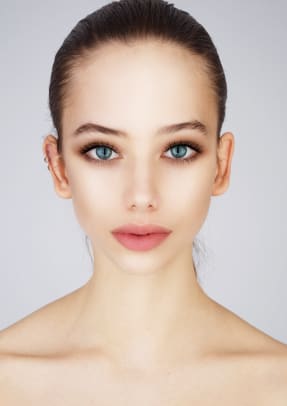 Never miss the latest fashion industry news. Sign up for the Fashionista daily newsletter.