See Every Look From Rick Owens's Fall 2019 Collection
This show had alien-like body modification, glam-rock boots, beautiful dresses and much more.
Rick Owens's ability to present a subversive — and at times upsettingly dark — idea of beauty while still impressing the fashion establishment with his design skills and artistic eye remains unparalleled in the industry. And on Thursday in Paris, that was on full display.
This season, the most subversive element came in the form of body-modification makeup evidently performed by 18-year-old Salvia, a Vogue-profiled Instagram star who typically applies her skills to herself, posting eccentric images with additional digital manipulation. Several models appeared as though they could have starred in a particularly dark "Star Trek" episode about a faraway planet where everyone is tall, thin and pale but it's warm enough to walk around without pants. Alexander McQueen's Spring 2010 "Plato's Atlantis" show, which featured similar prosthetics, and pre-Oscar-winning, 2011 Lady Gaga also come to mind.
The collection had a glam-rock element, most evident in the ultra-high platform boots each model wore. Aside from a few barely-there leotards, the clothing was actually pretty polished and elegant for Owens, but certainly still tough. There were beautiful, long wool coats — some with large, utilitarian pockets — a number of luxurious fur outerwear pieces, leather pants and jumpsuits, and some lovely dresses draped and twisted in impressive ways that jumble one's brain. Still, these looks were far from dainty — the Rick Owens woman has in no way lost her edge.
See the full Rick Owens Fall 2019 collection in the gallery below.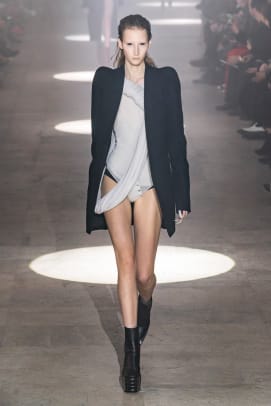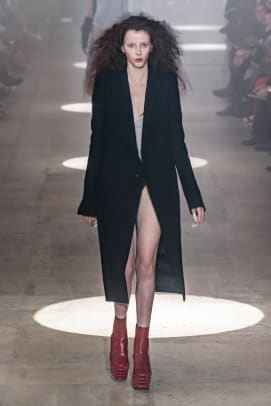 Never miss the latest fashion industry news. Sign up for the Fashionista daily newsletter.