Rodarte Regales Los Angeles With its Signature Brand of Fashion Fantasy for Fall 2019
Kate and Laura Mulleavy mined Hollywood's past for a star-studded audience that included much of Hollywood's future.
Rodarte designers Kate and Laura Mulleavy showed their last collection in an outdoor graveyard during a torrential downpour in New York. The experience seemed to make them extra cautious: While Los Angeles is typically a safe bet when it comes to outdoor events, the rain that has plagued our usually sunny city the past few days was forecast to continue into Tuesday, when the designers were scheduled to show their Fall 2019 collection close to home at the Huntington Library and Gardens near Pasadena. (Meanwhile, it was a dry and balmy 60 degrees in New York.) Their team took pains to shield their fancy Fall 2019 designs and equally fancy guests from the elements with plastic tenting, even relocating the runway show from an outdoor rose garden to a covered greenhouse. As it turned out, none of that was needed as the sun came out just before the show was scheduled to begin. Doesn't it just always go that way?
Of course, upon entering the venue, which was still sun- and plant-filled and beautiful, the weather was the last thing on anyone's mind. Guests were cranking their necks trying to catch glimpses of stars like Tracee Ellis Ross, Brie Larson, the Haim sisters, Maggie Rogers, Angela Bassett, Dakota Fanning, Elsie Fisher, Mackenzie Foy, Lucy Boynton, Rowan Blanchard and the inimitably cool Diane freaking Keaton who were all in attendance. I'd put money on it being in the top-three coolest, most stylish front rows of this upcoming fashion month, and that owes largely to the show being held in LA.
While Hollywood's most relevant, buzzy stars looked on, the Mulleavys's latest collection mined inspiration from Hollywood's past — specifically musicals from the 1930s through to the 1970s. This gave the collection a lightness and frivolity that is not always present in Rodarte's oft-moody designs. Still, this was absolutely a bold, fairytale-worthy, capital-F Fashion fantasy, the likes of which LA rarely (if ever) sees. Just like the sun that came out that afternoon, we needed it.
The colors were bright, the ruffles huge and the bows plentiful. The cocktail and evening dresses, statement-making enough on their own, were often accessorized with brightly-colored or embellished novelty tights and playful headpieces with floral or butterfly motifs, nods to the show's verdant setting. Many pieces looked like actual vintage dresses, just kicked up several notches. 
While there was plenty of fantasy, there was no shortage of gowns more than suitable for red-carpet appearances on any of the aforementioned front-row guests (maybe sans butterfly headpiece). And with a few big events left to go this awards season, we might be seeing some sooner rather than later.
After the show, celebrities, their stylists and civilians alike mingled, ate sliders and sipped rosé from the event's California-based wine sponsor JNSQ — a glamorous, leisurely privilege not afforded to New York Fashion Week showgoers with their tightly packed schedules. I think staying home this season was a good move for the Mulleavys, even if they couldn't rely on perfect weather.
See the full Fall 2019 Rodarte collection in the gallery below.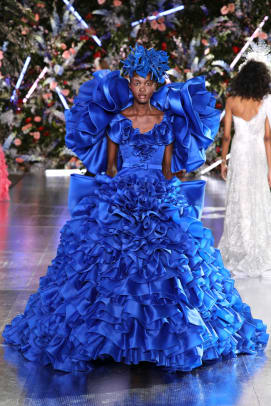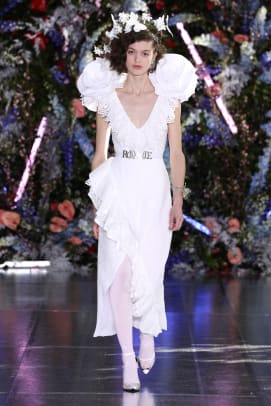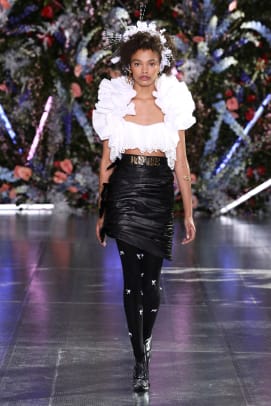 Never miss the latest fashion industry news. Sign up for the Fashionista daily newsletter.