Anthony Vaccarello Follows the '80s Trend to Its Dayglo Conclusion at Saint Laurent Fall 2019
It's time to cut the lights.
Saint Laurent has presented its runway in full view of the Eiffel Tower for several seasons now, using its sparkling light show as a backdrop for its semi-annual presentations. But for Fall 2019, Anthony Vaccarello and the Saint Laurent team brought the light show indoors, lining a two-way mirrored hallway with towers of lights that flashed and sparkled to create a sort of futuristic backdrop for the season's offerings.
Instead of looking to the future, though, Vaccarello seemed fascinated by the past, specifically in the '80s, where his power-bitch-meets-"Tron" aesthetic was anchored. Shoulders on trenches and menswear-style coats were exaggerated to the extreme, all the better to emphasize long legs in hot pants or slim-cut tuxedo pants. Models came teetering down the runway on near-unwalkable platforms with razor-sharp stiletto heels. The all-black color scheme, with sequin and feather accents, was all classic Saint Laurent — except for two animal-printed pencil skirts, which felt very Tom Ford for Gucci.
At the end came "Addicted to Love"-style oversized blazers, topping Vaccarello's signature sheer stockings, followed by menswear in sequins and mismatched striping. In other words, Vaccarello is not reinventing the wheel here. But if the question following Hedi Slimane's debut at Celine last season was, "What will Vaccarello do to make his collections different than his predecessor?" the answer seems to be: Turn off the lights.
(Vaccarello certainly seems less interested in differentiating himself from Slimane in the casting department, going to the same waif-thin look which brought the latter heavy blowback.)
For his final act, Vaccarello dimmed the lights on the runway, sending models walking through the light-lined box in a variety of day-glo and glow-in-the-dark pieces, from bright pink shades and neon green feathered coats to acid orange pumps and zebra minidresses; really, the only '80s trend we had yet to retread. It was quite the effect. Whether it works just as well away from a black light remains to be seen, but hey — at least the shoes seemed to be more walkable.
See Saint Laurent's Fall 2019 collection in full in the gallery below.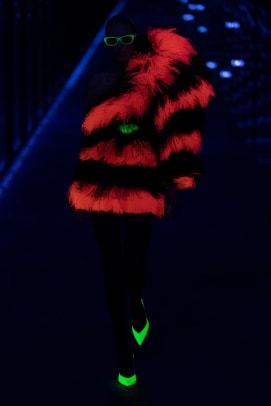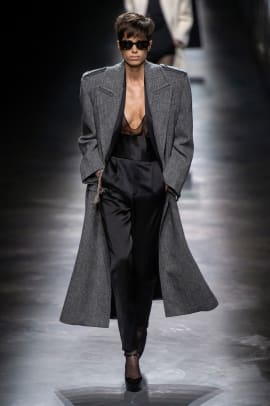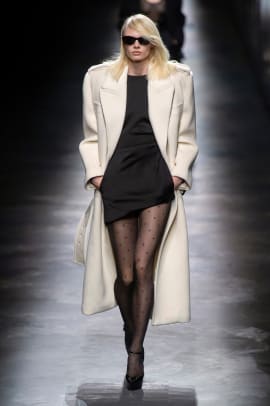 Sign up for our daily newsletter and get the latest industry news in your inbox every day.