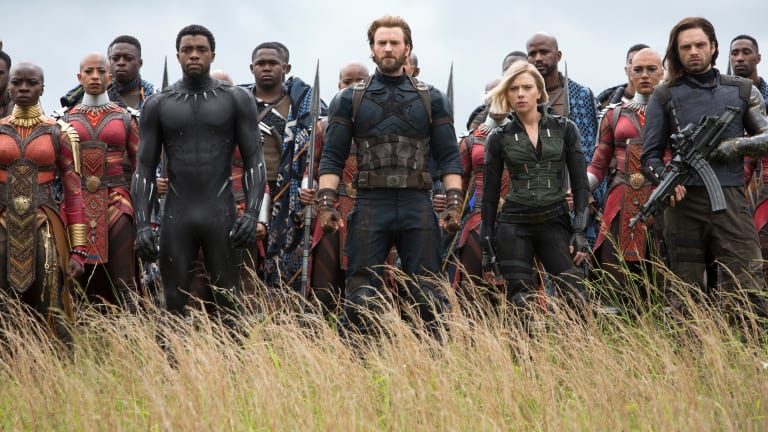 Superhero Costume Design Is Finally Getting the Recognition It Deserves
With Ruth E. Carter's Oscar-nominated "Black Panther" costumes leading the way.
It wasn't long ago that when one heard "superhero costumes," things like rubber suits with prominent, erm, Bat-headlights, men in primary-color tights and women in impractically skimpy onesies came to mind. For many people, that's probably still the case.
"We felt like superhero costumes were super cheesy and nobody cared about the workmanship. It was all about the fantasy: a character who really doesn't exist," says "Black Panther" costume designer Ruth E. Carter, about general perceptions. "Now we take them so much more seriously."
Of course, the Costume Designers Guild was on the forefront of recognizing the talent and artistry behind the comic book-based sub-genre. In 2005, the industry union created the Excellence in Sci-Fi/Fantasy costume design award and separated it from the Period category. The inaugural class of Sci-Fi/Fantasy nominees included Lindy Hemming for Christopher Nolan's "Batman Begins." Since then, a maximum of two superhero films have been recognized just twice: Alexandra Byrne for "Thor" and Sammy Sheldon for "X-Men: First Class" in 2012 and Mayes C. Rubeo for "Thor: Ragnarok" and Hemming, who won, for "Wonder Woman" in 2018. (In 2017, Byrne won the category for "Doctor Strange.")
But this year, superhero costume design is being acknowledged with an unprecedented three comic book-based movies dominating the CDGA Excellence in Sci-Fi/Fantasy category: "Aquaman" by Kym Barrett, "Avengers: Infinity War" by Judianna Makovsky, who won a Fantasy/Period honor in 2002 for "Harry Potter and the Sorcerer's Stone" (and has been nominated four other times, including in 2007 for "X-Men: The Last Stand") and, of course, "Black Panther" by Carter, who received her third Oscar nod for the critically acclaimed blockbuster.
Sure, fantasy films have broken through at the period film-obsessed Oscars: John Mollo for "Star Wars" in 1978 and most recently Jenny Beavan for "Mad Max: Fury Road" in 2016 and Colleen Atwood for "Fantastic Beasts and Where to Find Them" in 2017. But Carter's nomination for "Black Panther" marks the first time that a superhero movie is included in the otherwise period film-stacked category. Of course, the Ryan Coogler-written and -directed "Black Panther" is more than a superhero movie. The Best Picture Oscar nominee is an epic film with a powerful, moving story and deep cultural and historical significance. 
Carter's stunning work, which celebrates African culture through the color palette, design details and the artistry behind building the expansive costumes, helps break a multitude of barriers, including what audiences — and the Academy — perceive as superhero costume design. 
"Maybe people think [the costumes were] designed in a comic book and therefore it's not really designed by you," says Barrett, who previously designed "The Amazing Spider-Man," which was set more in the real world, in 2012, as well as the iconic "Matrix" trilogy. For the holy-grail awards event that is the Oscars, nominations are decided by the Costume Designer Branch of the Academy and then voted on by all members. Rule nine, paragraph two states that "the costumes for the picture must have been conceived by a costume designer."
In what the Costume Designers Guild President Salvador Perez refers to as "the dirty little secret" — but one that most comic fans are aware of — the centerpiece supersuits and villain ensembles are drawn by concept artists, many with their own followings. The illustrations are based off of a specific comic book iteration and then passed to the costume designer after presumably copious feedback from the director and studio brass. But what's not often acknowledged is the amount of ingenuity and original work done by the costume designer on the iconic looks once they've signed on. 
"Superhero suits are super — maybe that's a bad pun — they're very complicated to make," says Makovsky, who has devoted the past five years to the Marvel Cinematic Universe costume designing "Captain America: The Winter Soldier" and "Civil War," "Guardians of the Galaxy Vol. 2," and the upcoming "Avengers: Endgame" — i.e., she knows what she's talking about. "We try to keep the essence of the original sketch, absolutely, and what that concept is, but it's a concept that will then grow and evolve."
A supersuit will most likely need to be redrawn — and made and then remade into multiple prototypes — to create a "heroic" silhouette and fit that particular actor's physique. (The designer often collaborates with the concept artists during the production process, too.) The built suit also has to allow for exceptional movement and action sequences, as well as look dynamic on screen. "Trying to figure out how to make these things work in these movies is more than three-quarters of the battle," adds Makovsky, throwing out another unintended pun. 
Plus, supersuits inherited from previous franchises are almost always "remade and redesigned to a certain extent," per Makovsky. (Unless it's only on screen for "two seconds.") Aquaman's Aquasuit evolution from "Justice League" to his standalone movie is one example of a total remake. The costume designer and costume department illustration team create their own original designs for the majority of looks eventually seen on screen. 
"We made every single tiny gold scale for King Atlan's armor and a jewelry maker cast them all," explains Barrett, about the painstaking detail needed on just one costume to create a visually vibrant, intricately textured and believably submerged underwater world. "It's a very labor-intensive, artistic and technically particular job." Audiences and the critics often overestimate the amount of CG used to enhance the costumes. As Barrett previously told us, aside from the flowing capes and Amber Heard's jellyfish-skirted gown, the "Aquaman" costumes were all physically built. 
But that doesn't mean the costume designers don't learn and employ a high-level technical expertise in their process — especially for the supersuits. "The way the costumes have moved into the realm of science and the kind of the technicians we use to make these clothes has definitely expanded," says Makovsky. 
The designers need to stay on top of — or ahead of — rapidly advancing technologies and collaborate with technicians to take muscle-sculpts, create vacuform moldings, devise surface patterns and engineer 3-D printing. "There's no kind of magic button that says, 'OK, create a panther suit,'" says Carter. "It's actually a lot more detailed, takes a whole lot longer and and costs a whole lot more."
To build and spectacularly illustrate the vibranium-powered second-skin supersuits for Black Panther and Killmonger, Carter employed a hi-tech, time-consuming, multi-step process. She also sought out award-winning 3-D printing expert Julia Koerner to manufacture the majestically intricate headpiece and shoulder mantle that she designed for Queen Ramonda (Angela Bassett), paying homage to the South African Zulu people.
Carter's award-nominated work on "Black Panther" is also a powerful depiction and celebration of history, heritage and cultural pride, through the creation of a fantastical world that doesn't exist in our reality — which is just as impactful and research-heavy as designing for a period film. The designer, who previously received Oscar nominations for "Amistad" and "Malcolm X," powerfully incorporated elements from the people of Africa throughout the continent's history — untouched by colonization — to distinguish each of the communities and neighborhoods within the hidden, hi-tech paradise of the fictional Wakanda. 
"There's no reason that adapting something from a comic should be any less interesting or praised than designing a period piece," says Sam Maggs, comic writer and author of "The Fangirl's Guide to the Galaxy" and "Girl Squads." She compares the rich and compelling narrative of Marvel and DC Universe comics dating back 50-plus years — including Black Panther, who was introduced in 1966 — to archival imagery, history and literature designers mine for period pieces.
"I was crafting this idea that we would use traditional techniques and the ideas of beauty from these various tribes, but we would recreate them and honor them in a different way," Carter says, about working with African artisans to create jewelry and embellishments, such as Dora Milaje leader Okoye's gold imperial armbands and neckpieces inspired by women of the South African Ndebele people. 
"This world we created [with Wakanda] has the same ingredients as a period piece and, even more so, in that we could create things that were original. That never existed at all — not even in history," Carter says. 
But then there's the preconceptions of the source material itself. "Oftentimes it feels like [the movies are] shuffled to the side just because they are developed out of a comic," says Maggs. But comic book — or graphic novel — writers, like Brian Michael Bendis, Brian K. Vaughn, Kelly Sue DeConnick and the late Stan Lee, are literary talents not to be dismissed. Plus, award-winning authors and journalists bring new iterations and interpretations of beloved comic heroes to include a wider audience and reflect the world today. In 2016, National Book Award winner Ta-Nehisi Coates wrote the Brian Stelfreeze-drawn "Black Panther" series, on which the movie was based, and New York Times best-selling author Roxane Gay also co-wrote a series about the superhero with poet Yona Harvey. 
In regards to high expectations from fans, designing a superhero costume inspired by a conceptualized comic book character presents unique challenges, as compared to developing a fantastical one from the written page like, say, Harry Potter or Legolas from "Lord of the Rings." "The superhero movie costumes really have to be iconic," Maggs says. "They represent a lot of people's childhoods. They represent characters that people feel really passionately about and relate to." So, the expectations from audiences are even greater — and as we all know, comic book fans are very vocal.
But Carter found this be a motivating, if not thrilling, challenge. "People applauded when people saw [T'Challa] turn into the Black Panther because he represents so much to the fans — to the people who have been following his story," Carter adds. "He represents so much so you can't cheat that costume. It has to follow through."
Well, it did — and common consensus has Carter, who recently won the Critics' Choice Award, bringing home the Oscar over the historically favored period films this year. "It's freakin' huge. It's a big deal," says Christopher Laverty, creator of Clothes on Film and author of "Fashion in Film." "It will definitely win and it should do."
Even so, will this year change how superhero costume design is perceived? Well, first there's the Academy. "We're our own worst enemy because all the nominations happen from our peers," says CDG's Perez. "So if we as costume designers aren't acknowledging it, how do we expect the public to acknowledge it?"
"If you haven't done [superhero costume design], you don't appreciate it. But the more and more people start doing it, the more they recognize what the art is," says Makovsky.
And audiences, designers and critics alike will be seeing much more of it, as superhero movies aren't going anywhere. According to Screenrant, a record of 11 comic book-based films will hit theaters in 2019, compared to six just last year, including "Captain Marvel," Makovsky's "Avengers: Endgame" and the super-villain film, "Joker." (Plus, there are all the heroes on the network and streaming small screens, including soon-to-launch apps from DC Universe and Marvel-owned Disney+, which will stream "Captain Marvel" when it hits theaters.) 
"I hope it makes an impact and we have a lot to thank 'Black Panther' for," says Barrett. "It's great for all the rest of us designers who work in that same genre."
As superhero movies proliferate and explore new storytelling opportunities — especially to celebrate a diverse range of people and communities — the costumes will continue to stun, with Carter's "Black Panther" paving the way. 
Top photo: (L to R): Okoye (Danai Gurira), Black Panther/T'Challa (Chadwick Boseman), Captain America/Steve Rogers (Chris Evans), Black Widow/Natasha Romanoff (Scarlet Johansson) and Winter Soldier/Bucky Barnes (Sebastian Stan) in 'Avengers: Infinity War". Photo: Chuck Zlotnick/Marvel Studios 2018
Homepage photo: T'Challa/Black Panther (Chadwick Boseman) and Erik Killmonger (Michael B. Jordan) in 'Black Panther.' Photo: Matt Kennedy/Marvel Studios 2018
Never miss the latest fashion industry news. Sign up for the Fashionista daily newsletter.