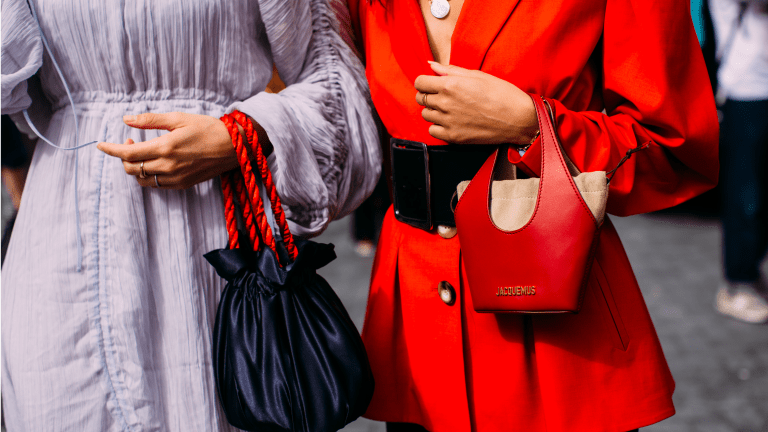 How Fashion Brands Can Create a More Sustainable End-to-End Retail Economy
To survive in the current fashion industry, companies must provide transparency beyond the surface level.
With the realization that today's shoppers quite literally wear their values on their sleeves, the fashion industry spent 2018 getting more serious about sustainability. From real fur becoming a fashion faux pas to the rise of the luxury rental and resale market, we've entered 2019 with a marketplace hungry to create a more environmentally-conscious fashion landscape and, ultimately, to design a sustainable end-to-end retail economy.
According to a new report from Rank and Style, an analytics platform which uses data-driven insights to curate unbiased fashion and beauty top ten lists, Google searches for the term "sustainable fashion brands" increased by 25 percent from 2017 to 2018, and by 61 percent since 2016. Beth Zerdecki, Chief Product and Marketing Officer at Rank and Style, reports that there was a 450 percent increase in sales at sustainability-driven companies, such as Everlane, Allbirds and Reformation, from 2016 to 2018; additionally, Rank and Style reports that editorial mentions of the term "sustainable fashion brands" among publications like Elle, Vogue and Refinery29 increased by 83 percent in between 2017 and 2018 — up by 267 percent from 2016. 
McKinsey and Company's State of Fashion Report 2019, created in collaboration with Business of Fashion, cites radical transparency as one of the top ten trends that will shape the industry for the year ahead. But with radical transparency comes the need for corporate integrity and social responsibility. To survive in the current fashion industry, companies must provide transparency beyond the surface level. Here are a few ways brands can navigate this new landscape.
Building Consumer Trust Through Radical Transparency
With 42 percent of millennials and 37 percent of Generation Z claiming that they want to know what goes into their products before they buy, increasing supply chain transparency is vital for brands to build trust with modern, socially conscious shoppers. From AI to blockchain, the ability for brands to trace every step of the value chain – how raw materials are sourced to how textiles are manufactured, shipped and reused – will enable fashion companies to adopt more sustainable end-to-end retail models.
Founded in 2008 as an MIT research project, Sourcemap is a user-centric software platform which allows brands to map out their entire supply chains; the company helps the world's leading companies take inventory of their environmental and human impact. According to Sourcemap's founder and CEO, Leonardo Bonanni, "Fashion supply chains are among the most complex in the world because they can change with every season, every style." He says that companies already have the desire to be more transparent about their supply chain practice, but adds, "They just need the tools."
Through data-mapping technologies such as Sourcemap, apparel companies can more easily find factories that use suppliers advocating for higher ethical and environmental standards and are certified as Fair Trade, organic, Better Cotton Initiative, OEKO-TEX, Responsible Down Standard, Responsible Wool Standard and more. The software platform also enables brands to account for more "hard-to-measure social risks," including factory-safety regulations and providing workers with liveable wages.
Bonanni believes that, ultimately, supply chain traceability will empower brands to embrace transparency. "If fresh produce can be traced to the farm, why can't fashion?" he says. 
"The first step [is] to make sure that manufacturers and brands are aware of and accountable for the entire lifecycle of products," Bonanni continues. "We've found that once a brand is accountable for its supply chain, people start talking, ideas begin to flow and supply chains become more sustainable. It all starts with the human connection — that's what we're here to achieve. Once transparency is business-as-usual, people will find innovative ways to better work together and bring sustainable goods to market."
Supply chain and sourcing management tools are instrumental in these large corporations' mission to gain back consumer trust. However, most fashion entrepreneurs and emerging designers likely do not have the financial or human capital necessary to gain access to these types of resources to build a truly eco-conscious brand. Understanding this whitespace in the fashion retail landscape, Shannon Lohr launched her sustainable fashion startup accelerator Factory45 back in 2014. Lohr explains how the conversation around sustainability has evolved since she began her career in the fashion industry.
"When I began working in this industry in 2010, there were very few consumers who knew what the phrase 'sustainable fashion' meant," Lohr says. "Generally, it took a lot of explaining and educating to deter from the stereotypical 'crunchy, granola, hemp' assumption associated with it. Less than a decade later, though, the average consumer has at least heard the term before, and while I do believe it's still a niche market, there is more awareness around what 'sustainable fashion' is all about."
The Role of Small Brands And Sustainable Fashion
According to McKinsey and Company's report with Business of Fashion, 79 percent of fashion industry executives believe self-disruption among legacy brands to be one of the top five trends shaping the industry this year. Established brands increasingly feel the pressure to innovate as younger consumers gravitate towards smaller, more nimble brands. These "challenger" brands, as they are called in the report, are capturing market share at a lightning speed due to their ability to authentically communicate their values and engage with their online communities. 
With a desire for constant newness and decreased sense of brand loyalty, consumers are on the lookout to discover brands that align with their values, and by forgoing industry norms, customers are able to connect with these brands on a more human level. This "explosion of small" is vital to the growth and maintenance of the sustainable fashion movement. 
"I believe that small, independent brands that value sustainability as an inherent part of their bottom line are collectively putting pressure on the big brands to clean up their supply chains," Lohr explains. "They may not be able to compete in sales numbers, but they are certainly able to add their voice to the fashion conversation as a whole. Thanks to social media, it's easier than ever for smaller brands to get their sustainability-driven marketing messages out to potential customers."
With Factory45, Lohr strives to educate fashion entrepreneurs about how to implement sustainable supply chain practices and how to extend this knowledge to their customers. When it comes to creating a more sustainable fashion retail economy, Lohr reminds us that we must remember to strive for "progress not perfection."
"As any new brand knows, it takes a lot of patience and diligence in educating consumers about why their products cost more, why they should care about fiber content, why they should look at labels to know where a product is made, etc," she adds.
In such a crowded fashion marketplace, it's the brands that lead with integrity, consistently innovate, and best communicate their ethical and environmentally-conscious values to their audiences that will break through the white noise and shape the industry-wide sustainability conversation.
Environmental Impact and the Sharing Economy
Consumers' social media habits coupled with a desire for positive social impact leave us in a purchasing paradox. On one hand, no one wants to be photographed twice and the demand for an ever-changing closet has never been greater. On the other hand, consumers are more outspoken than ever before about the industry's negative environmental and ethical impact.
By acknowledging that shoppers still prioritize convenience over conservation, we can create more practical and economically sustainable solutions for these dressing dilemmas. With the rise of the resale and rental fashion market, there are signs that 2019 marks a turning point in the way that we consume fashion.
In the State of Fashion 2019 report, Jennifer Hyman, CEO and founder of Rent the Runway explains how, essentially, the rental and resale retail models are one-in-the-same. She says that "[r]ental is about the customer intention behind the usage of the item." And, therefore, resale businesses are part of "the larger market of rental businesses, because if you buy a handbag right now with the intention of selling it on The RealReal and get a portion of your spend back, what you've effectively done is rented that handbag for six months."
Through rental platforms, consumers can create ever-changing closets, feeding their desires for novelty, newness and mindful living. But entering into the circular economy is no easy feat. Hyman explains that operating an efficient reverse logistics model is a huge undertaking. With all of these technological and capital investments in mind, it is likely that only a couple of large companies will dominate this centralized rental fashion industry, enabling shoppers to swap out items in their closet on a consistent basis for under $200 a month.
However, it is clear that a decentralized, peer-to-peer business model is also gaining traction in the industry's sharing economy. Two market players to watch are Village Luxe, an NYC-based, invitation-only luxury rental company, and Designerex, an Australian peer-to-peer lending platform, which launched in the U.S. in January 2019.
Village Luxe strives to be the Airbnb of the fashion industry. Once accepted, members can create a closet for other users to shop, allowing those in the community to lend luxury items to each other through the platform. Securing $2 million dollars in seed funding back in May 2018, the company's growth demonstrates consumers' increasing desire for fashion lovers to take the sharing economy into their own hands.
Meanwhile, Designerex wants to turn this peer-lending model on its head by allowing both everyday shoppers and fashion entrepreneurs to rent and lend designer dresses through the platform. Designerex co-founder Kirsten Kore explains how the rental company enables customers to satisfy their desire for luxury goods and get a high-end "quick fix" whenever they need to a new outfit for an occasion at an affordable price. Designerex enables shoppers to see luxury fashion items as assets rather than as wasteful commodities. 
Through repeatedly renting items, lenders are able to make high returns on their initial investments and can play a role in shaping the community's taste preferences. In this new fashion retail economy, shoppers value access over ownership. This allows retailers and shoppers alike to focus more on each item's purpose, beauty and longevity. Village Luxe's philosophy echoes this statement. 
"Sharing at the peer-to-peer level and renting high fashion can help retailers," says Shanin Molinaro, Chief Marketing Officer of Village Luxe. "We would never say 'don't buy,' but buy smarter, better. Purchase pieces you love that will stay with you through many wears or items that can be shared and given to friends or loved ones." 
Aside from their ethical and environmental benefits, luxury rental services also are more sustainable from a cost perspective. Rather than purchasing an item, members of rental companies are buying into a community. The fashion sharing economy allows us to reinvent our definition of cost-per-wear and look deeper into the story behind our clothes – who, what, where and how were they made?
Both luxury and sustainable brands strive to create products that are "the best of the best." With a focus on an item's intrinsic beauty and longstanding emotional value, these new-wave fashion companies share a collective mission of creating a sustainable luxury sector of the fashion industry – where the quality of an item's creative, environmental and human impact are of equal, primary importance.
Homepage Photo: Imaxtree 
Sign up for our daily newsletter and get the latest industry news in your inbox every day.