Tom Ford Takes Us Back to His '90s Heyday for Fall 2019
The sexy, androgynous suiting that made him a star during his years at Gucci was a key focus, with modern touches (read: hoodies) thrown in for a new generation of customers.
When a designer has had a career as illustrious as that of Tom Ford, whose work spans over three decades and several fashion houses, a small handful of their collections usually stand out from the rest in terms of memorability. Whether that's on account of a particular show's clear influence on industry trends, its symbolism of a pop cultural moment in time or its role in completely changing the creative direction of a brand, these milestones are the ones that go down in fashion history — and that eventually become synonymous with the designer responsible for them.
One prime example is Marc Jacobs's "Grunge" collection for Perry Ellis that debuted for Spring 1993 — and that ultimately got him fired. While it was critically panned, it helped take the grunge look that largely defined the aesthetic of the 90s mainstream; in 2018, Jacobs rereleased the range in its original form, not only playing to the industry's current obsession with nostalgia, but also introducing the iconic collection to a new generation of young fashion fans and consumers who missed the glory of it the first time around. 
Another (and arguably more significant) case is Ford's stint as creative director at Gucci, which spanned the decade between 1994 and 2004.
His first shows for the house were provocative, androgynous and sharp; he hired Carine Roitfeld to style titillating campaigns that, in advertising speak, were solid proof that sex sells. No matter how much Ford has accomplished in the years since, he's most frequently associated with his work revamping Gucci — particularly the sultry, unbuttoned blouses, slinky silk evening gowns, luxe fur or leather coats and tailored suiting that became his signatures. Fast forward twenty-something years and it appears as if Ford was feeling a bit nostalgic himself for Fall 2019, as his latest collection for his eponymous label bears more than just a little resemblance to those of his '90s Gucci heyday.
In front of an audience that included the likes of Courtney Love, Danai Gurira, Karlie Kloss, Victor Cruz, Odell Beckham Jr., Billy Porter and Joe Alwyn (sadly sans Taylor Swift), Ford's Fall 2019 offering made its debut on Wednesday night, and we couldn't help but be overcome with a sense of déjà vu. Unlike Fall 2018, when Ford played to youthful trends like streetwear (blinged-out sweatshirts, leggings, puffer jackets, etc.), he kept things loose, luxe and sensual this time around, with silhouettes, textures and rich colors that have proven their staying power.
With a palette that ranged from pastels to jewel tones to stark black and white, the collection was filled with forever pieces that, when it comes to cost per wear, would be a dream investment for any wardrobe. There were lots of the aforementioned silk blouses worn wide open; roomy, satin pleated trousers; blazers and tuxedo jacket in a variety of materials (including a burgundy velvet option modeled by Gigi Hadid that distinctly recalls a look from Ford's Fall 1996 collection for Gucci); sumptuous fur coats, bomber jackets and brimmed hats; and simple, elegant evening gowns that featured caped backs, cut-outs and heavy chain hardware. (The latter were a nod to the silhouettes Ford showed for Gucci in the mid-'90s, too.)
Of course, as much as customers are craving nostalgia, they're equally hungry for the next big thing — or, at least, the currently big thing. This would explain Ford's introduction of low-key black hoodies styled with blazers, pencil skirts, furs and a satin trench coat. Chain-strap handbags were worn across the chest in the same way that hypebeasts carry their ubiquitous "clout packs," though no matter how high the resale price of a Supreme bag may skyrocket, it surely isn't in the same stratosphere as the cost of a leather good by Ford. In all, the collection was a refreshing return to form for the designer, and one that has plenty of commercial appeal — for both consumers who remember the '90s-era Ford fondly and those who weren't yet around to experience it. 
See every look from the Tom Ford Fall 2019 collection in the gallery below.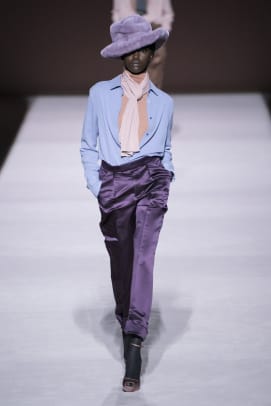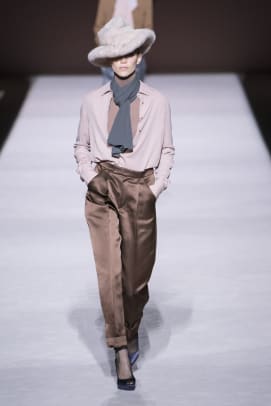 Never miss the latest fashion industry news. Sign up for the Fashionista daily newsletter.