Tory Burch's Prep Girl Attends Art School for Fall 2019
More specifically, to Black Mountain College, where she's experimenting with more than just her education.
For years, where Tory Burch has thrived is wherever prep intersects with her interests of the moment, switching things up season-to-season in inspiration but always grounding things in the world of WASPs.
That's likely what makes her Fall 2019 collection so memorable: It features all of the Burch basics but with an eccentric art school twist that makes them feel interesting, fresh and modern. The show notes indicate that Burch was inspired by the Black Mountain College, an experimental college founded in 1933 (and closed by 1957) which would produce some of the modern art world's most influential figures — think Cy Twombly and Allen Ginsberg. 
Luckily, Burch is never one to go the obvious route, so the collection didn't feel like a huge about-face from her preppy roots. Instead, these were clothes that could be worn by an Upper East Side girl attempting to shock her parents by going to art school instead of an Ivy — very your-rich-friend-who-spent-a-semester-abroad-and-won't-shut-up-about-it vibes.
There were Mary Jane pumps, a Burch staple, which featured a wooden heel and metallic embellishments; color-blocked felt coats and shearling-lined suede jackets; blouses with frills at the wrists and ruffled collars; mixed, jewel-toned floral prints on skirts and dresses; and plush puffers with paisley lining. All of the textures felt lush, from thick knit sweaters to suede top-handle bags. There's a bit of something in here for every taste, whether you'd prefer a striped suit set or a white lace dress with dreamy pink and green detailing.
The only misfire here was Burch's attempt at a sneaker — the trend of the moment most designers can't resist trying their hand at, regardless of whether it makes sense for their brand — in a platform, high-top style that felt misplaced amongst the beautiful clothes. Better were the knee-high patchwork boots, especially the pairs in an artsy wood print. In a fashion season filled with a lot of noise, it's nice to watch a collection come down the runway from a designer who knows who her woman is and what she really wants: Beautiful, well-made clothes to keep in her closet forever.
See the complete Tory Burch Fall 2019 Collection below.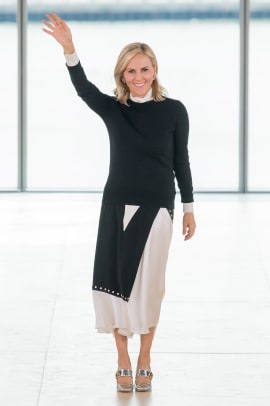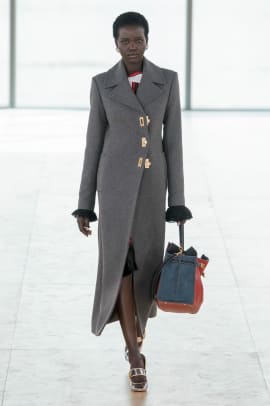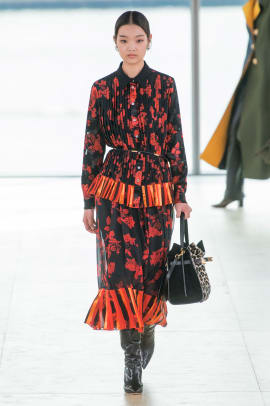 Want the latest fashion industry news first? Sign up for our daily newsletter.