See Every Look From Burberry's Fall 2019 Collection
Don't miss Riccardo Tisci's sophomore outing for the British heritage label, just in from London.
On Sunday evening, Riccardo Tisci presented his sophomore collection for Burberry at the Tate Modern by setting up two bespoke environments — one evoking structure and the other, rebellion. It was a fitting juxtaposition, granted the Italian designer is fascinated with class dynamics and continually emphasizes a more democratic vision for the British label; he wants people to come to the brand to buy a beautiful trench, just as much as he wants them to come for a hyped pair of trainers. 
The two runway setups were also a testament to Tisci's own past and connection to the U.K. "I will be forever grateful to London for being the city that opened my eyes and mind and gave me the freedom when I was young to discover who I truly am," the designer wrote in an Instagram caption following his Fall 2019 presentation. He also dedicated the show to "the youth of today, to them having the courage to scream for what they believe in, for them to find the beauty in expressing their voice." 
The show opened with youth-approved sneakers and a series of streetwear-leaning looks, punctuated by bold stripes and not-so-preppy polos made into mini skirts and dresses. There were hoodies, track pants, sleek leather jackets and shiny puffers, as well as a high fashion incarnation of mesh sports jerseys. Tisci once again proved he's a vanguard of the haute-streetwear movement by adding touches of lace, flared hems, chain link detailing and sparkly fringe to elevate pieces you'd expect to find in the closet of a cool British teen. 
The collection mimicked the soundtrack, which alternated between rap, a calming, instrumental tune and staticky news broadcasts. One part of the show quite literally interpreted the choppy nature of the background music with various cheetah prints and the label's signature checks piled on top of one another for a look that was a bit chaotic, perhaps echoing the current state of disillusionment in the U.K. as it prepares for the Brexit aftermath. 
In the latter half of the show, we met Burberry's customer that is less likely to be found at the club, and more likely to take royal style cues from the Duchess of Sussex. The beige brigade came out strong, with a camel-colored lineup of trench coats that were far from boring thanks to contrast leather piping. Tisci's more buttoned-up client will be pleased with the selection of silk blouses — many of which came with ties — and the assortment of knee-grazing skirts done in a subtle pleated pattern or in a light brown buttery leather. An emerald green puffer and a springy lime suit helped bring some life into the otherwise neutral color palette. 
Tisci's final sartorial statements came in the form of his familiar sensual eveningwear in fluid silhouettes. It was a small but sweet taste of what the Burberry girl can wear to a fancy function, after a long day of fighting for what she believes in. 
Click through the gallery below to see Burberry's Fall 2019 collection in full.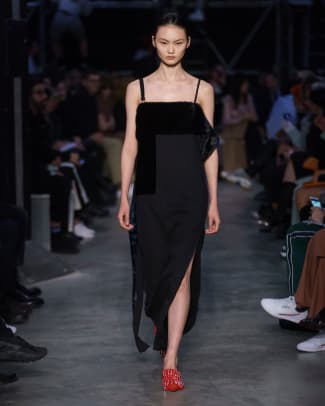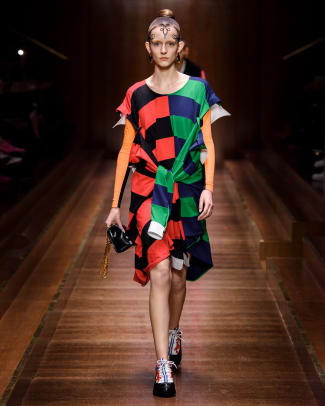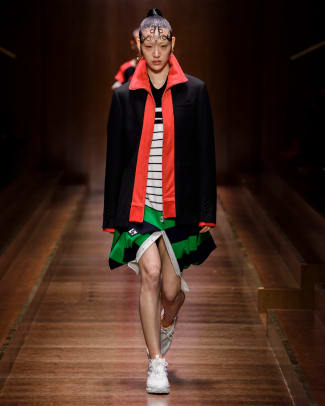 Stay current on the latest trends, news and people shaping the fashion industry. Sign up for our daily newsletter