Altuzarra Plays With Bondage for Fall 2019
The designer's sultry muse finds her tougher side this season.
Now in his 10th year in business, designer Joseph Altuzarra has clearly hit his stride, between an excellent Spring 2019 collection, a new pop-up shop on the Upper East Side of Manhattan and a recent capsule collection of his biggest hits, modeled by a crew of his (very chic) muses. Paris, where he has staged his shows since Spring 2018, clearly suits him.
Altuzarra kept that forward motion for Fall 2019, another beautiful collection of sharp tailoring and sexy detailing with a toughened-up twist. The show notes indicate he was inspired by the photography of Mapplethorpe and "the fetishization of leather, harnesses and biker gear," the latter of which showed itself in the oversized belt buckles adorning everything from moto boots to pencil skirts, as well as fringed leather jackets and trenches.
A tension between the romantic and the irreverent was key; Altuzarra combined knits with leather, lurex and menswear check to an intriguing effect, creating a blend of soft and hard. Paisley and "tattoo" prints were mashed up and twisted with draped silk or, in the case of the finale looks, covered in sequins. The shearling-lined jackets and parkas were particularly desirable, especially in a green leopard print. 
Customers who come to the brand for sensual suiting will love the black paisley-adorned number with a slightly exaggerated shape, while Altuzarra's take on eveningwear this season leans towards the casual, mixing gold and silver lamé with knits and adding luxe beaded fringe to scarves. New to the assortment is the "Play" bag, a hobo shape (is it time for the return of the massive, hold-everything hobo?) with contrasting leathers and metal buckles hinting at bondage. 
See the complete Altuzarra Fall 2019 collection in the gallery below.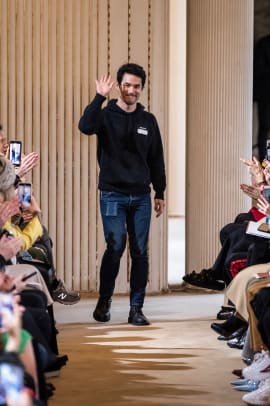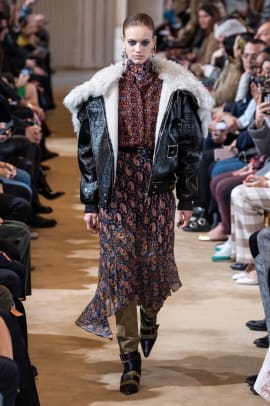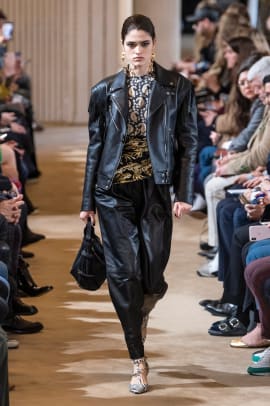 Want the latest fashion industry news first? Sign up for our daily newsletter.