The Balmain Army Is Going Full '80s Biker Gang for Fall 2019
Studs, motorcycle jackets, acid-wash denim, heavy chains — all you need is a Harley-Davidson and a bad attitude.
Balmain's Creative Director Olivier Rousteing is a baby of the '80s — he was born in 1985, for those keeping score — and his affinity for the culture, music and style of the era is a signature element of his work for the French house. Not only do his runway soundtracks predominantly consist of smash hits from the decade, but sartorial components like strong shoulders, power suiting, heavy bling and high shine (be it via patent leather, satin, vinyl or sheer plastic) permeate nearly every Balmain collection. The Fall 2019 range that debuted in Paris on Friday morning was absolutely no exception, but this time around, Rousteing kicked his rock 'n' roll aesthetic up several notches, veering into biker gang territory. We're talking metal spikes, oversized DIY-style moto jackets, frayed acid-wash denim and headbands made from chains that could have conceivably been sourced at a hardware store.
With classics from the likes of Eurythmics, Depeche Mode and Alphaville booming from the speakers, a whopping 83 looks came down the runway — most of them clunky mashups of tough, punk-adjacent styles and sweet, feminine ones. For instance, a quilted, studded leather minidress with a flared skirt was paired with a matching moto jacket, layered over a crisp white collared blouse and cinched at the waist with a huge belt that could double as a bike chain. Helpful should you find yourself in a bind and don't want your chopper getting stolen. The deconstructed moto was a key motif: Some pieces had the shoulders cut out and others came in unexpectedly mixed materials, including ladylike houndstooth or tweed with faded black denim. Elbow-length leather gloves and newsboy caps accessorized most of the black-and-white opening looks, but they were more costume-y than chic.
Rousteing didn't skimp on the light acid-wash denim, either, using it for baggy, hole-ridden dungarees, long overcoats, waist corsets, pussy-bow blouses, blazers, skirts and — you guessed it! — more moto jackets. Towards the middle of the show, the color palette lightened up; there were pastels like lavender and seafoam green, as well as sheer, clear plastic. The latter was primarily used for outerwear, specifically a pair of see-through tailored jackets completely covered in spikes.
If this sounds like a whole mess of texture, that's because it was — but Rousteing didn't stop here. He lined hems and sleeves with feathers; incorporated hefty sections of fabric that recalled rosettes; left long, utilitarian straps hanging from pants and collars that dragged behind the models; and loaded up on both the sparkly embroidery and the dramatic, geometric silhouettes that made up the back end of the collection.
As for eveningwear, Rousteing has established himself as a celebrity favorite, and no matter how out-there or impractical his creations may be, he probably won't have a hard time finding someone with millions upon millions of Instagram followers to wear these looks on the red carpet. That said, we're not convinced that mere mortals could (or would want to) pull off a full-length sequined cape, a wilted tulle skirt with a boxy, cropped blazer, patent-leather Hammer pants or a shiny tutu-corset combo that could have come straight out of "Black Swan."
It's an undisputed fact that Rousteing, who has grown Balmain's business and public profile immensely since he joined the French house, is a fan favorite — among his followers and fans on social media, his loyal celebrity clientele and the models in his self-appointed Balmain Army who love him dearly. But if the company wants to get to the next level following a recent rebrand, a 2016 acquisition that valued the label at nearly €500 million and new corporate leadership from CEO Massimo Piombini, it might be time for Rousteing to take a step back, do some editing and seriously focus on honing his message. 
Of course, "rock chic" will never go out of style, but an unwieldy, 80-plus look show with just a handful of potential commercial hits (and even fewer red carpet contenders) felt more like an ego-fueled vanity project than a cohesive runway collection. It's no small achievement to establish yourself as a pop culturally significant celebrity designer, but if your seasonal offerings don't live up to your public persona and hype, you risk putting your business in danger, as customers will move on to more interesting talents — of which there are many. Unfortunately, Instagram likes and celebrity placements can't pay the bills, and we'd hate for Rousteing to learn this the hard way.
See every look from the Balmain Fall 2019 collection in the gallery below.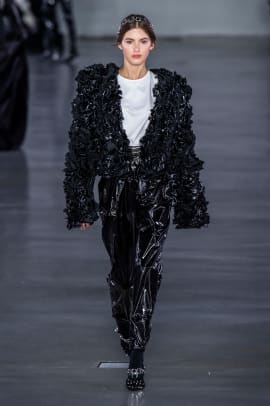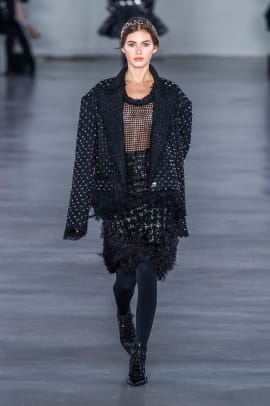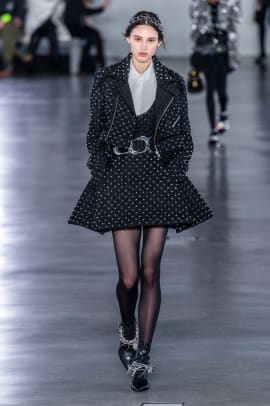 Stay current on the latest trends, news and people shaping the fashion industry. Sign up for our daily newsletter.