13 Pimple Patches That Make Breakouts Disappear Overnight
Magic! (Er, science!)
Pimple patches, zit stickers, acne dots — whatever you want to call them, these tiny, stick-on skin treatments seem to be everywhere right now. And if you've ever actually tried one of them, you know why: For certain types of pimples, they can be an amazingly effective, insanely satisfying and a shockingly gentle quick fix. In some cases, they can make angry zits disappear (or at least shrink considerably) overnight. But how do they work?
"Most pimple patches are hydrocolloid dressings that enhance wound healing. These types of bandages have been used for decades because they create an environment optimal for wound healing by absorbing excess fluid and and helping the skin heal from the inside-out," explains says Dr. Joshua Zeichner of Zeichner Dermatology in New York City. "Think of a pimple as essentially an inflamed wound. The patch protects the skin from the environment and promotes optimal healing. Some patches also contain mild levels of salicylic acid, which is a beta hydroxy acid that helps remove excess oil from the surface of the skin and can help dry out the pimples."
The trick is to apply them to clean skin — any oil or product residue on skin's surface can prevent the sticker from adhering properly — and to let them work their magic over the course of several hours. Most work best when applied overnight; in the morning, just peel off the sticker and marvel at the sebum and gunk that has magically been sucked out of the blemish and into the hydrocolloid patch.
Zit stickers not only draw oil and bacteria away from the skin, but they also have the added benefit of being an especially gentle way to treat a pimple. "They generally don't dry out the skin and leave it flaky like more classic acne spot treatments containing salicylic acid and benzoyl peroxide," explains Dr. Hadley King, a dermatologist at Day Dermatology & Aesthetics in New York City. "That means that they can be particularly helpful for people with sensitive skin and mild acne."
Plus, these patches do the work of extracting gunk from your skin without the need for picking, squeezing or popping the pimple yourself. "While stuck to the skin, acne patches also have the added benefit of preventing you from picking, which is good because picking a pimple increases inflammation and healing time and increases risk for infection, discoloration and scarring," notes Dr. King. 
But zit stickers aren't ideal for all kinds of blemishes; they're most adept at treating red, inflamed pimples and less so when it comes to blackheads or whiteheads, says Dr. Zeichner. He also points out that while pimple patches can be effective for helping to calm and heal breakouts, they don't get at the root cause of acne. "You're not addressing issues like acne-causing bacteria within the pores. The best way to treat acne is to use products that contain ingredients like benzoyl peroxide and higher contractions of salicylic acid," he says.
Dr. Zeichner favors Peter Thomas Roth Acne-Clear Invisible Dots and Peace Out Acne Healing Dots, both of which contain low levels of salicylic acid to "help absorb excess soil and keep the pores clear," he says. Dr. King also signs off on the Peace Out patches, adding the slightly more intense "needle"-based ZitSticka The Killa patches to her list as well. "They also include salicylic acid to remove oil and keratin debris from pores, and hyaluronic acid to hydrate," she explains. (For more on patches that use these needles or "micro-darts" to deposit ingredients into the skin, you can read up here.)
Both doctors suggest using these types of products to treat mild and occasional acne breakouts, but advise seeing a dermatologist for persistent acne concerns. "If you're experiencing deeper, more cystic acne lesions, your dermatologist can help with intralesional cortisone injections and prescription medications," says Dr. King.
Click through the gallery below to see (and shop!) 13 pimple patches and zit stickers we turn to anytime we need to heal a breakout — fast.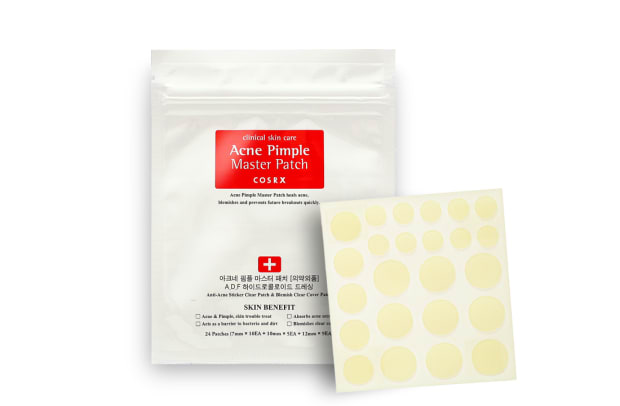 Please note: Occasionally, we use affiliate links on our site. This in no way affects our editorial decision-making.
Stay current on the latest trends, news and people shaping the fashion industry. Sign up for our daily newsletter.