Hedi Slimane Softens Way Up for His Seventies-Tinged Sophomore Collection at Celine
LVMH's golden child surprised his audience with a range of sharp, classic staples for the customer who starts their day at 7 a.m. instead of ending it, falling into bed straight from the party.
Around 8 p.m. on Friday night in Paris, just 30 minutes before Hedi Slimane was scheduled to present his Fall 2019 sophomore collection for Celine, dozens of powerful industry gatekeepers, tastemakers and critics swarmed the cafe across the street from Les Invalides, the designer's chosen venue. Wine was flowing, cocktails were double-fisted, cigarettes were chain-smoked — but it was tricky to get a read on the mood. Was this crowd simply pre-gaming what was sure to be another high-shine, glam rock, party-ready fashion show? Or was there something darker at play, perhaps a collective mourning for the loss of the so-called "Old Céline" and its former Creative Director Phoebe Philo, who's deified in many circles (particularly among women) and sorely missed.
This impromptu gathering came to an abrupt halt at 8:25, when we marched en masse to the show space, eager to see what Slimane had in store for fall. After his Celine debut for Spring 2019 in September, it would be easy to write the designer off as a one-trick pony: He's perfected the skinny suit, the sparkly, super-short party dress, sharp leather motorcycle jackets and the sorts of minimal accessories that are as cool as they are classic. While this has appeal to a very specific customer base — particularly, one that's rich, young, thin and predominately white, if Slimane's casting is any indication — there wasn't much in his first Celine collection to satiate former devotees of the brand. But in a somewhat shocking twist, Slimane softened way, way up for Fall 2019, presenting a range of luxe staples that are ideal for everyday wear. These are timeless, well-made pieces for the customer who starts their day at 7 a.m. instead of ending it, falling into bed straight from the party in a sequined mini-dress.
Taking inspiration from the old old Celine — particularly the '70s era in which it began to expand worldwide — Slimane channeled the French bourgeoisie, offering up his own take on their daily wardrobes, while keeping them fresh for modern consumers. There was plenty of desirability here without gimmicks or flashy trends, including midi-length pleated skirts, slim wool trousers, tailored jackets and overcoats, deliciously soft knits (both turtleneck and crew-neck), slim-cut jeans in that just-so vintage wash, button-up blouses and some show-stopping furs. 
Since this is Slimane, after all, there was a hint of rocker attitude thrown in, but toned down from his usual fare: A houndstooth blazer was covered in clear sequins, polka-dot and striped shirts were accented with pussy bows, a cardigan was completely done up in gold sequins, culottes came in both leather and either gold or black sparkle, breezy day dresses came in animal print and several models' looks were accented with a patterned silk neck scarf. If Slimane's woman last season spent her days in some hip neighborhood in the designer's chosen home of Los Angeles, this season they've perhaps decamped to a quieter scene like Laurel Canyon.
The accessories are likely the biggest selling point here. Nearly every model was styled with a wide-brim hat and aviator sunglasses; the over-the-knee leather boots (some heeled, some flat and lined with shearling) are the sort of minimal, barely branded yet clearly very expensive shoes that helped Slimane bring in the big bucks during his time at Saint Laurent. Finally, the horsebit belts, the simple, boxy handbags in a variety of colored leathers or exotic skins, the classic leather and varsity jackets and one gorgeous shearling aviator coat will have both new and old Celine customers excited to shop.
As Slimane took his bow, not only did much of the crowd give him a standing ovation, they also screamed and cheered, instantly indicating their approval of what he'd just shown. We're not saying the designer bait-and-switched us with his first Celine presentation for spring; perhaps he read or heard the seemingly endless complaints from former house customers, some of which bordered on dramatic eulogies. But after Friday's show, we're betting that Slimane's in it for the long haul, and the powers that be at LVMH (who were all seated in the front row) will very shortly enjoy the fruits of his labor.
See every look from Celine's Fall 2019 collection in the gallery below.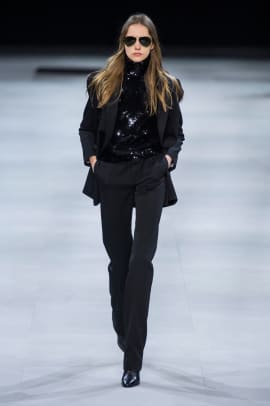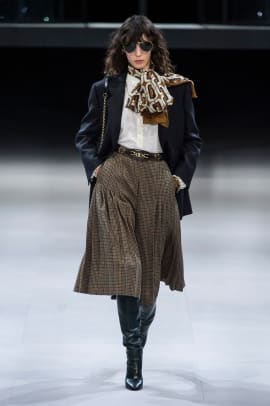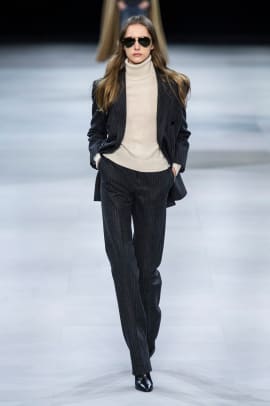 Never miss the latest fashion industry news. Sign up for the Fashionista daily newsletter.