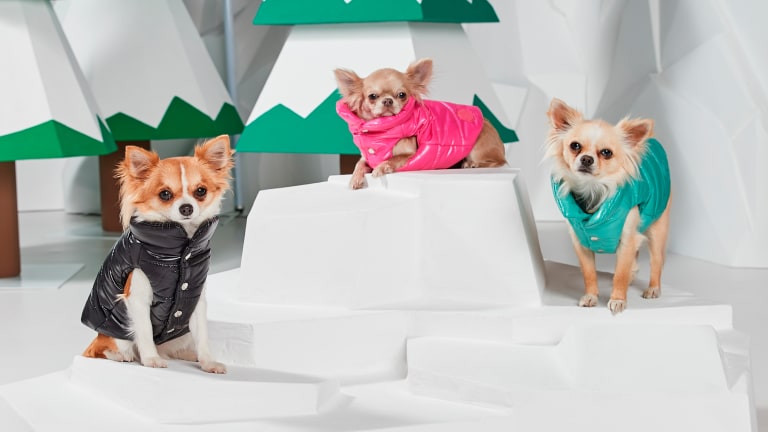 Fashion Brands Are Making Stylish Clothes for Dogs, and Millennials Are Spending Plenty of Money on Them
"It's a really good time for the dog industry."
While shopping for my dog, which I adopted a little over a year ago, at a nearby (now-closed) Petsmart, I was overwhelmed by the amount of kitschy clothing that was available. The offerings ranged from cheesy (So. Many. Puns.) to adorable ("Star Wars"-themed!) and everything was still extremely stuck in strange gender binary stereotypes (pink "I Don't Give a Frap" shirts for her; blue "Drinking Buddy" tees for him). It became clear that if there's an industry that still needed disruption, fashion for your four-legged pet was it, and a recent surge of brands, from luxury to more accessible price points, are doing just that by offering stylish apparel for dogs.
On the luxury end, there's Moncler Genius's collaboration with Poldo Dog Couture, founded by the Italian brand's own creative director of window design Maurizio Azzimonti. During Milan Fashion Week in February, the brand's massive activation included several interactive spaces for the public to explore each of Moncler's fashion partnerships, from Simone Rocha to Alyx's Matthew Williams. Lines wrapped around the venue for every single one, but Poldo Dog Couture's was one of the longest, as attendees could experience a slew of pups in high-end puffers that cost more than $400.
"We began Poldo three years ago when I realized there was not a true luxury dog line: high fashion for dogs. And now Poldo has come together with Moncler Genius," said Azzimonti in an interview with Vogue. "You know, the image we did of a dog in our down jacket is one of the most popular on Moncler's Instagram."
After noticing the lack of cool clothing choices for her adopted chihuahua mix, Boo Boo, Sabrina Albarello was inspired to start her own brand Very Important Puppies (V.I.P. for short) with her sister Katerina Karelas. "Dogs are like our kids," Karelas tells Fashionista. "We want them to be as fashionable as we are."
Very Important Puppies launched in September of 2018 with a small collection of streetwear-leaning styles — sherpa jackets, velour zipper hoodies and vinyl raincoats priced between $160 and $202 — and a collaboration with Heron Preston, who also dates Albarello, which includes a graphic hoodie ($182) and a turtleneck ($83) with the designer's signature Cyrillic letters. The line has been picked up by some boutiques in major cities, as well as Saks Fifth Avenue, along with an upcoming collaboration with GCDS and talks of opening a pop-up in New York. "We want to keep the momentum. It's a really good time for the dog industry," says Albarello.
Hemsmith founder Caryn Hsu and designer Cher Lin were already talking about the idea of creating clothes for dogs for a year until they finally debuted their first foray into dogwear for its minimal apparel line this past December. "When we were looking into dogwear apparel, you either pay super, super high for it, or find really, really crappy pieces on Amazon," recalls Hsu. "We didn't think anyone was doing a superb job, so we thought, 'Okay, let's give this a try.'"
Hsu and Lin released a classic crewneck tee ($48) and a basic hoodie ($60) in colors that matched Hemsmith's similar, for-humans styles and sold them at its Lower East Side pop-up in New York. It was a hit, especially during the holiday gifting season. "People would actually see the dogwear in the window display and come in for it, having not heard of the brand before so that was great," says Hsu. The two are already planning to work on jackets made from neoprene suede in the brand's classic colors next.
Over the past two and a half years, Modernbeast CEO Hope Reiners has noticed the line's dog apparel — dubbed "beastwear" on the brand's website — has been one of the fastest growing sections of its business. "We thought toys would be a really great seller, but it turns out apparel sells almost twice as much as our toys do," notes Reiners. Modernbeast offers neckerchiefs, neckties and bowties (between $20 and $22) that pay homage to the print designs of Liberty London, as well as fun head accessories like brightly colored party hats and crowns (both $14) made from wool felt.
Though Modernbeast didn't initially start as a brand for humans, its success shows just how lucrative the pet industry can be: Its first year of business was strictly wholesale, and the brand received an unexpectedly large number of orders from more than 70 stores. By its second year, Modernbeast opened a pop-up location at Westfield Century City in Los Angeles during December of 2017. "It did so well that we extended our lease for six months. Then they extended our lease for a year, and we still are there currently," says Reiners. Inspired by philanthropic brands like Newman's Own, Modernbeast donates 100 percent of its profits to animal-associated charities.
So who's responsible for the burgeoning interest in dog apparel and why? Unsurprisingly, we can look to millennials, who are now in their 20s to late 30s — an age range that, historically, has had to do with marriage and parenthood, but may not be the case these days. "As a generation that puts off having children or opts out of it entirely, they're putting greater focus on pets instead," says Emily Anatole, Insights Director at Cassandra, a cultural strategy and trend forecasting company. "Many are treating their pets as if they were kids and devoting a growing share of their disposable income to them." According to Cassandra, 50 percent of millennials say they personally know people who treat their pets as though they are their children.
In the past year, 14 percent of millennials have made luxury purchases within the pet-care category. Anatole points out this percentage isn't far behind the amount of millennials who have made luxury purchases on children's items — 18 percent — a market that has also taken off in recent years. "Splurging on pets is just as valid as splurging on kids in their eyes," she adds.
As people continue to humanize (and spend money on) their pets, other consumer-specific industries beyond apparel are responding, too. "We've seen a rise in technology for owners to check in on their dog when they're apart, dog DNA tests, dog wine, high-end healthy dog food, travel and hospitality brands becoming more pet-friendly and even the emergence of dedicated spaces and events for people to hang out with their dogs," says Anatole. "We expect the pet economy to only grow as people want dogs to be integrated into their lifestyle." Social media has been impacted, as well, from "petfluencers" to Instagrammable museums for dogs. 
Plus, much like how cannabis companies are taking cues from the fashion industry in order to cash in on the multi-billion dollar recreational marijuana business, new pet brands are positioning themselves in front of the more aesthetically-minded, millennial-aged customer. Wild One, which launched last fall, could very well be described as "Everlane for Dogs."
"Everlane was a huge source of inspiration for us, from being the best at the essentials to having an impact component and a really clear message on who they are as a brand," says Minali Chatani, co-founder and head of brand at Wild One. She also mentions Away — "to make suitcases covetable is a really impressive thing to do" — as another brand that her team looks to, as well as Outdoor Voices for its success with community building.
Upon its launch, Wild One opened a pop-up in New York's Soho as a way to provide a physical retail space for brand awareness and research purposes — and also because pet stores are what Chatani calls "super old-school." "It's so hard to take a dog into a Petco. There's stuff everywhere and you're walking down the aisles and it's so crazy overwhelming. You don't even know what to look at," she says. "So we really wanted to solve for that — changing the game in pet retail physically and redefining what it means to shop for products for your pet."
Wild One's shop was an open layout with a portion of one wall stocked with free branded tennis balls for dogs while the rest of it is stocked with product. The other side of the room boasted banquette seating for visitors to hang out and sip on the shop's complimentary coffee, beer or wine "It was really a space where people can be with their pets and not feel like they were in the way or not really supposed to be there," says Chatani, who plans to open up a similar space in Los Angeles and a full-time flagship store this year.
Wild One's first collection of products includes simple yet functional pet essentials, such as bowls ($18), flex-poly collars ($45) and leashes ($75), poop bags ($10 for six rolls) and carriers ($12), soft-and-stretchy harnesses ($75) and beds ($125). Its most expensive item so far is a cleanly-designed carrier that goes for $180 and was inspired by the handbag designs of Celine and Cuyana. The brand recently got picked up by retailers like Need Supply and Bloomingdale's, and has plans to expand into three new categories throughout the year: toys, grooming and wellness. As far as apparel, Chatani says the brand will explore the idea through collaborations rather than its own in-house line. 
"A lot of people look at their pets as a reflection of them," says Chatani. "So why wouldn't you put in the time, effort and care into choosing good products for your pet as you would for yourself?"
Homepage image: Moncler x Poldo Dog Couture Fall 2019. Photo: Courtesy of Moncler
Sign up for our daily newsletter and get the latest industry news in your inbox every day.