Clare Waight Keller Takes on the Darker Side of the Garden of Eden for Givenchy Fall 2019
In the designer's world, the fabled Eve is a woman of varied sartorial tastes, who can wear them all with strength and ease.
On Saturday night in Paris, showgoers trekked through the chilly light mist to the Jardin des Plantes, a botanical garden (and historical French landmark) where the Givenchy show would take place. There was an ominous air about the set, from the backlit sign of the French house's name at the entrance, engulfed in a cloud of smoke, to the near pitch-black tent that housed the runway, to the crimson candy apples handed out as a pre-show treat. Through the clear roof, guests could see bare tree branches arching overhead, also illuminated by white light. Was there a "Snow White" theme going on here, hence the dark mood and the aforementioned apple? 
Designer Clare Waight Keller, who's having an undeniable "moment" in the industry right now, had something else in mind — though her theme of the season was not exactly sunny. For Fall 2019, Waight Keller explored the idea of winter in the Garden of Eden (which is where the apple came in), not only incorporating botanical elements like florals and tree graphics, but also the "temptation of Adam and Eve," and how they evolved into free-thinking individuals.  
In Waight Keller's world, Eve is a woman of varied sartorial tastes — who favors strong suiting, soft plissé dresses, dramatic taffeta and bejeweled eveningwear, tuxedos and parachute gowns — but also someone who can wear them all with ease. The show began with structured coats and blazers with rounded shoulders in a range of materials, cinched at the waist with belts, immediately emanating the strength and skill in tailoring that the designer has become known for in her time at the French house. Japanese herringbone and twill overcoats were sharp-shouldered as well, though some were softened up a bit when a puffer was layered over top.
As you may recall from your time in Sunday School, it was a serpent who screwed everything up for Adam and Eve during their time in Eden, and snakeskin appeared on items ranging from an ankle-length coat to a men's button-up shirt to a fitted, belted coat dress, to handbags and platform heels. Floral patterns were also key this season, particularly on soft plissé dresses featuring ruffled necklines, sleeves and hems that came in an array of colors and shapes.
Waight Keller has had great success in the eveningwear department, and Fall 2019 offered up plenty of red carpet options for future big-name events. A bubblegum pink and cherry red gown were both sublime in their simplicity; classic black tuxedos were adorned with sparkly crystal detailing or a swath of taffeta over one shoulder; black evening gowns featured crystal and sequin embroidery inspired by nature, particularly weeping willow trees; and for those who prefer not to go the formal route, a peach or black taffeta dress with bell sleeves, a black lace or sequined taffeta top with pouf sleeves, or a voluminous navy bolero jacket might do the trick.
See every look from the Givenchy Fall 2019 collection in the gallery below.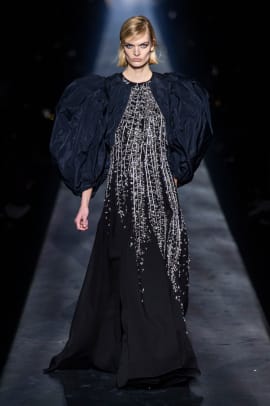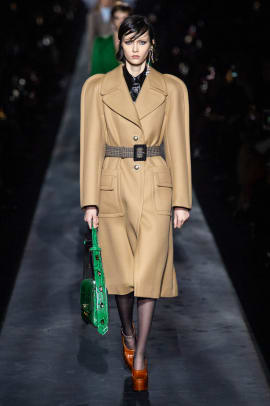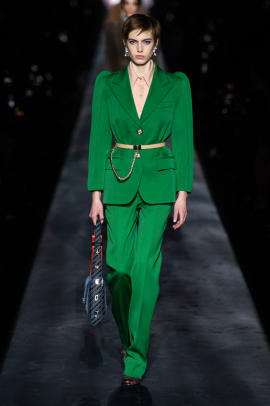 Stay current on the latest trends, news and people shaping the fashion industry. Sign up for our daily newsletter.