Everything You Need to Know About Glossier's New — and Completely Different — Makeup Brand
Introducing Glossier Play.
A few weeks ago, Glossier set the beauty world abuzz by mysteriously teasing a new brand called "Glossier Play" on its website and social channels. At the time, the only hints at what, exactly, this new brand would have in store were cryptic and abstract at best — and yet, people were so curious about it that the Glossier Play Instagram account racked up nearly 60,000 followers in a single week.
Well, beauty friends, be curious no longer: On Monday, the company unveiled its first product lineup for the spinoff brand. As we (and plenty of other speculators) guessed, Glossier Play is, indeed, a flashier, more glitter- and pigment-leaden range of color cosmetics that bucks the minimalist, no-makeup makeup aesthetic with which its parent brand has become so synonymous. 
Where Glossier's hero products like Boy Brow and Stretch Concealer are all about a subdued, is-it-even-there approach to makeup, Glossier Play's bright hues, glint-y sparkles and blindingly shiny finishes make themselves known. Glossier Play's first drop includes four products: Colorslide, a "color-true gel eyeliner pencil" in 14 shades; Vinylic Lip, a "high-shine lacquer" in six shades; Niteshine, a "buildable pearlescent highlighter" in four shades; and Glitter Gelée, a "one-step glitter gel" in four shades. Accompanying the color formulas are two tools: "Blade," a pencil sharpener and "The Detailer," an applicator for the Glitter Gelée. Each product will retail individually for between $14 and $20, or shoppers can purchase "The Playground," a set that includes one shade of each product and the two tools for $60. All of the formulas are are cruelty-free, vegan and hypoallergenic.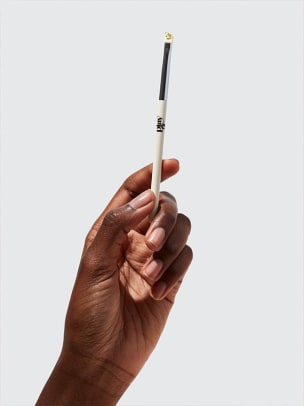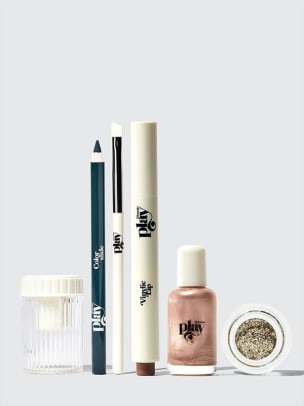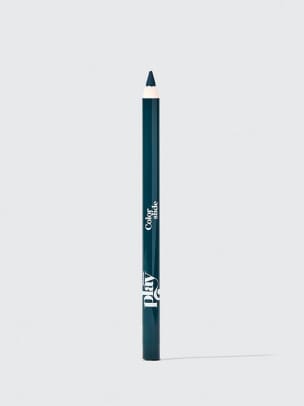 The decision to launch a new brand under the Glossier umbrella — and one that is so diametrically opposed to the aesthetic pillars Glossier has been heralded as an industry "disruptor" for setting in place — is an interesting move for the company. Perhaps it's an aim to reach out to new consumers who don't identify with the existing range's minimalism, and to better compete with brands like Milk Makeup and Fenty Beauty that have been so successful with Gen-Z shoppers who crave makeup that delivers on fun — with modernity and inclusivity baked right in.
The campaign imagery for Glossier Play's debut collection goes a long way toward communicating that; beyond simply being more colorful than the white-and-millennial-pink imagery that has served as Glossier's standby, it also clearly makes a concerted effort to prioritize diversity, featuring models of different skin tones and genders. (It's worth noting that while Glossier's previous campaigns have been quite diverse in terms of skin tone, age and body type, the brand has run into criticism in the past for its narrow shade range when it comes to actual products.)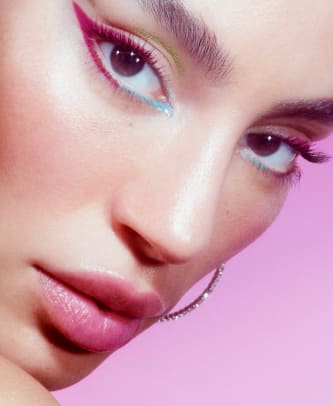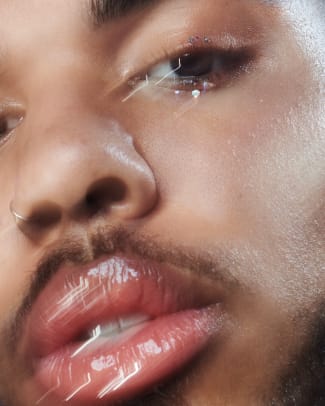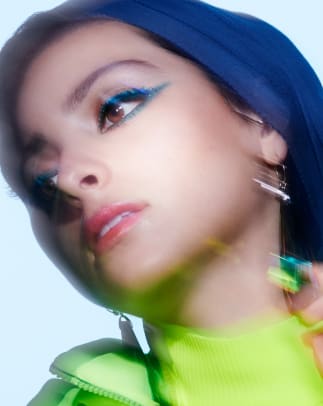 With younger generations on the cusp of becoming the most crucial demographic for companies to attract, this attempt to pique their interest is a pretty logical next step for the business. But to hear Glossier tell the story, expansion beyond its core brand was always a part of the plan. "In many ways, Glossier Play has been part of Glossier since the beginning. We launched in 2014 with four products and a mission to democratize beauty and bring a sense of freedom to how you look, act, and feel....Now, with Glossier Play, we're applying our core values to the world of color," read the announcement from the company. 
Reportedly two years in the making, Glossier Play may have a markedly different look than its forerunner, but its business model is very much the same. Like Glossier, it will be sold via the company's direct-to-consumer channels. And while the company notes in its press release this range is "only the beginning for Glossier Play," it also adds that, "the one thing that won't change is Glossier's connection with our community, a constant across everything we do." Again, given that it's already amassed tens of thousands of followers on social media, we'd assess that statement to be quite valid indeed.
Please note: Occasionally, we use affiliate links on our site. This in no way affects our editorial decision-making.
Never miss the latest fashion industry news. Sign up for the Fashionista daily newsletter.