Halima Aden on Working With Responsible Brands and Designing Modest Fashion
"I don't just want to sell clothes."
Minnesota-bred, Somali-American model Halima Aden's career has been a whirlwind: Since competing in the Miss Minnesota pageant and then signing with IMG as its first hijab-wearing model in 2017, Aden has walked for the likes of Yeezy and Max Mara, starred in campaigns for Nike, The Modist and American Eagle and covered magazines like CR Fashion Book, Allure, Vogue UK, Vogue Arabia and Paper. Her Instagram following is inching closer to the one-million mark every day. But like any smart, forward thinking model, the 21-year-old is beginning to diversify her career with gigs that see her doing more than just looking pretty.
We caught up with Aden on Wednesday night at a rustic home at the peak of Laurel Canyon in Los Angeles, where H&M held an event to celebrate its latest Conscious Exclusive collection, a fashion-forward line made from innovative sustainable materials. As a company, H&M has been exceptionally vocal about working towards a more sustainable future in terms of the materials and processes it uses to produce its garments, which is the main reason why Aden felt comfortable aligning with it.
She also recently embarked on her first-ever design collaboration, creating a line of hijabs for Modanisa that will debut at Istanbul Modest Fashion Week next month — a longtime goal of hers, or at least her mother's. "My mom's number one goal for me since I started modeling, she said, 'Please come out with a hijab line,'" says Aden. "It was her vision, she said, 'Imagine if you had that when you were little.'"
Looking stunning in head-to-toe H&M, Aden sat down with us to discuss her design aspirations, how she chooses what brands to align with and what she thinks is missing in modest fashion.
So I heard you have your first fashion design collaboration coming up. Why was that something you wanted to do and what can you say about it?
It's 27 headpieces — hijabs, turbans — and I'm really excited to share the color palette. I can't spill the beans until the show, but it's going to debut at Istanbul Modest Fashion Week, so I'm excited that my first design collaboration is actually going to have its own fashion show.
It's my first time designing anything or collaborating with a big retailer like Modanisa. But the pressure is on because I see girls are already messaging me like, 'Sis, when does it launch? When are you dropping this? Are you gonna have this turban,' sending me pictures on my Instagram like, 'Are you gonna make this?'
Did you always hope to design or was it just an opportunity that came up?
I'm the first hijab-wearing model; people are genuinely excited that I'm going from model to now designing. It's definitely, for me, always been about the opportunity; I never aspired to be a model; I just went and competed for a pageant and that blew up and I got signed by IMG. I didn't look for much in the beginning. I never heard of a hijab-wearing model; I didn't know there was a place for it. This project just came along my path, but I'm somebody who embraces those opportunities and I want to make the most of them. I'm just excited because I've been wearing the hijab since I was eight years old, so I've been playing around with it, making my own mistakes, making my own little trends and I think a lot of us hijabis have done that for most of our lives, so for girls to see someone who's a hijabi design hijabs for hijabis — I hope it's personal to them. I hope they know it's for them as much as it is for me.
When it comes to headwear and other modest fashion, what do you feel is missing or could be improved upon if anything?
A lot of it is: How do we stay with the trends while still being modest? So I'm looking forward to different patterns, looking forward to making hijabs young and edgy and cool. Today I was able to wear something from the H&M Conscious Exclusive collection and I was still able to make it my own and then before I came here, I tied this into a turban — that was its own little look. so it's all about playing around with the look.
[Aden then proceeds to untie her hijab and tie it up into a turban, without a mirror.]
You can see how I folded this on the side; it gives my cheek bones shape, like contouring. That's something only us girls know; I didn't always know, but you learn.
How do you determine what companies to work with?
For me, the way I pick who I want to work with is: What are they doing as a company? I don't just want to sell clothes, I think a lot of us consumers are tired... It's more like: What are you offering? What are you doing for the environment? What are you doing for the community? What are you doing for other people? What are you doing for the youth?
I worked with Vita Coco for the first time and we spent seven days [at one of its farms in the Philippines] — it wasn't just a photo shoot, it was: Let's go to the field, the schools you built, the classrooms you built, visiting the kids. I worked with the farmers; I got to see how the water came to be, from the farmers cutting it all the way to the factory making the products. For me, it's the same thing with H&M: They're working towards a longer goal, like by 2040 they're going to be able to source responsibly. It's exciting; they're using materials that are good for the environment. Those are the brands that I want to champion, support. They're heading in the right direction and if every brand can do that, work towards a sustainable future, we're going to go so far.
Your skin is so stunning — I have to ask: What are your favorite skin-care products?
I love Tatcha and and I love Dermalogica. I keep it very simple, but also mother nature's ingredient is number one — drinking lots of water — getting eight hours of sleep every night. Little stuff like that goes a long way.
Browse the gallery below for images of Aden, Rowan Blanchard, Amber Valletta and more at the H&M Conscious Exclusive event in LA.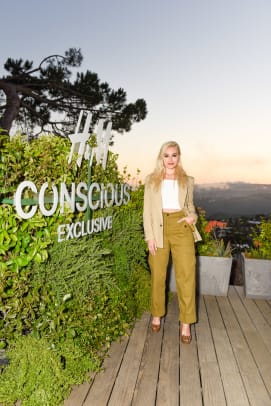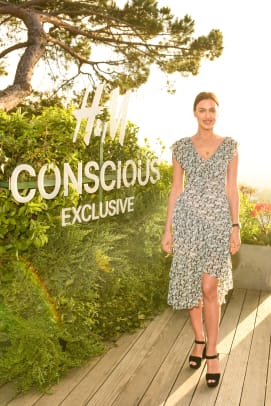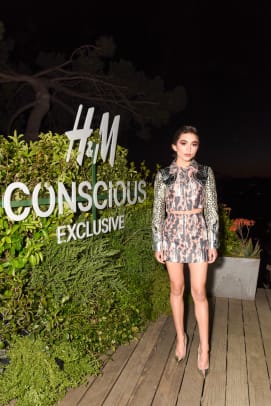 Never miss the latest fashion industry news. Sign up for the Fashionista daily newsletter.