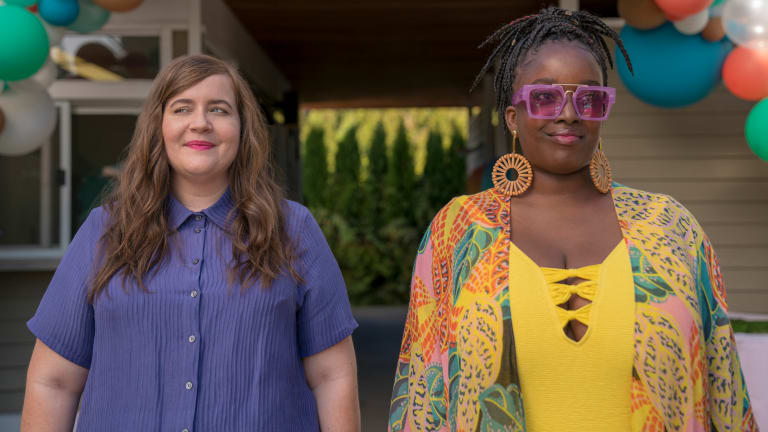 Aidy Bryant's Character Expresses Growing Self-Confidence With Savage X Fenty and More in New Hulu Series "Shrill"
Costume designer Amanda Needham also discusses the "dead zone in the fashion industry" when it comes to size-inclusive options.
In the new Hulu show "Shrill," Annie (the eternally amazing Aidy Bryant), laments on the difficulty of finding good basics beyond a size 14 as she admires a chic reveler's skirt at body-positive, women-celebrating and particularly bangin' pool party. It's all "cutesy shit covered in Eiffel Tower postage stamps," she says.
Based on Seattle-native author Lindy West's memoir of the same name, the six-episode series follows the aspiring journalist who's on a mission to build her confidence, improve her life and progress in her career — but not by changing her body. The show's costumes by Amanda Needham help Annie discover and celebrate herself along the way. But Needham's process behind-the-scenes involved similar challenges to Annie's on-screen experience.
During prep, the costume designer excitedly put together mood boards to brainstorm Annie's wardrobe arc with Bryant, who also co-wrote the series with West and Ali Rushfield. But Needham was in for a rude awakening when she tried to source ideal pieces to bring the character's (and Bryant's) personal style and body-positive approach to the screen. 
"I had so much faith in the fashion industry...." says Needham about expecting to find a sufficient amount of well-fitting, high-quality and cool girl appropriate options for Annie.
"Using clothing to bring out her body and not hide it at the same time was really important because there's a real societal thing: 'Oh, you're over a size 14, let's cover you up,'" she continues. "There's just a real dead zone in the fashion industry, which is very disappointing."
Needham ultimately found ideal pieces from designers with size-inclusive offerings, like Rachel Antonoff, Mara Hoffman, Tanya Taylor, Rachel Comey and Dusen Dusen. "The interesting thing is I would say, 'Oh my gosh, they have these pieces,' and Aidy would already have them," she says, explaining that style star Bryant snaps up the limited amount of chic, size-inclusive options from designer collections immediately.
"Aidy feels good in her own skin and she wants things to be tailored and to look good and to look cool," Needham says about bridging Bryant's fashion mindset with Annie's. So Needham ended up custom-designing most of Annie's costumes for the perfect fit and story-telling support, including a stunning rainbow dream of a sequin dress.
"We both had an image in our minds of this high fashion, cool moment and we weren't finding anything," explains Needham. The dress needed to sartorially speak to a series of scripted moments during Annie's pivotal evening, starting with the snarky mandated dress code from her boss at the Portland alt-weekly: "Please dress like you've been to New York at some point in your life." 
The brilliant sparkle, imaginative diagonal-stripes and vibrant colors express Annie's personality and exude the hope and excitement Annie has for the evening — and possibly her future — especially regarding shitty sorta-boyfriend Ryan (Luka Jones). She looks amazing in it, representing how Annie sees and feels about herself; everyone else — from clueless "well-meaning" strangers to her colleagues to even her parents — all need to catch up. Against the supporting and background players clad in neutrals and muted shades, the sequin confection also helps highlight the particularly awkward and difficult moments in the episode.
Another decisive moment entailing expansive and meticulous costuming takes place during the aforementioned "Fat Babe Pool Party," which prompts Annie, toiling away as an Assistant Calendar Editor, to take a major career leap. A bit tentative, she ventures into unknown territory — a body-celebrating safe space — outfitted in a short-sleeve blouse and dark jeans. Her more sedate outfit choice doesn't fit the festive pool party vibe, while her cool AF BFF Fran's (Lolly Adefope) — in a bright yellow lace-up one-piece, tropical kimono-style coverup and funky purple sunnies — effortlessly blends with the rest of the partygoers wearing eye-catching prints, exuberant colors and a profusion of silhouettes: off-the-shoulder, cropped, one-piece, deep-plunge, crop tops, bikini tops.
"Everybody in the background feels so confident, so we show that through color, pattern and texture — this glam," says Needham. "Everybody felt celebrated in their skin and it wasn't this crazy concept that all these people could feel good." She did custom-design some of the suits and cover-ups, but also found pieces at Forever 21, Hot Topic, Nordstrom, H&M and Eloquii.
But when Annie finally lets her walls down and feels at home, she strips off her dark layers to reveal an adorable pastel-blocked Mara Hoffman one-piece that Needham found from 11 Honoré, which proved to be a crucial resource for the costumes. "They were so good and supportive," she says of the plus-size luxury retailer.
As Annie builds her self-confidence and starts standing up for herself, her wardrobe subtly transforms from Portland grunge-influenced plaids and muted layers to bolder colors and prints, while stripes remain a constant. "The clothing becomes brighter and a little bit more pop-y," says Needham.
But the challenges in finding costumes to fit the script and character wasn't just limited to clothing. "There are also so many vulnerable moments in Annie's life and a lot of that has to do with no clothes," she says. Needham, again, found herself custom-building lingerie to emphasize emotionally-exposed moments for Annie, whether getting dressed or in intimate situations with Ryan. But the black lacy and keyhole cut-out bra that Annie wears in the pilot was actually bought — and from a very apropos brand.
"The number one lingerie we found that had a gorgeous fit was Savage X Fenty," says Needham about Rihanna's size-inclusive lingerie line. "So that was really a moment." 
Needham also found pieces for Annie and additional characters, including Fran, at Portland-based Wildfang, a longtime favorite of the costume designer. The homegrown line champions a feminist, inclusive and empowering ethos that was a fit for "Shrill," which frankly tackles fat-shaming, abortion and male toxicity in the pilot alone. "It was really just a one-stop-shop," Needham says — and a trend-starter on set.
"We put it on Lolly and all of the cast — with the exception of Ryan — went out and bought it," she says with a laugh about the Wildfang orange utility jumpsuit (above) that Fran wears in the first episode.
Needham, a Portland-area native who's also won two Emmys for her work on the Pacific Northwest-spoofing "Portlandia," has lived through the city evolving from hippie-grunge to a more yuppified metropolitan center, so she expressed the different Portland archetypes through the supporting characters' costumes with an insider's eye. Boss Gabe (John Cameron Mitchell with a twist of Dan Savage) with his black nail polish, beat up leather jackets and Gen X alt-rock concert tees, like a Heatmiser shout-out, represent old school Portland. 
"Just an old rocker who's been on the scene, who knows everything and is not going into the office with a suit and tie," says Needham.
Annie's work husband Amadi (Ian Owens) in his sleek leather moto-jacket, printed shirts and skinny jeans and Gabe's assistant Ruthie (Patti Harrison), who dresses like she's gunning for an internship at CR Fashion Book in New York, represent the new. "Every single look for her was, 'What is Ruthie going to wear next?'" says Needham about topping each previous 'fit, like her patent leather beret and pirate-y white puff-sleeve blouse and pussy-bow tie situation.
Needham is currently in Los Angeles working on season four of "Baskets," but she's already looking forward to a "Shrill" season two (fingers crossed on that green light). "I'm ready to bring back some of these characters, but I'm hoping that the fashion industry will catch up," she says. So is a $21 billion — and growing — market.
Follow Amanda Needham on Instagram @itsmeamandaneedham. 'Shrill' is available for streaming on Hulu starting Friday, March 15.
Top image: Allyson Riggs/Hulu
Never miss the latest fashion industry news. Sign up for the Fashionista daily newsletter.