Isabel Marant Put Her Strong, Sexy Spin on Neutral Wardrobe Staples for Fall 2019
You're going to want one of these fisherman sweaters, shearling-lined coats and a pair of the buttery leather boots. Trust us.
When it comes to fashion month consistency, Isabel Marant is one of the designers who we can count on to deliver a solid, "on-brand" collection each season, never veering far from her signature aesthetic. Of course, said aesthetic is heavily based in the now-hackneyed idea of "how to dress like a French girl," but arguably no one nails it like Marant — she is the real deal, and has the effortless je ne sais quoi that never feels forced or manufactured. 
With such a focused point of view (and a firm grasp on the stereotypical French style that dozens of brands on the market would kill to achieve) there's never much in the way of newness from Marant's seasonal collections, whether you're talking about her preferred stable of models, the bohemian elements, the chunky knitwear, the oversize outerwear or the standout footwear, which has been known to incite industry-wide trends in the past. However, that absolutely doesn't mean they aren't good or desirable — and her Fall 2019 offering is proof of that.
This season, Marant showed her skill through elevating wardrobe staples in a buttery neutral palette — trench coats, fisherman sweaters, safari-inspired blouses and vests, wrap skirts, high-waisted trousers — into eye-catching statement pieces. Thanks to thoughtful draping, '80s-inspired strong shoulders (another Marant go-to), interesting proportions and just the right amount of sex appeal in the form of short hemlines paired with thigh-high boots or tightly cinched waists on flowy dresses, looks that would likely sound boring on paper were anything but.
The collection wasn't all in shades of sand, taupe, cream and grey: Marant's penchant for the bohemian came through in colorful, graphic hard-candy prints, cozy quilted jackets like those worn by Vittoria Ceretti and Frederikke Sofie and a tie-dye-adjacent brush stroke motif. Texture was also a huge selling point here, thanks to the distressed leather coats lined with shearling, the fuzzy knit vests, the shiny, rich leather, the boucle tops and the sparkling, sequin embroideries on the party-ready evening pieces.
Sure, for many, this all might just sound like more of the same (and they wouldn't exactly be wrong). But when it comes to Marant, as the saying goes, if it ain't broke, don't fix it.
See every look from the Isabel Marant Fall 2019 collection in the gallery below.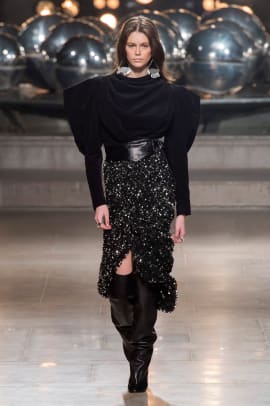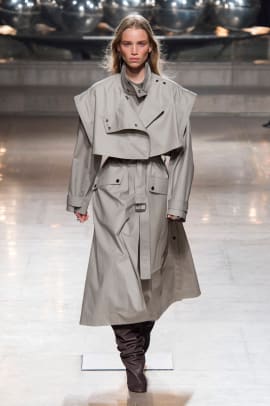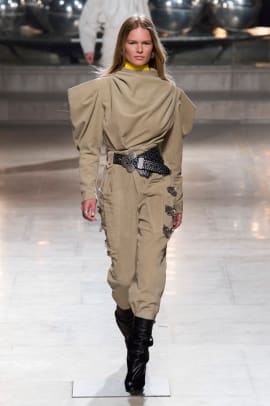 Stay current on the latest trends, news and people shaping the fashion industry. Sign up for our daily newsletter.