Louis Vuitton Takes Us on a Funky '80s Time Warp for Fall 2019
Mix master Nicolas Ghesquière got wonderfully weird, combining checkers, animal prints, sequins, old-fashioned florals and every conceivable texture in his signature offbeat silhouettes.
Every Paris Fashion Week officially comes to a close when Nicolas Ghesquière takes his bow after his latest collection for Louis Vuitton debuts on a runway at the Louvre. However, in an interesting twist this time, guests arrived at the traditional venue to find a replica built of another art museum less than a mile away: the Centre Pompidou, known for its colorful exterior and high-tech architecture, made up of exposed steel beams and tubes with glass walls and visible negative space. Built in the late '70s, its construction was a surprising sign of the times, as it's located in the historic Parisian neighborhood of Beaubourg, where Ghesquière finds no shortage of inspiration. "The cliques, the styles, the life ... I love that impression of a sartorial melting pot," he wrote in his show notes.
For Fall 2019, the designer focused on mixing elements of the past and the present — a seasonal signature of his — juxtaposing typically youthful elements with decidedly old-school ones. To a soundtrack of hip-hop, funk, pop and electro hits from the mid to late '80s, models stepped out in looks composed of a wonderfully weird assortment of textures, color and both genre and generational references. Dresses and skirts that appeared to be made from your grandmother's classic tweed were layered with sequined bibs, structured shoulder ruffles in leopard print or grommet belts. Short party dresses and modest prairie-style blouses with voluminous sleeves — also with plenty of ruffles — came in the sort of floral prints that you'd expect to find upholstering a retro couch or curtains. A striped take on a suit jacket had a nipped-in waist and a built-in pocket square, ideal for a night of putting on the Ritz.
There were New Wave checkerboard skirts and sleeves, a motorcycle vest, super-skinny ties, high-waisted denim, pointy flat boots, tie-up oxfords, a one-piece take on a tracksuit and silver sequins galore, all surely alluding to Ghesquière's wide-eyed younger days. On the opposite end of the spectrum came some crafty, borderline tacky quilted pieces, including long, open vests and a tailored jacket. A pair of ruched, bedazzled blue dresses seemed fit for an '80s prom; punky plaids were paired with leather; color-blocked and graphic Pop Art decorated everything from silky tops to knits to skirts; aviator and bomber jackets came cropped and detailed with voluminous sleeves for a dramatic, too-cool silhouette; and party-girl lingerie dresses gave the illusion of exposed bra straps, ideal for a night out dancing at the club.
If this all sounds confusing to you, that's because it kind of was — but without the funky styling, there are plenty of wearable, desirable pieces and accessories that customers probably won't be too puzzled about incorporating into their wardrobes. For instance, the leather trousers, collared lace monochrome mini-dresses, sharp black overcoats, fitted cropped jackets in wool, leather and tweed and, of course, the shoes and handbags will likely appeal to the more conservative customer, regardless of their age. You can always count on Ghesquière to think outside the box, and even when collections take a turn for the strange, he somehow manages to delightfully pull it all together.
See every look from the Louis Vuitton Fall 2019 collection in the gallery below.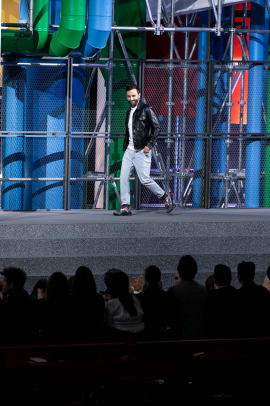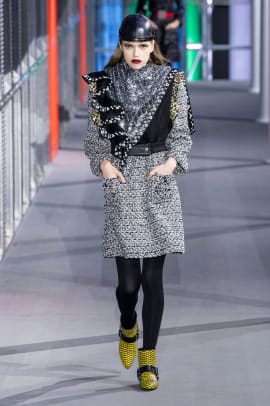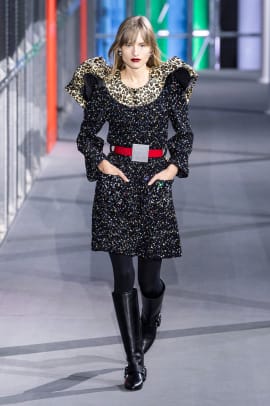 Want the latest fashion industry news first? Sign up for our daily newsletter.