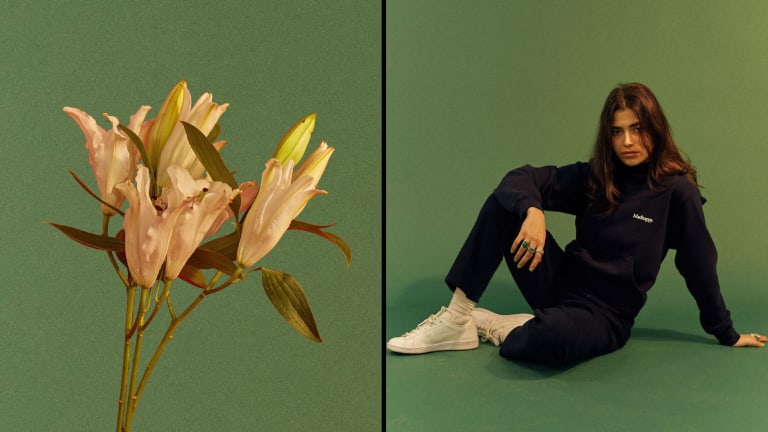 Madhappy Is Building a Brand Around Hoodies and Mental Health
The Los Angeles brand's young co-founders just raised their first round of funding from an influential group of investors looking to sell happiness in the form of a hoodie.
While reporting a story last year about burgeoning Los Angeles streetwear brands, I was met with some slightly too-cool-for-school attitudes by a few of their founders. I wasn't particularly surprised or even bothered by it, but it made one founder's palpable positivity and appreciation — which could be felt even through Instagram DM — stand out. That was Peiman Raf of the two-year-old brand Madhappy. As it turns out, that's exactly the vibe Raf set out to create along with his co-founders. "We wanted to try to create a very optimistic and positive brand in a time we thought a lot of brands were very negative and closed off," he tells me. 
The four co-founders — Raf, his older brother Noah Raf and friends Joshua Sitt and Mason Spector — were all in their early 20s when Spector came up with the name: "Madhappy." None of them had much work experience of any kind — Noah Raf and Spector started a clothing company in high school and Noah did some celebrity styling — nor did they have a business plan initially. Ultimately, Madhappy turned into a few SKUs of streetwear styles: hoodies, sweatpants, T-shirts and hats bearing the sans-serif logo as well as peace signs and phrases, which launched in April of 2017. Nearly two years later, the brand has only just crystallized what it wants to be, but the co-founders have been busy in the meantime.
They've opened seven pop-ups — two in LA, two in New York, two in Aspen and one in Miami — with panel discussions and block parties (they closed down all of Melrose Place in LA); collaborated with a range of businesses including Colette, Jon and Vinnys, Pencils of Promise and Alfred Coffee; and built something of a cult following. The customer base is 60 percent female, 40 percent male and the product offering now reflects that with core styles cut for men and women, as well as some unisex pieces. The brand has already amassed more than 19k Instagram followers thanks to its well-connected young founders, fun parties and a diverse group of influential early supporters including influencer Olivia Perez, Gigi and Anwar Hadid, Sofia Richie, 2 Chainz, The Weeknd, The Chainsmokers, Cardi B and Kacey Musgraves. "She came into the Melrose store and we spoke for a while; she loved the brand," says Raf of Musgraves. The brand even designed something custom for her to wear on tour and hopes to work with her more in the future.
Raf says the buzz and celebrity placements have all been organic, and the product inherently draws people in thanks to the brand name and, like many successful "Instagram brands," a design signature. "When people started wearing our hoodies, the hood stitch became very recognizable," he says. "You hear the word 'madhappy' and you have your own interpretation of it, but it's pretty easy to understand and support." While social media has been helpful in building awareness, IRL experiences are a big focus for the brand.
It's this idea of building a community that has lead to the brand's next phase, beginning with the announcement on Thursday of a seed funding round led by an impressive group of strategic investors from the realms of e-commerce, media, entertainment, fashion and real estate — all challenging areas in which the co-founders hoped to gain more insight. They include the founders of Sweetgreen, MeUndies, Alfred Coffee and College Fashionista, as well as Justin Caruso, son of real estate magnate and The Grove owner Rick Caruso. They've raised between $1-2 million, but, to the co-founders, gaining a strong team of advisors was more important than an amount of money. "Someone could put in as little as $10k but still make a huge impact with the advice they could give us," says Raf.
Thursday also marks the launch of a new, more functional and mobile-friendly website. Around 80 percent of orders come in via smartphone, Raf says, and the brand is also launching a phone number that customers can text for support, that will ultimately become "a full shopping experience via text." Also debuting are an 11-piece permanent basics line of simple sweatsuits and tees in a range of colors that will always be available (while capsules and collaboration drops will offer more scarcity), and a blog featuring content focused on wellness and mental health, whether that's resources for those looking for help, information on meditation or interviews with celebrities on their own mental-health struggles.
"Some of our founders have had a lot of life experience with mental health specifically, so it was very clear early on for us that that's what it was going to be about," says Raf. "It is perfect with the name as well, so in a lot of ways it came together quite nicely." Madhappy will continue putting this mental health mission at the core of upcoming pop-ups and collaborations. Raf hopes to start looking for permanent spaces in New York and LA next year.
The team behind Madhappy is wise to build its brand around more than just clothing — that inclusive, community-driven strategy has been the key to success for other modern, millennial- and Gen Z-targeting companies, but pretty rare in the streetwear space, where brands tend to think a logo or a screen print is enough to sustain a business. What the founders may lack in age and experience, they seem to make up for in an understanding of what makes people their age want to get behind something, and a desire for longevity. Though, ultimately, their success will depend on how well everything is executed.
"From the beginning, looking at Outdoor Voices, Sweetgreen, Away — a lot of these brands that have done super super well — it seems that, one, people are really interested in buying and wearing and posting stuff that says something about them, whether you eating Sweetgreen means you're a healthy person or you buying Outdoor Voices, that means you're a very active, in-the-know consumer or whatever," says Raf. "I think that was very important to us to make sure, when you wear a Madhappy hoodie you should feel happier; you should live a more positive life; you should try to impact others."
Top photo: Madhappy's new permanent classics line. Courtesy of Madhappy
Never miss the latest fashion industry news. Sign up for the Fashionista daily newsletter.