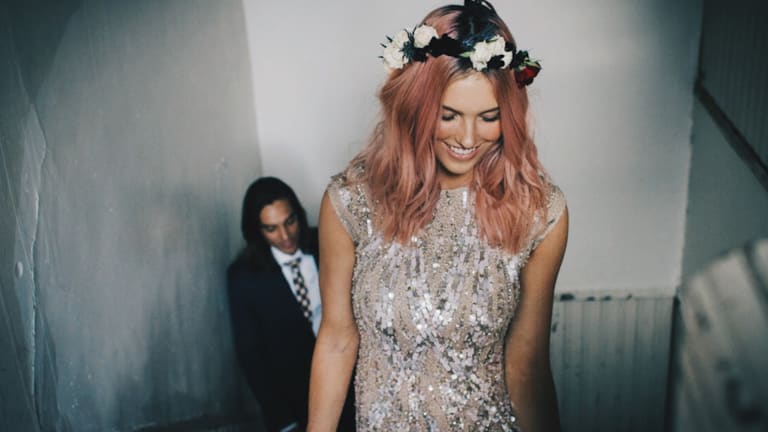 Nearly Newlywed Expands to Become the Cool Bride's 'Amazon of Weddings'
The online destination to shop new and pre-worn gowns also introduces designer collaborations.
Fashion PR-turned-tech entrepreneur Jackie Courtney has an eye for spotting niches in the digital wedding space. In 2012, she founded Nearly Newlywed as a destination to shop "nearly new" (or sample/overstock) designer wedding dresses online, but with the unique option to resell it back to make 40 to 60 percent of the price paid. Jumping onto another opening in the bridal e-commerce space, Nearly Newlywed is expanding into a marketplace platform with branded storefronts, offering wedding-related shopping options — like an "Amazon of Weddings," but also not.
According to the 2019 WeddingWire Newlywed report, 80 percent of couples do their wedding planning online, but e-commerce in the bridal space has been slow to innovate as compared to other categories. Shopping, and actually finding, wedding dress-adjacent items — fine jewelry, chic hair accessories, fun and non-cheesy bridal party gifts — can be overwhelming on the usual e-commerce go-to marketplaces, like Amazon and Etsy. Nearly Newlywed's new storefronts platform aims to offer shoppers a manageable, accessible and edited way to browse wedding-related items, especially since these days nuptials involve multiple occasions, from showers to dinners to countless parties.
"Brides and women shopping on the site were asking a lot for other products," says the Founder & CEO Courtney, over the phone, about feedback from some of the one million-plus brides who visit Nearly Newlywed annually to look for gowns.
Within the newly launched marketplace, visitors can browse virtual shop-in-shops or "storefronts" for bridal products beyond dresses, including vintage and new engagement rings, wedding bands, fine and high-end costume jewelry, hair pieces, earrings, bachelorette party accessories and bridal party gifts that are way more Brooklyn than Vegas. 
The storefronts launch with 10 select designers and brands: Thea Bloch-Neal of Hushed Commotion (above), Zaxie by Stephanie Taylor, Bashert Fine Jewelry, Alexander Sparks New York, House of Catherine, Hozoni, Kata Banko Couture, Under the Crown and Latvia-based Sephoria accessories. 
"We definitely want brands that have a unique and authentic point of view," explains Courtney, about personally vetting the designers, who need to apply (or be invited). "Sustainability and accessibility are big, big things for us — for me — in identifying designers. They have to be in support of that." 
She also emphasizes "quality," at all price points, and an aesthetic that fits with Nearly Newlywed. "We like the handmade stuff, but it's not meant to be really homemade-y and DIY," adds Courtney, who's established her own signature look of dainty, crystal-embellished barrettes, statement coats and Batsheva dresses on Instagram. 
For efficient and targeted browsing, brides can shop by brand, or search and filter by style, type of item, etc. Purchases will be drop-shipped for expediency and Nearly Newlywed will handle all customer service for storefront purchases. (So no chasing after vendors with inquiries.) Storefront purchases also fall under the Nearly Newlywed return policy, so everything — except customized items — is returnable. 
On the brand and business side, the storefronts offer smaller designers, especially ones who don't have a substantial digital footprint, e-commerce infrastructure and a built-in branded experience. Nearly Newlywed, which takes "a small revenue share," also offers designers who aren't focused in the wedding space direct exposure to a targeted bridal audience. 
"It's a nice marketing vehicle," adds Courtney, who will also support the brands with social media links and outreach, including video interviews, IGTV content and more. The designed storefronts include a logo and a brand description. The experience will hopefully entice future interaction with the brand for custom orders or post-wedding related shopping. "Even though we want [brides] shopping on [our] platform, they can also ultimately go and transact off our platform with those designers," she explains.
The Nearly Newlywed expansion also includes capsule collaborations with non-bridal focused, indie designers that Courtney personally stans, including street art-inspired Ts and accessories by Freckled Fuschia, pun-laden gifts and tanks by Rockdoodles and IG-friendly spouse-to-be tops, totes and visors from Steffi Lynn's Haveaniceday. 
Always thinking ahead, Courtney also aims to grow the Nearly Newlywed storefronts by eventually adding small, multi-brand retailers to the mix, in the vein of a "Farfetch" of weddings. "[So retailers] can sell new and pre-owned merchandise on our site, but it's all bridal-focused," she says. "Also, I think Farfetch is cool."
Hompage photo: Natalie Wall for Nearly Newlywed
Never miss the latest fashion industry news. Sign up for the Fashionista daily newsletter.