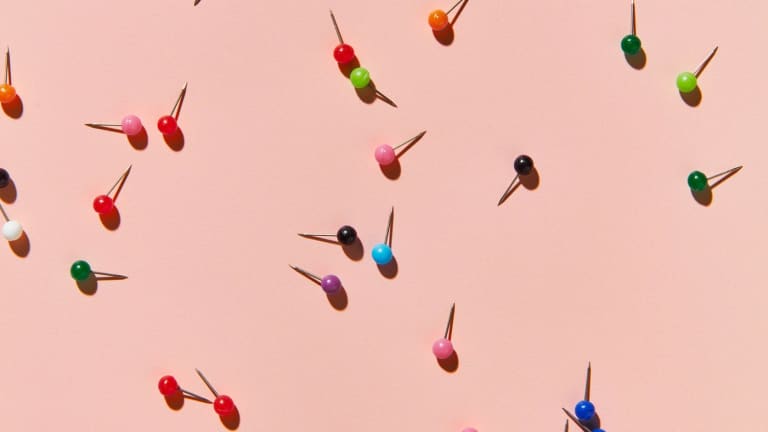 'Needle' Face Creams and Patches Are the Newest Skin-Care Trend
Don't worry, it sounds scarier than it is.
Between injectables, fillers, "vampire" facials and derma rollers, suffice it to say that needles in beauty aren't exactly a new concept. Well, put your sharp object ennui on hold for a hot second, because a new breed of needles is coming for your face — or, at least, into your skin-care products.
Two up-and-coming brands, Private Doctor and ZitSticka, have recently debuted products that take their cues from microneedling — but instead of using a tool alongside a serum or lotion, these actually contain needles in their formulations.
We should clarify that these are not, in fact, actual metal needles, but rather ingredients that mimic the mechanism and role of microneedling in a topical product. This is done via natural ingredients or some clever manufacturing.
The benefit of infusing products with "needles," according to both brands, is that it allows the ingredients to be delivered deeper into the epidermis, where they can be more effective than if they were just slathered on top. But, whereas microneedling requires a separate tool and can be a time-consuming additional step, these types of products (in theory, at least) give you all the benefits without the extra hassle.
For Private Doctor, a brand founded by Korean dermatology clinic ID Hospital, those benefits are of the anti-aging and skin-tightening variety. Its Minus Serum is a contouring skin treatment that uses "micro-tingling spicules" (read: teeny, microscopic "needles" from a hydrolyzed sponge) as a carrier for its unique sodium deoxycholate formula. Derived from the star ingredient in the clinic's signature in-office slimming treatment, the actives in the formula are carried "as deep as a topical treatment can possibly go," through those spicules. The company claims it provides an immediate tightening effect and, over time, can firm sagging and wrinkled skin.
Australian brand ZitSticka also uses the needle concept to treat acne — but it employs the idea in a somewhat more literal way. Its Killa sticker, a pimple-fighting hydrocolloid patch, features 24 dissolvable "micro-darts" on its surface. "We take hyaluronic acid (a moisturizing agent) in liquid form, mix in the ingredients we choose, then shape them into the darts and freeze-dry them," explains co-founder Danny Kaplan.
Upon application, the darts physically penetrate the two top layers of the skin, causing a slight tingling sensation and leaving tiny holes on the skin's surface, though it's more of a brief stinging feeling than anything outright painful. It's both gratifying and trippy. Over a two-hour time period, says Kaplan, the darts dissolve, releasing both the hyaluronic acid and the active ingredients into the epidermis to target a pimple before it reaches the surface. (For this reason, it tends to work best on deep pimples that are only in the early, formative stages.) "The HA acts as the vehicle in the Killa, which, as the name suggests, is all about disinfecting and killing the pimple," explains Kaplan. "It's got an anti-microbial peptide — that's the strong replacement for benzoyl peroxide — niacinamide for anti-inflammation and salicylic acid."
The technology behind the patch, while new to beauty, has actually been used in the medical industry for years, notes Kaplan: "They use transdermal delivery patches for diabetic patients — they were putting insulin into the hyaluronic acid with longer darts [in order to deliver the insulin into the bloodstream]." He and co-founder (and brother-in-law) Robbie Miller worked with these manufacturers to develop the transdermal hyaluronic acid technology for the skin, resulting in shorter needles with tried-and-true blemish-reducing actives. "It's kind of like walking around with a cortisone shot in your pocket," says Miller. "Anytime you feel a zit coming, you put it on and it gets below the surface to attack it before it forms."
The technology has a multitude of possibilities in the skin-care space: ZitSticka has already started to explore other iterations for different treatments outside of the acne category. One downside of this delivery mechanism in both forms is that — unlike microneedling, where you can combine it with almost any cream or lotion — you are limited to what these integrated needles can be used with. "You have to be careful of the ingredients you choose," says Kaplan. "For us, because we've got such a strong delivery system, it was about using ingredients that were clean and nice for the skin." Hence the peptide replacement for more traditional acne fighter benzoyl peroxide, which could be too irritating if used at that depth.
Limitations aside, it remains to be seen if this concept is something that will catch on in the industry as a whole or will remain somewhat of a novelty. (A skin-care brand called Rael also recently launched a similar microneedle-inspired acne patch that incorporates tea tree oil, while Peace Out sells a version at Sephora aimed at brightening dark spots, so there's certainly momentum.) Kaplan, unsurprisingly, believes that this is the future of skin care. Once people realize that how ingredients get to your skin is just as important as the actual formulas themselves, he notes, it's only a matter of time before brands will evolve. "Topical ointments are very on the surface — [in order to be truly effective], you need to get to the source," he says. Translation: You best get comfortable incorporating all things pointy into your skin-care life.
Please note: Occasionally, we use affiliate links on our site. This in no way affects our editorial decision-making.
Stay current on the latest trends, news and people shaping the fashion industry. Sign up for our daily newsletter.