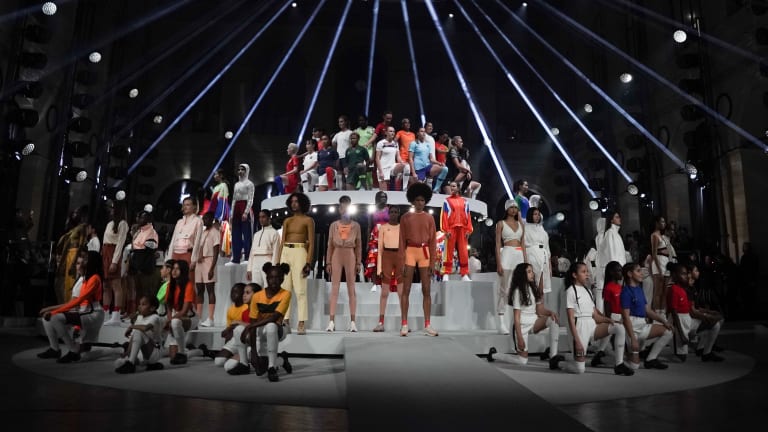 In Paris, Nike Women Debuts National Team Soccer Kits, High-Performance Sports Bras, Footwear and Apparel
Ahead of the 2019 Women's World Cup this summer, the global sports brand is pushing forward its innovation and offerings for female customers and athletes.
Hundreds of influencers and media professionals — plus more than 40 top female athletes — from around the world gathered at the Palais Brongniart in Paris on Monday to witness the debut of Nike Women's upcoming releases for the summer. The main attraction? A total of 14 national team kits that will outfit the players during this year's Women's World Cup, which will take place in France starting in June.
The event's major reveal showcased the teams' home and away uniforms — exclusively designed with the female players in mind for the very first time — with a memorable presentation that included appearances from Brandi Chastian (of 1999 World Cup-winning, sports bra-flexing fame), as well as Meg Rapinoe and Alex Morgan of the U.S. Women's National Soccer team. Olympians Simone Biles (gymnastics), Ibtihaj Muhammad (fencing), Vashti Cunningham (track and field) and Sue Bird (basketball) also participated in the special runway show, which additionally highlighted Nike's newest launches for footwear, apparel and its high-performance sports bras.
Though the global sports brand has been pushing forward its innovation and offerings for female customers in recent years — especially within the sneaker space, through new retail concepts and exclusively-for-women releases — Nike is increasing its focus specifically on sport this season. "There is an incredible momentum right now around women's sports and we're energized and excited about investing in and inspiring the next generation," said Nike Women VP and GM Rosemary St. Clair in an interview with Fashionista. As the leading brand among professional female football teams, the timing around the World Cup was too good of a platform and marketing opportunity to pass up.
Nike's initiatives of its commitment first went public in January with the release of its "Dream Crazier" campaign, an emotionally moving commercial spotlighting some of the biggest moments in women's sports. Moving forward, the brand will also help inspire and motivate future female athletes on a grassroots level. (Research from the Women's Sports Foundation in 2018 shows that teen girls are less likely to participate in sports than teen boys.) "We want to make sure that we're providing mentorship and female coaches around the globe in major markets and cities, so that those girls can go on to play," explained St. Clair.
It's often overlooked just how imperative the sports bra is for women's fitness and performance, which is why Nike is also honing in on expanding its technology and fit behind the athletic garment. This summer, the brand's sports bra collection will boast up to 57 styles across three support levels in sizes up to 44G, as well as new innovations and different materials. Nike's Fe/Nom Flyknit Bra, which first debuted in 2017 using the brand's signature Flyknit technology, will also be provided to the players on the pitch at the Women's World Cup.
Nike is continuing to reimagine its apparel and footwear for women, too. Over the next few months, expect to see its newest sneaker styles in more colorways, plus additions to collaborations with brands like Swarovski. Similarly to how the women's footwear designers revamped Nike's iconic silhouettes, the women's apparel team will be offering new, stylish takes on its Tech Pack collection, as well as more fashion-forward apparel for the soccer fan, which features Nike logos from the archives.
While the excitement surrounding women's soccer will surely grow even more this summer, Nike will continue to tune in to what sports (and beyond) are important to its women's customers, as well as the gaps in the market that need to be filled. For example, Nike introduced its yoga line last spring and released its Pro Hijab globally at the end of 2017. "She's telling us what sport is," said St. Clair. "And we're responding to that and making sure we have that product for her."
Disclosure: Nike paid for my travel and accommodations to attend and cover the event.
Homepage image: Nike Women's event in Paris. Photo: Courtesy of Nike
Sign up for our daily newsletter and get the latest industry news in your inbox every day.