Stella McCartney's Vision for Fall 2019 Is Utilitarian in More Ways Than One
The designer is more dedicated than ever to the circular economy.
A core tenet of Stella McCartney's business has always been her commitment to the planet, whether that be through her vegan-only materials or her campaigns and initiatives aimed at making the rest of the fashion industry eco-friendly, too. Her most recent campaign, There She Grows, recruited her celebrity friends to dedicate trees in the Leuser Ecosystem in Sumatra, Indonesia to raise awareness and funds to protect the endangered area.
That campaign made it onto the runway quite literally, with names from hashtagged Instagram posts printed straight onto the flooring inside the Opéra Garnier. But the spirit made it into the Fall 2019 collection as well: McCartney looked to the Northern soul for inspiration this season, creating loose, wide-leg trousers for men and women, strong-shouldered — yet sensual — dresses and curb-stomping, crepe-soled platform boots that grounded the look. Fans of the great outdoors will likely enjoy McCartney's collaboration with British brand Hunter (her husband, Alasdhair Willis, is the company's creative director) for rubber boots that tick her sustainable box; they were fitted with Yulex socks, apparently a sustainable alternative to neoprene. (For those who are just fans of McCartney's aesthetic, there was a lovely horse print, something of a signature for the designer.)
The sustainability ethos was quite literally woven into the collection as well, which saw McCartney upcycling her own vintage fabrics for patchwork jackets, dresses made from T-shirts which were ripped up and knitted back together, menswear coats made from repurposed waxed materials and the use of sustainable viscose, organic cotton and eco-canvas throughout. The collection also featured a "fur-free fur," which has the weight of a fur coat with the lightness of feathers.
Extra special were the brightly colored accessories, a collaboration between McCartney and artist Sheila Hicks, made using indigenous weaving techniques. Used as belts or sashes, they provided a punch of energy to the otherwise earthy color palette. The show notes also indicated that the use of circle hardware on the menswear was a reference back to "Stella's hope for a circular economy" — though, sometimes, a buckle is just a buckle.
See every look from the Stella McCartney Fall 2019 collection in the gallery below.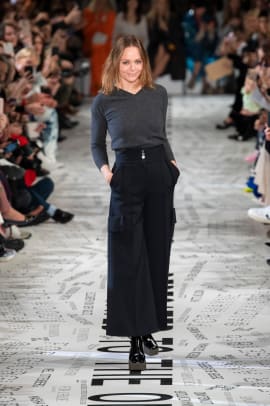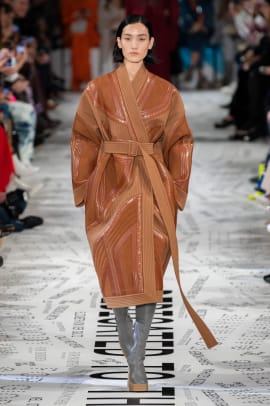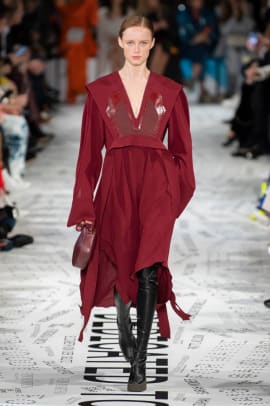 Stay current on the latest trends, news and people shaping the fashion industry. Sign up for our daily newsletter.