Thom Browne Achieves New Levels of Trompe L'Oeil Triumph for Fall 2019
The designer experimented with the tension between strict and playful for this masterful collection.
Walking into a Thom Browne show, one is never sure what will come down the runway, but it's always a guarantee that the designer will put on a bit of theatre to suit his collections. In past seasons, he's taken showgoers to the beach or brought them into the imaginary dreamscape of two young girls, for example.  
This time around, Browne stripped things back, choosing instead to replicate his first-ever show in Europe, first staged in January 2009 — to a point, that is. For Fall 2019, Browne ruminated on the space and tension between the strict and the playful, the foundations of his brand. Where that 2009 show in Florence saw men taking their places at desks in Browne's signature grey suiting, 2019 sees women in charge of the workplace. And the suits? They're still there, but for the finale, Browne also rendered them in complete trompe l'oeil, right down to the briefcases, in one single dress.
In fact, every look on the Fall 2019 runway was doubled in this way: First came the masterful tailoring, the beautiful jackets and fur-trimmed outerwear, the cozy knits and the tweed suiting. And then it came again, an almost-impossible feat of couture-level work recreating every look on one singular garment, fur trim, white cuffs, layered vests and all. Even the most disparate of fabrics were seamlessly blended together. 
Even better, the duplication of looks gave Browne the chance to show off both his artistic side and his commercial one, the latter of which has surely become of greater importance following the August 2018 acquisition of the label by Ermenegildo Zegna Group. Those trompe l'oeil looks are works of art, but also a harder retail sale (and, due to the technique required to make them alone, likely prohibitively expensive). 
But the ready-to-wear pieces would easily fit into any working woman's wardrobe; there was plenty of the classic suiting Brown is known for, in both pant and skirt options, plus a few more experimental types rendered in exaggerated shapes, or with less traditional fabrics (a few were even shown inside out, all the better to show off Browne's craftsmanship). Every piece of outerwear was outstanding, from simple tweed options for day to pearl-beaded options for evening. Even his Oxford and brogue pumps were downright practical — at least, as far as Browne's footwear for women goes.
It's impossible to overstate the impressiveness of Browne's techniques, as well as its subtleties. No detail went unnoticed, but like Browne himself, this is the kind of luxury which announces itself quietly rather than shoving itself in your face.
See every look from the Thom Browne Fall 2019 collection in the gallery below.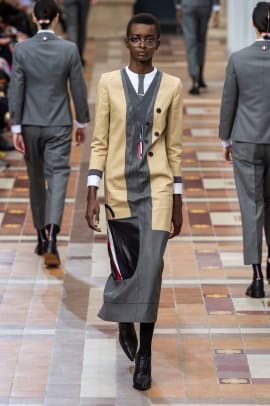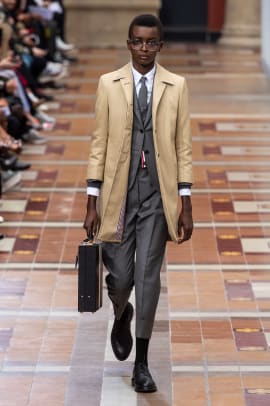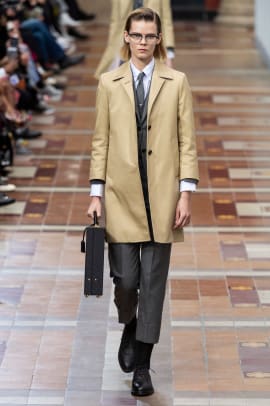 Stay current on the latest trends, news and people shaping the fashion industry. Sign up for our daily newsletter.