Tommy Hilfiger and Zendaya's 'Battle of Versailles'-Themed Show Was Pure, Disco Joy
Inspired by an event that changed fashion as we know it forever, the Spring 2019 TommyNow show was a funky, euphoric celebration of diversity and history.
Back in October, Tommy Hilfiger announced that 22-year-old actress, singer and model Zendaya had been chosen as the new global women's ambassador and collaborator for his Spring 2019 TommyNow collection, officially dubbed Tommy x Zendaya. The young beauty was a brilliant choice for the mass-market brand: Not only has she established herself as a fashion darling with her fearless red carpet choices (thanks in large part to her partnership with stylist Law Roach), she's an outspoken activist who uses her platform (of 54.4 million Instagram followers and counting) to shed light on issues that are dear to her heart. 
In particular, Zendaya has repeatedly voiced the importance of the Black Lives Matter movement, as well as of racial representation in pop culture. So when it came time for her to put together a runway show for the Tommy x Zendaya capsule — which was staged late on Saturday night at the Theatre des Champs-Elysees in Paris — she put diversity at the forefront. Featuring a cast of all-Black models, the event was inspired by the legendary 1973 Battle of Versailles fashion show, which marked a major turning point in the history of the industry: The fabled showdown, held at the Palace of Versailles, brought French and American designers head-to-head, ultimately raising the visibility and credibility of U.S. fashion, which until then had been considered inferior. 
Ten Black American models were invited to participate in the Battle of Versailles, and they strutted, posed, shimmied and danced down the runway with a sex appeal that set them apart — and solidified their status as icons. This was the spirit that Zendaya brought to the "see now, buy now" show, which featured a light-up runway, a disco-heavy soundtrack and an infectious joy that spread to the audience, which knew it was witnessing something very special. Bethann Hardison, one of the models who walked in the Battle at Versailles, sat front row, as did Tyra Banks, Janelle Monáe, Yara Shahidi and former TommyNow collaborator Gigi Hadid — all of them beaming ear-to-ear, cheering on the models and dancing in their seats. 
Inclusivity was key, as models aged from 18 to 70 and of all body types were given their moments in the spotlight. The clothing, which ranged from high-waisted, wide-leg denim and easy suiting to curve-hugging jumpsuits and flirty, glittery dresses for a night out dancing, will surely appeal to any customer enamored with '70s style — whether it's a Gen-Z Zendaya fan who's discovering it for the first time, or an older shopper who either experienced these trends when they first came around, or had a mother, aunt or grandmother who did.
The models didn't simply walk down the runway straight-faced: They smiled, waved, played with their hair, struck a few poses and generally had the time of their damn lives. From all sides, the crowd shouted with encouragement, particularly when the supermodels of yesteryear appeared. Beverly Johnson, Veronica Webb, Debra Shaw and Beverly Peele all made their return to the catwalk to the audience's delight, as did Pat Cleveland, who rendered the room awestruck as she performed her signature twirl in a groovy, multi-colored metallic dress. 
But no one in attendance could have expected the grand finale: Grace Jones, the 70-year-old Jamaican-American singer and model, shut down the show by strutting out to her 1981 hit "Pull Up to the Bumper." Never before have we seen a model look so incredibly happy to be up on a stage, or a group of guests so thrilled to be present in that moment.
After Jones made her exit, the rest of the models reemerged in matching T-shirts and jeans, while Zendaya, Hilfiger and Roach came out to take a bow. While Hilfiger achieved major success with his TommyNow collections with Hadid in previous seasons, this new chapter with Zendaya marks something much more significant for the industry as a whole. Saturday night's show was solid proof that inclusion and diversity in fashion should be a celebration, not merely an afterthought post-insensitive misstep or a cross to bear. Hilfiger should consider himself very lucky to have Zendaya on his team, for if there's anyone who can successfully spread this powerful message to the next generation, it's her.
See every look from the Spring 2019 TommyNow collection in the gallery below.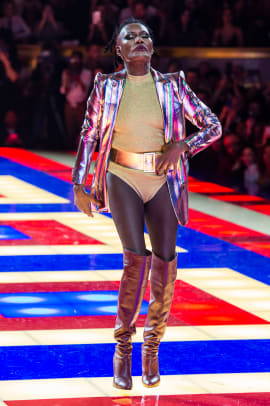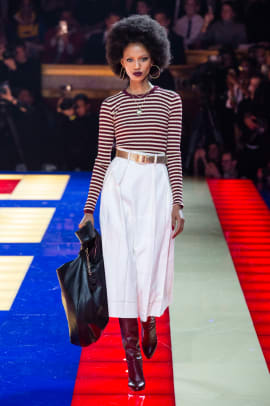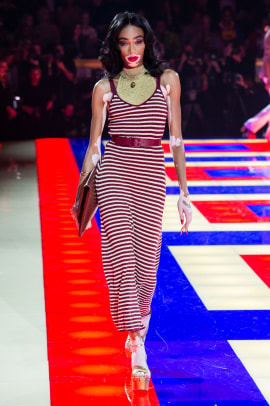 Want the latest fashion industry news first? Sign up for our daily newsletter.